Elected officials say hospital owner Trinity Health is backtracking on staffing to continue obstetrics unit at Saint Alphonsus
Image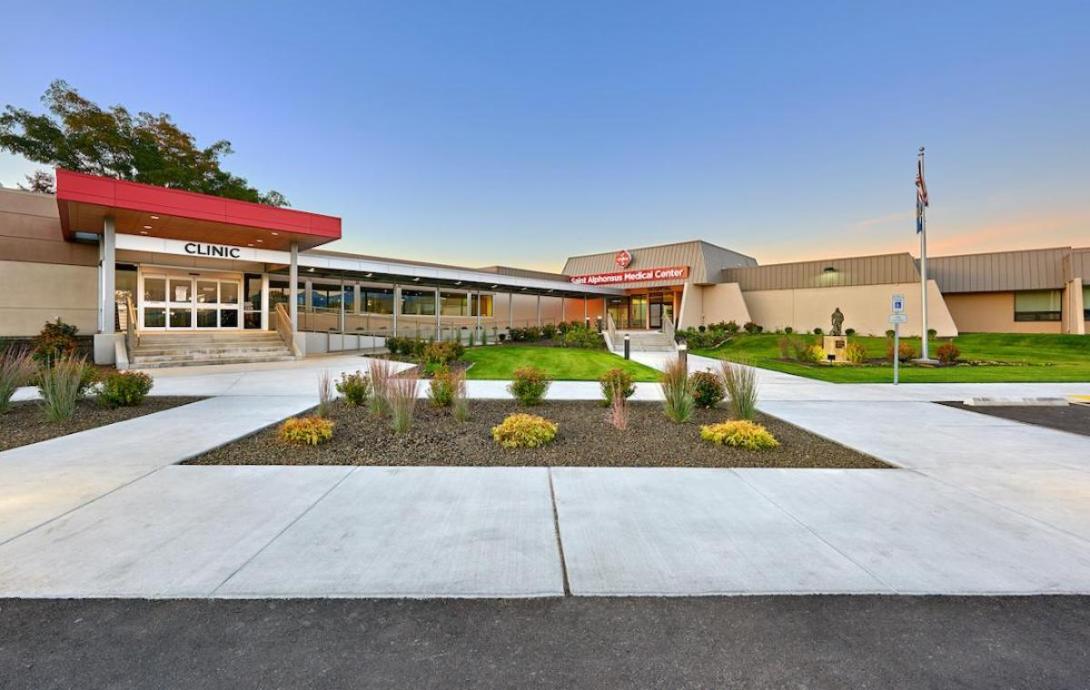 August 14, 2023
Efforts to retain the birth center at Baker City's Saint Alphonsus Medical Center appear to be unraveling, with Oregon politicians accusing the hospital's owner, nonprofit giant Trinity Health, of not doing enough to collaborate with local, state and federal leaders.
With the hospital on track to close the department later this month, the community and elected officials are now exploring how to provide obstetric services separately, Oregon Sens. Ron Wyden and Jeff Merkley, and Gov. Tina Kotek wrote on Aug. 14 to Saint Alphonsus President Dina Ellwanger. 
A team from the federal Health and Human Services department is preparing a report in the next two weeks on options "after St. Alphonsus walks away from local maternity care," the Democratic leaders wrote.
The scathing letter responded to an Aug. 10 letter from Saint Alphonsus that said the system now thinks it needs nine federally funded nurses to keep the center open for another six months, rather than the six that had previously been under discussion.
"St. Alphonsus has been repeatedly asked for answers to the community's sincere and urgent call to work together on keeping the obstetrics unit open for six additional months," the elected officials wrote. "Instead, the goalposts kept moving and the story kept changing about what St. Alphonsus actually needs to keep the maternity center open so that safe access to labor and delivery services can be maintained."
That the response from the Senators and Kotek did not address the system's request for three additional nurses appeared to indicate that talks are now effectively over — meaning that after Aug. 26 the community faces a lack of services that many providers and community residents call hazardous and unacceptable.
 Michigan-based Trinity Health is the nation's fifth largest hospital system and holds a $5 billion investment portfolio.
The three elected leaders were sharp in their criticism of Saint Alphonsus executives, saying "That is completely unacceptable, and the community deserves better."
"In the face of St. Alphonsus' response, the community now understands it's on its own. And we intend to work with them to find short-term fixes and a long-term response that ensures families expecting babies do not suffer," they wrote.
 One option is government and community entities establishing their own birth services separate from the hospital. The three leaders said they want Saint Alphonsus to donate its obstetrics equipment to the county, or at least not dispose of it until a plan has been developed.
For their part, hospital leaders in an Aug. 10 letter wrote that it had become impracticable to keep the obstetrics department going. Partly, they blamed career choices made by some of the unit's nurses.
"Deliveries are on the decline in Baker City, falling over the last several years from an average of 128/year to an estimated 75 this fiscal year," Ellwanger and other Trinity Health executives wrote. The unit's obstetrics nurses "are unable to practice their desired specialty at a frequency that ensures their competency and provides fulfillment. As a result, they are often unsatisfied with their work, and some have sought employment elsewhere," they wrote. They added that the obstetrics nurses "have not been willing to cross train in other areas of the hospital when there are no patients in the OB unit, instead expressing desire to focus solely on their profession of obstetrics." Plus, the nurses have declined opportunities to rotate to other Saint Alphonsus hospitals for obstetrics work, they wrote. To temporarily staff the unit, Saint Alphonsus has increasingly had to hire expensive temporary nurses, they wrote. It hired six temporary nurses to keep the unit operating through Aug. 26 while the community evaluates options, they wrote.
Though  the United States Public Health Service had not provided final approval of the request to fund six obstetrics-trained nurses to staff the unit for six months or more, federal officials had actively participated in talks with Saint Alphonsus and seemed receptive, local observers told The Lund Report.
Saint Alphonsus announced June 22 that it would close the unit on July 31 due to financial and staffing problems. Community members mobilized, saying Baker City's relatively isolated location between mountain passes meant the birth center's closure threatened lives. 
Retaining obstetrics services in the community "should be a collective effort," hospital leaders wrote in their Aug. 10 letter to the politicians. Saint Alphonsus is willing to donate $100,000 to help start an endowment to fund social support services for pregnant women in the community, they wrote. Saint Alphonsus is spending $143,666 to keep the department running through the end of August, they added. If the federal government promises to fund and provide nine obstetrics nurses for the unit for six months beyond that, the hospital will reevaluate its closure decision, they wrote. 
Wyden, Merkley and Kotek had asked the federal government to provide six nurses.
After the closure, the hospital's emergency department can handle emergency deliveries, the hospital leaders wrote. Other medical services agencies are available to provide emergency transportation as well as prenatal and postpartum care, they wrote. 
Wyden, Merkley and Kotek suggested Saint Alphonsus' efforts were paltry. Baker County alone has promised $500,000 to temporarily continue maternity services at the hospital, they wrote. The hospital's ante of roughly $240,000 is "the equivalent of less than $2,000 for each of the 126 years it's been in the community," they wrote.
The community has enough qualified nurses to staff a birth center, they said.
"We believe there are nurses competent in obstetrics working and living in the community and who are willing to help after August 26 if they have a timeline," they wrote. 
---
You can reach Christian Wihtol at 

[email protected]

.