Despite outcry from community leaders and workers, the health system shows no sign of changing course, and officials may have scant authority to prevent closure
September 12, 2023
Lane County community leaders, health care workers and residents on Monday called on PeaceHealth to reverse its plan to largely shutter its money-losing University District hospital in Eugene, but the hospital system gave no indication it would change course.
At a rally organized in front of the hospital by the Oregon Nurses Association labor union, Eugene Mayor Lucy Vinis urged the Oregon Health Authority and Gov. Tina Kotek to block the closure. But the state may not have the legal power to do that.
Vancouver, Wash.-based PeaceHealth last month announced it would largely close the aging hospital, which was once the system's flagship.
The closure would leave Eugene without a hospital emergency department, although there would be two in neighboring Springfield — one at PeaceHealth's RiverBend hospital, the other at McKenzie-Willamette Medical Center.  PeaceHealth has told the state it will close the emergency department effective Nov. 30.
At the protest in front of the University District hospital, a string of speakers denounced PeaceHealth's move and said Eugene needs a hospital — and especially an emergency department.
The Eugene fire department makes at least 4,500 ambulance transports annually to the University District hospital, and having to drive those patients the extra distance to one of the Springfield EDs will endanger lives and rack up transportation costs, Vinis told the crowd. Others emphasized the importance of having a hospital near the University of Oregon, a campus with more than 20,000 students each year.
PeaceHealth plans to phase out most services at the University District hospital in coming months. Vinis said she's dismayed at the speed and PeaceHealth's reluctance to work with the city on an alternative.
"We need a willing partner to come to the table. Since PeaceHealth won't do that on their own, I call on Gov. Kotek and the Oregon Health Authority to force them to meet their obligation to provide health care to this community and deny this closure," Vinis told the crowd, to cheers.
The public pressure on the hospital may be causing regulators to take a closer look at the plans. 
The health authority, in a statement to The Lund Report, said the agency has heard from hospital staff, community members and leaders. It is reviewing PeaceHealth's plans, which the system submitted to the state on Sept. 7. But it said a complete closure does not require state approval.
"State officials are committed to working with PeaceHealth to review its proposed plans — and determine whether they meet state and federal patient safety requirements and certificate of need requirements — as expeditiously as possible within established timeframes," the statement read. "State health officials have told PeaceHealth leadership that it is imperative to prevent the Eugene community from experiencing any gap in critical services throughout the regulatory process."
Several local officials said that although the state can't stop PeaceHealth from closing the University District hospital, PeaceHealth does need state approval to shift services from University District to RiverBend, and that requirement may open the door for negotiations about keeping some functions at University District.
PeaceHealth, for its part, said in a statement to The Lund Report on Monday that it remains committed to serving Lane County, including with the new 50-bed inpatient rehabilitation center it's building next to RiverBend. The system stressed it built the RiverBend hospital "to serve the entire region."
"We plan to continue investing in new and expanded services at our RiverBend campus in Springfield, which was built to serve the entire region, and at our hospitals in Cottage Grove and Florence and numerous clinics," according to the statement.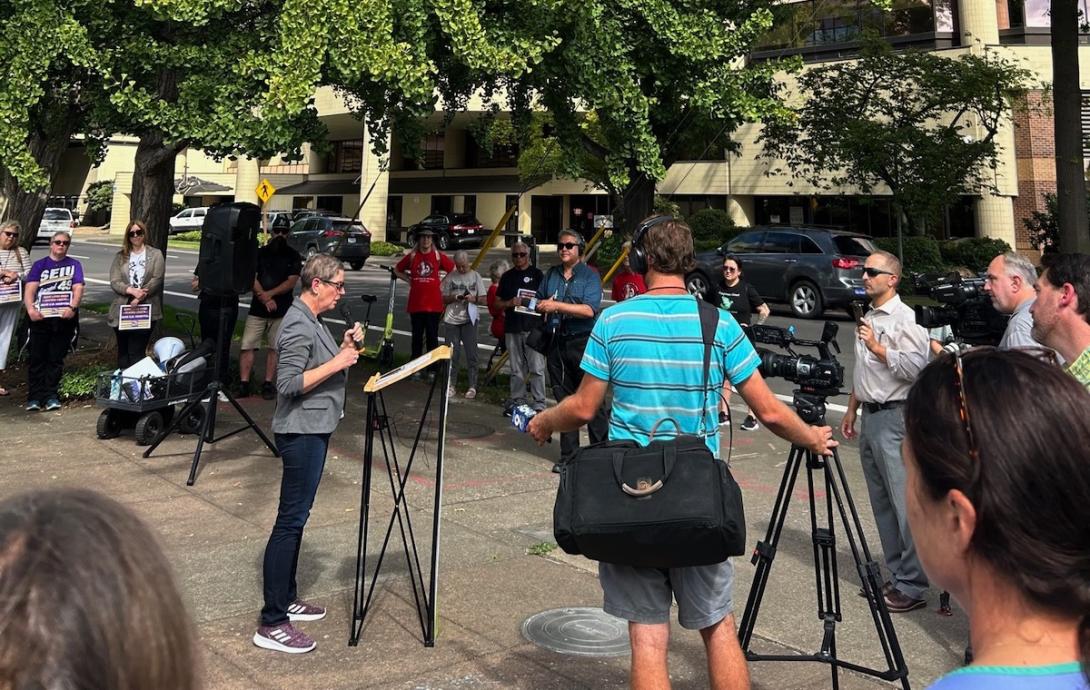 Years of cuts, but what's left?
PeaceHealth in 2008 opened its new flagship RiverBend hospital in Springfield and ever since has been gradually shrinking the University District facility. Now, University District consists mostly of the emergency department, an inpatient rehabilitation unit, and a large secure behavioral health unit. 
When PeaceHealth opened RiverBend, system officials had said they would keep an emergency department in Eugene, some officials have recalled. But nothing binding was put in writing, Vinis said, adding that the speed of the planned closure, to take effect in coming months, has left the city scrambling.
The state should require a hospital to give at least a year's notice so affected agencies can plan and budget for such an important change, she said.
PeaceHealth's plan is to close the emergency department and shift that work to RiverBend, close the rehabilitation unit, shift that work to RiverBend and later open a new rehabilitation facility next to RiverBend, and leave the behavioral health unit in place at University District, unless or until the community establishes an alternative. PeaceHealth's separate medical services building with clinics and other facilities immediately to the west of the hospital will remain open. PeaceHealth has told the state it expects to complete the shifting of work to RiverBend by January 2024.
But Chelsea Swift, a crisis worker and medic for CAHOOTS, a mobile crisis response servicethat serves homeless and other distressed populations, said the University District emergency room provides vital services to suicidal youth, disoriented elderly people, people who have overdosed, and those experiencing mental health crises.
"It does more for this community than any out of state executive could ever understand," Swift told the gathering.
Vinis said the city is evaluating how it will handle the thousands of people annually who are now transported to University District but in the future will need to be driven an extra 6 miles into Springfield. Eugene police often use services at the University District hospital to help people who are in custody or are victims of crime, city staff told the Eugene City Council. The looming closure will complicate that work, the staff wrote.
Rajeev Ravishankar, a University of Oregon doctoral student and a leader in the Graduate Teaching Fellows Federation, a labor union of graduate employees, told the gathering that it's vital to have a hospital and emergency room near the university. The university's 30,000 students and employees "have come to rely on having these services available to us," he said. 
A history of losses
The planned closure is hardly a surprise given the massive operating losses the University District hospital and PeaceHealth as a whole have racked up during the pandemic, as revenues fluctuated and labor costs soared.
PeaceHealth has 10 hospitals in Alaska, Washington and Oregon. Almost all have either lost money or broken even for several years, filings with Washington and Oregon regulators show.
Through four fiscal years in a row, up to June 30 of this year, the system as a whole has reported operating losses totaling $1.2 billion. For the latest fiscal year, the system lost $240 million on operating revenues of $3.3 billion. In the past three years, the system's pool of cash and investments has shrunk 23%, filings show.
In the first three months of this year, the latest data available, University District, with a staff of about 500, had operating revenues of $26 million, but expenses of $44 million, making for a loss of $18 million, according to filings with the Oregon Health Authority. In 2022, the hospital had operating revenues of $113 million, but expenses of $179 million, creating an operating loss of $66 million.
Despite its losses, nonprofit PeaceHealth is still wealthy. As of June 30, the system's net worth — all assets minus all liabilities — stood at $2.2 billion, with assets including cash and investments of $2.1 billion. 
Kevyn Paul, a registered nurse at the University District emergency department, said the hospital's losses in recent years were caused in part by PeaceHealth's strategy.
"They created this scenario by gradually pulling (away) services" from the University District hospital, she told the rally.
Speakers on Monday faulted what they said was PeaceHealth's focus on money.
PeaceHealth executives are "cutting their way to profitability," said Ravishankar.
Vinis said the city may need to explore having another health care system create an emergency department in Eugene if PeaceHealth goes through with its plan to shutter the one at University District.
Anne Tan Piazza, executive director of the Oregon Nurses Association, said PeaceHealth's closure plan is just the latest move by hospitals in Oregon to reduce services to protect profits.
"Coming out of COVID, Oregonians need more health care, not less," she said.
---
 You can reach Christian Wihtol at 

[email protected]

.