Press Release: Pacific University College Of Optometry Names Interim Dean
Dr. Fraser Horn will be appointed interim dean of the Pacific University College of Optometry.
Dr. Horn started his Pacific career as an undergraduate studying biology before earning his doctor of optometry in the College of Optometry. He later completed a residency in primary care and ocular disease at Perry Point VAMHSC in Maryland.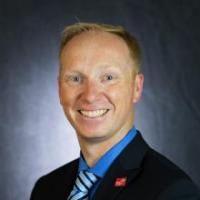 In 2005, he joined the faculty at Pacific, where he has also served as director of Pacific EyeClinics in Washington County (2007-2012) and is currently associate dean of academic programs. He has been voted Clinical Faculty of the Year by optometry students three times and won the Pacific University Junior Faculty Development Award in 2009.
Dr. Horn is an expert in sports vision, presenting and publishing extensively on advances in the field. He has led the College of Optometry's Sports Vision Club in offering screenings to Pacific athletes and serves as part of Boxer Athletics' sports medicine team as team optometrist.
Dr. Horn has also practiced as an optometrist at several clinics throughout the Portland area and served as a consultant for Nike. He currently co-owns his own business, Sports Vision Pros, which focuses on the intersection of vision and athletic performance.
He is a Fellow in the American Academy of Optometry and Diplomate of the American Board of Optometry. He is active in the work of the Association of Schools and Colleges of Optometry, Oregon Optometric Physicians Academy, and American Optometric Association. He also is past chair of the AOA Sport Vision Section.
Dr. Horn has been appointed to a two-year position as interim dean of the College of Optometry, effective Nov. 23. He succeeds Dr. Jenny Coyle '90, OD '93, MS '00, as she takes on a new role as dean of the Southern California College of Optometry at Marshall B. Ketchum University.