Image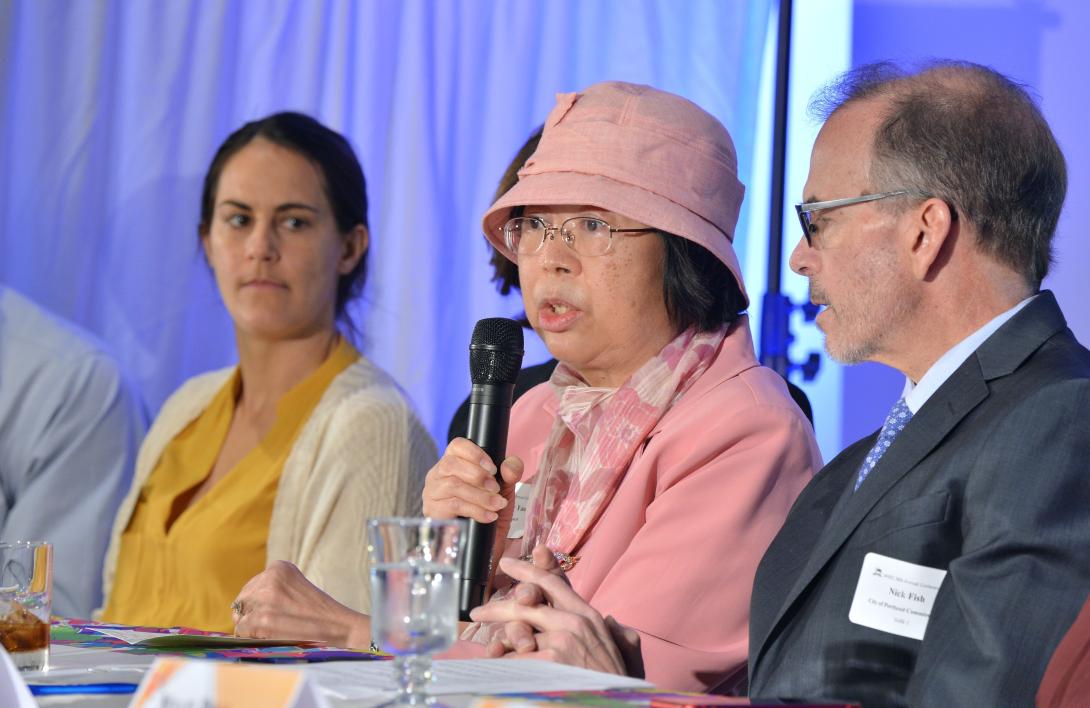 October 28, 2019
With the goal of increasing health equity and improving outcomes for Asians diagnosed with cancer, the Asian Health and Service Center has recently launched the region's first Asian Cancer Resource and Support Center.  
Regional health care professionals, cancer survivors and families gathered on Thursday, Oct. 17, to celebrate the launch of the new Asian Cancer Resource and Support Center, located within AHSC's facility at 9035 SE Foster, in Portland's Lents Community.
The event brought together regional health care professionals who expressed eagerness to partner with AHSC in order to increase health equity and quality of care for Asians in the Portland Metro area experiencing cancer. AHSC Board Chair Dr. Erik Szeto led an information panel that included two cancer survivors, oncologists, and representatives from the OHSU Knight Cancer Institute and the American Cancer Society. The two cancer survivors were Winnie Yan, a cancer survivor and volunteer with cancer patients and families; and Portland City Commissioner Nick Fish, a cancer survivor and member of the program's steering committee. Rounding out the panel were Jeff Heatherington, former CEO of Family Care and president of the Jeff Heatherington Foundation and former CEO of FamilyCare Health, which provided seed money for the new program; Niyati Desai, manager of community outreach and engagement for the OHSU Knight Cancer Institute; Tamara Telles, health system manager for the American Cancer Society; Dr. Erin Salinas, a gynecological oncologist with Compass Oncology; and Dr. Mark Whiteford, a colorectal surgeon with the Oregon Clinic; Dr. Paula Crone, Dean of the Western University of Health Science.
The new Asian Cancer Resource and Support Center provides culturally and language-specific patient navigation services, education, resources and support groups in four languages (Cantonese, Mandarin, Vietnamese, and Korean). The Center's patient navigation support is based on American Cancer Society materials, with modifications made for cultural specificity.
In 2015, AHSC carried out an assessment of cancer in the Asian community in a study funded by the OHSU Knight Cancer Institute's Community Partnership Program (a second grant from OHSU's Community Partnership Program funded a pilot phase of the program). Interviews were conducted with Asian cancer patients, survivors, and caregivers, as well as providers who have worked with Asian cancer patients and families. Overall, the study revealed a large gap in services to effectively address the needs and disparities experienced by these populations. Study participants expressed confusion over treatment options and how to navigate the health care system, as well as profound struggles related to language barriers, effective translation and the lack of culturally appropriate care.
Korean cancer survivor Winnie Yan spoke about the challenges she faced when diagnosed with breast cancer four years ago. "When the doctor confirmed the diagnosis, I was shocked because I never expected cancer would hit me," she shared. "So I felt very scared and worried."  Winnie said she needed emotional support from friends and family, and especially from someone who had also experienced cancer. Support from a friend who had survived a similar experience made a big difference. She learned about treatment options, the importance of nutrition, and found hope in hearing about someone else's successful recovery.  "I felt I was not alone," she remembered. Too much information about cancer can be overwhelming for patients, Winnie said, but "the appropriate amount of accurate information" from medical providers is needed and helpful. Though she is an English speaker, Winnie acknowledged the overwhelming barriers for non-English speakers in navigating the cancer journey, and the need for support, education and materials in all languages.
Dr Erin Salinas, a gynecological oncologist with Compass Oncology, said the new Asian Cancer Resource and Support Center will help patients needing language and culturally-specific services navigate the system and access emotional support. "When working through a translator, I'm not always sure how much patients want to know and how much families want to know," she said. "Having a center where patients can go within their own culture, to be given extra information and support in their own native language, and meeting other people who have gone through a similar diagnosis, will help bridge the gap for patients and families."  
Portland City Commissioner Nick Fish, a survivor of cancer and member of the Asian Cancer Resource and Support Center Steering Committee, said there is still a stigma and a lot of misinformation about cancer. "I wouldn't be here today sharing my story if I didn't have a lot of people providing love and support for me," said Fish. "Many people still go through the cancer journey alone, in isolation. One of the things that I love about this program is that people here will not go through the journey alone. They will have company, support and a sense of hope."
AHSC Board Chair Dr. Erik Szeto thanked panelists for their partnership with AHSC to promote access to culturally and language-specific cancer care. "This Center was built because we recognized the struggle of patients of Asian descent to access the medical care they need. Language barriers, cultural differences and even the perception of illness and death have a tremendous impact on the quality of care received," he said. "We are grateful to our donors and many partners in the medical community for supporting this important effort to improve care for Asian cancer patients and their families throughout the difficult journey of cancer."
The Asian Cancer Resource and Support Center is made possible by generous private funding from FamilyCare Health, the OHSU Knight Cancer Institute, The Collins Foundation and other regional foundation and individual donors. Continuing grants and donations are being sought to support the ongoing work of the Center. For more information, visit www.ahsc.org.