Image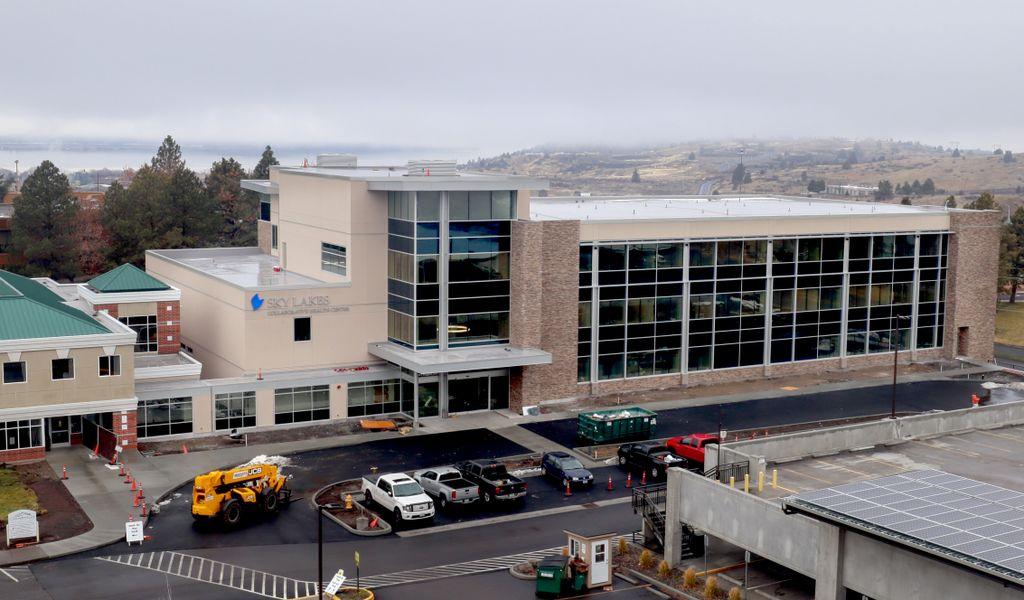 December 12, 2019
The Sky Lakes Collaborative Health Center – a joint effort between Sky Lakes Medical Center and Oregon Health & Science University to advance health care – made its first public appearance Dec. 12 with a ceremonial ribbon cutting and open house. At the event, officials celebrated both the building and the partnerships that helped shape it.
Launched in spring 2016, the four-story, 100,000-square-foot, $50-million project will house the OHSU Campus for Rural Health, the OHSU Cascades East Family Medicine Residency and clinic, and the new Sky Lakes Primary Care Clinic, which opens for patient care in January 2020.
"The partnership of Sky Lakes and OHSU made the Sky Lakes Collaborative Health Center possible, and will help us meet the health care needs of our patients as well as create a stable workforce that will be ready to meet tomorrow's health care challenges," said Sky Lakes President and Chief Executive Officer Paul Stewart. "This building and the philosophy it embraces is an investment in the future of health care."
OHSU President Danny Jacobs, M.D., M.P.H., FACS, agreed. "It takes many individuals and institutions working together to improve the health and well-being of all Oregonians," he said. "OHSU is proud to partner with Sky Lakes Medical Center to advance health care in Klamath Falls and beyond. This remarkable joint facility will enable us to collectively prepare OHSU students and medical residents to better meet the unique needs of rural patients throughout Oregon."
The building's name also is its intention, said John Bell, chair of the Sky Lakes board of directors. "Besides being the clinical home for (thousands of people), this building demonstrates the success of partnerships and of working together to fulfill a common vision. It is a symbol of the confidence and optimism we have in our community."
With expansive smart windows overlooking Upper Klamath Lake and the Cascade Mountains, the building provides stunning views for patients and their families. An airy two-story entryway on the east side presents a welcoming environment, and made-in-Oregon furnishings enhance a relaxing atmosphere.
The building's design emphasizes convenience for patients as well as teamwork and collaboration among clinicians, whose offices primarily are located on the building's east side.
The new Sky Lakes Collaborative Health Center will advance a more wellness-oriented approach to health care, promoted by Sky Lakes. Rather than treating illnesses as they arise, this approach aims to improve patients' overall health through prevention.
Five stand-alone clinics – Sky Lakes Primary Care on Almond, Sky Lakes Primary Care on Clover, Sky Lakes Family Medicine Clinic, Sky Lakes Adult Medicine Clinic and Sky Lakes Klamath Medical Clinic – will consolidate in the Sky Lakes Primary Care Clinic on the second and third floors.
Consolidating the clinics enables more patient services, such as on-site nutrition and pharmaceutical counseling, and behavioral health consults currently unavailable in the smaller clinics. For greater patient convenience, lab tests and X-ray services will be available on the first floor.
Dan Mosher, D.O., examines one-month-old Hunter Schilling of Sprague River at the OHSU-Cascades East Family Medicine Center in June 2019. (OHSU/Kristyna Wentz-Graff)
Cascades East Family Medicine Clinic currently services thousands of local patients and will be able to serve even more from its expanded space on the first floor.
The facility also offers much-needed space to grow for OHSU's Cascades East Family Medicine Residency, which provides hands-on training in rural primary patient care for recently graduated physicians. About 160 resident-physicians have been trained through the program, which is celebrating its 25th anniversary this year.
The ground-level floor will be occupied by OHSU's Campus for Rural Health, which brings teams of students to rural Oregon so they can learn and practice community-focused health care. About 290 students have studied in Klamath Falls since 2015 through the program.