Press Release: Hazelden Betty Ford To Honor Brent Canode
Recognizing the crucial role that community-based support organizations play in helping people sustain recovery from addiction, the Hazelden Betty Ford Foundation has selected an innovative Oregon recovery leader as the third recipient of its annual "Kelly Clark Spirit Award."
Brent Canode, executive director of the Alano Club of Portland, will receive the award at a dinner event May 17 at The Sentinel Hotel in Portland, Ore. Nationally known speaker and bestselling author William C. Moyers, Hazelden Betty Ford's vice president of public affairs and community relations, will emcee the event.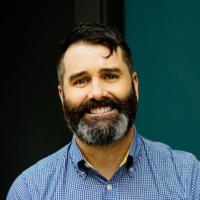 "No one in the country is doing more than Brent at the grassroots level to expand the availability of diverse, community-based supports for people who are in recovery from substance use disorders," Moyers said. "Brent knows that people in recovery often face barriers and is knocking those down every day, empowering people to not only stay healthy but to lead their best lives and pursue their dreams."
Over the past decade, Canode has led the Alano Club of Portland to become the nation's largest non-clinical recovery center. Under its Recovery Toolkit Series brand, the Club provides Oregonians in recovery with the latest evidence-based programming and resources. Among its free offerings are certified recovery mentors; yoga and meditation classes; mindfulness-based stress reduction and relapse prevention training; health and wellness seminars; expungement clinics; exercise-based recovery groups; and opportunities to participate in advocacy initiatives and large-scale social events.
"Our patients benefit when they return to communities that support recovery, and Brent is helping Portland become a recovery-friendly city, which makes him an ideal collaborator for us and a worthy recipient of the 2019 Kelly Clark Spirit Award," said Heidi Wallace, executive director of Hazelden Betty Ford in the Northwest. "We enhance each other's missions."
The Hazelden Betty Ford Foundation, celebrating its 70th anniversary in 2019, is the nation's leading nonprofit addiction treatment provider, with 17 sites across the country, including a residential facility in Newberg, Ore., an outpatient center in Beaverton, Ore., and a soon-to-open outpatient clinic in Bellevue, Wash. In addition to its comprehensive treatment services for adults and youth, the organization has extensive education, prevention, research, advocacy and publishing resources.
"It is an honor to be recognized by Hazelden Betty Ford and to be part of extending Kelly Clark's legacy of generosity, hope and love," said Canode. "I am grateful for every opportunity to collaborate with an organization that does so much to help people and to continually advance addiction treatment and recovery in the United States."
In 2018, Canode worked closely with Hazelden Betty Ford to convene a large community-planning event in Portland called the HOPE summit, where local, national and state leaders—including Gov. Kate Brown—discussed how to build an effective state recovery strategy. Canode's work with the Alano Club of Portland has earned wide recognition nationally, including the Joel M. Hernandez Award at the 2017 America Honors Recovery Gala in Washington, D.C. The award is given to just one entity each year for innovation in the field of recovery support services. He is also a founder and past chair of the statewide advocacy group, Oregon Recovers; co-founder and vice-chair of the Oregon Recovery High School Initiative; an editor with the national Journal of Recovery Science; a recovery consultant with the Center for Social Innovation; a member of the policy and research think-tank Recovery Science Research Collaborative; and an appointee to the Governor's Alcohol and Drug Policy Commission. In addition, he has held leadership roles with several national recovery advocacy organizations.
"Brent truly embodies the spirit of Kelly Clark with his passion and commitment to recovery and service, both locally and nationally," said Ann Highet, chairwoman of Kelly Clark Spirit Award dinner.