Image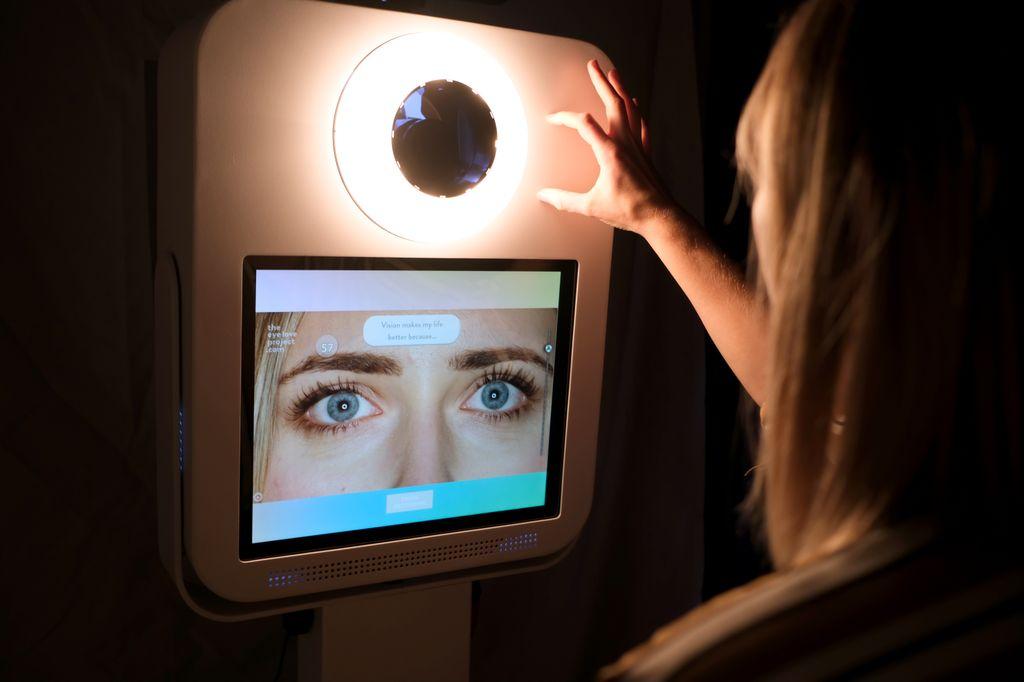 February 6, 2020
Oregon Health & Science University wants you to stop and enjoy the view.
Through an interactive campaign called The Eye Love Project, OHSU's Casey Eye Institute is encouraging Oregonians to celebrate the many wonders that sight brings to the world. The year-long project aims to increase awareness about eye health and prevent blindness.
"We navigate the world through sight, but we rarely take a moment to appreciate everything our eyes do for us," said David Wilson, M.D., director of the OHSU Casey Eye Institute and Paul H. Casey chair of ophthalmology in the OHSU School of Medicine. "The one-of-a-kind Eye Love Project is helping Oregon honor and protect sight during the year 2020 as a nod to 20/20, which represents perfect vision."
The project will make public debut at the Portland Winter Light Festival, which runs Feb. 6-8 along the Willamette River near downtown Portland. More information about this and other upcoming events is provided at the end of this story.
To capture the public's attention and curiosity, The Eye Love Project is employing an interactive multimedia art installation that will be featured at several Portland events throughout 2020. The installation features two larger-than-life and inflatable eyes developed in partnership with the creative design firm Sockeye.
Inside one eye is a fully functional video recording booth, where the public is invited to share their thoughts on vision. Participants will be guided through the recording experience with the help of thought-provoking prompts such as:
    •    What does "vision" mean to you? 
    •    When you look back on your life, what do you see? 
    •    What is something you haven't seen before, but want to?
The project's stylized videos feature close-ups of the eyes, providing storytellers a small degree of anonymity that further encourages them to share their thoughts. 
OHSU has already interviewed about a dozen Oregonians to create a foundation for the project's library. For example, Oregon entertainer and personality Poison Waters explains how being a drag queen is "99% visual." And Jean-Marie Nkusi, an OHSU anesthesia technician, describes how he sees beauty after surviving the Rwandan genocide in 1994. Collectively, OHSU hopes thousands of videos will be recorded to create an extensive and thoughtful archive of Oregonians' experience with sight.
The installation's other oversized eye offers a viewing space to experience some of the videos, which are also being compiled on the project website and on the project's YouTube channel. Those who record videos are encouraged to share them on social media while using #TheEyeLoveProject. Installation visitors will also be offered commemorative project stickers and eye health information.
The Eye Love Project was partly inspired by a 2016 report by the National Academies of Sciences, Engineering and Medicine, which outlined how vision impairment harms the quality of numerous American lives, but is absent from many public health efforts in the United States. 
About 17,000 Oregonians and 1.3 million Americans are legally blind, and the total economic burden of eye diseases in the U.S. is an estimated $139 billion. Blindness increases the risk of falls, injuries, social isolation and depression in adults. Macular degeneration, glaucoma and complications from diabetes are the leading causes of blindness. Children can experience developmental, academic and social challenges if their visual impairment goes uncorrected. 
Because about 80 percent of blindness is preventable with timely medical intervention, the OHSU Casey Eye Institute strives to help Oregonians receive the eye care they need before their vision is lost.
About OHSU
OHSU is the only academic health center in Oregon and is nationally distinguished as a research university dedicated solely to advancing health sciences. This singular purpose allows us to focus on discoveries that prevent and cure disease, on education that prepares physicians, dentists, nurses and other health professionals for the evolving health care environment, and on patient care that incorporates the latest advances. Based in Portland, we are one of Oregon's largest employers, operate the top-ranked adult and children's hospitals in the state, and secure competitive research funding of more than $400 million. As a public organization, we also provide services for the most vulnerable Oregonians and outreach to improve health in communities across the state.