Press Release: AARP Hosts Statewide Age-Friendly Summit
International livable cities expert Gil Penalosa will help Oregon forge a future suitable for people from 8 to 80 at the AARP Age-Friendly Summit December 9 at the Asian Health Services Center, 9035 SE Foster Road, Portland.
"Building A Community for All Ages" features key leaders around Oregon including:
Portland Mayor Ted Wheeler
Salem Mayor Chuck Bennett
Multnomah County Commissioner Sharon Meieran
Portland City Commissioner Nick Fish
State Representative Alissa Keny-Guyer
AARP Director of Livable Communities Danielle Arigoni
"It's time to challenge our outdated beliefs and spark new solutions so more people can choose to live how they age," said AARP Oregon State Director Ruby Haughton-Pitts.  Experts will share innovations and promising practices in housing, transportation, economic development and health, key components included in "Age-Friendly Cities."
About Gil Penalosa: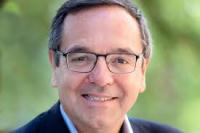 Gil Penalosa is a passionate advocate for creating more equitable, sustainable and liveable cities. Since his work as Commissioner in Bogota, Gil has spread his story and positive message of the power of public space transformation as a driver for social equity and quality of life for all.  He has traveled to over 400 cities around the world over the last 11 years advising decision-makers and community leaders on the benefits of investment in sustainable mobility and parks and public spaces. In 2017 alone, he visited more than 42 communities. Known for his candor, humor, and ability to communicate complex issues in compelling and simple ways, Gil is just as comfortable and compelling talking to city mayors as he is in speaking directly with community members from diverse ages, abilities and socio-economic backgrounds.
About Danielle Arigoni:
For nearly two decades, Danielle has been a leader in national-level efforts to expand the investment in sustainability and livability. Before joining AARP, Danielle worked for the U.S. Department of Housing and Urban Development where, as director of the office of economic development, she worked to improve sustainability through strategic investments in community-based planning, high-performance buildings, and resilient infrastructure.
Danielle was the staff lead for the HUD Climate Council, created by then-Secretary Julian Castro, and was the staff representative to President Barack Obama's White House Council on Climate Preparedness and Resilience. Danielle helped co-lead HUD's $1 billion awards to states and localities through the 2016 National Disaster Resilience Competition.
Also, Danielle helped to coordinate federal investments and policies to support more integrated, community-driven local land use and decision-making.