Preparing for New Cost-Saving, Health-Enhancing Workers on the Care Team
While waiting for specific training and certification requirements from OHA, providers are making plans to hire and train the non-traditional health care workers Oregon law is bringing into the system to improve care and lower costs
October 16, 2012 -- A community health worker accompanies a heart patient to the supermarket to show him how to buy heart-healthy foods. A peer wellness specialist helps a troubled young woman navigate the mental health system and develop a tailor-made toolbox for recovery. A personal health navigator connects an elderly immigrant to a primary care physician who speaks her language and is sensitive to her fear of the formal healthcare system.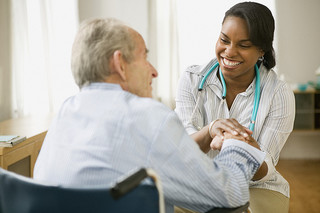 If coordinated care organizations (CCO) work as intended, they're expected to rely on non-traditional healthcare workers to improve health outcomes and help reduce costs for the state's Medicaid population.
Oregon became the first state to enact legislation that identified three classes of healthcare workers as part of the care team for people on the Oregon Health Plan--community health workers, peer wellness specialists and personal health navigators— then gained approval from the Centers for Medicare and Medicaid Services to set up a payment category.
For all three categories, the rubber will meet the road around training and certification requirements. The legislation left that responsibility in the hands of the Oregon Health Authority (OHA), which is forming a 12-member steering committee to make recommendations and help set up an official registry, said Alissa Robbins, OHA spokesperson.
But at least two CCOs in Oregon are already focused on skill and training requirements, among them AllCare Health Plan based in Grants Pass. Its peer wellness coordinator, Heather Hartman, participates on a local committee tasked with developing a curriculum to train community health workers that includes representatives from two substance abuse programs, Rogue Community College, long-term care and Jackson County's Healthy Start program.
The committee has already identified the skills people need to become a community health worker--the ability to advocate for vulnerable clients, basic knowledge about chronic diseases, problem-solving, crisis management, and familiarity with a community's wide-ranging health and social services.
Through Hartman's experience in the mental health field she's found that peer wellness specialists can be critical for those dealing with depression, alcohol and substance abuse. And, she believes that personal health navigators can help people find medical homes and transportation to doctors' appointments.
Since 2008 various organizations around the state have trained mental health consumers and family members to serve as peer support specialists in Jackson and Josephine counties, especially to help youth, said Hartman, who was hired in August to determine how AllCare could use non-traditional healthcare workers.
CareOregon is more ahead of the curve. Through its pilot outreach worker program it not only lowered costs but found that its members often felt more comfortable speaking with an unlicensed outreach worker than a physician, said Rebecca Ramsay, senior manager of care support and clinical programs.
"Part of the magic we believe is occurring with our program is that our workers are coming into relationships with patients in a very non-hierarchical manner by virtue of the fact they don't have a healthcare license or hat on," she said.
When Health Share of Oregon, the CCO in the tri-county area, received its $1.73 million federal grant to deal with the needs of high-cost, high-use people on the Oregon Health Plan, it used CareOregon's outreach worker model as the basis for this scaled-up effort.
As the new system unfolds, some physicians and specialty providers might be resistant to having non-traditional healthcare workers as part of their patient's health team. CareOregon recognized this problem, and for its pilot outreach worker program carefully chose the provider groups that could work with the new team members, Ramsay said. Weaving outreach workers into the healthcare arena has also exposed system gaps that require policy attention.
"What doesn't work," said Ramsay, "is when we spend a bunch of time with a client, really understanding the root causes of their inability to stay well, we come up with a pretty good plan with their primary care physician and counselors, then access to the services we think are necessary is not there." Why? Usually it's due to a capacity issue, she said, rarely because there's not a way to pay for the service.
For its part, CareOregon only trains outreach workers who already have at least two or three years of experience doing community outreach with vulnerable populations. Training includes didactic learning and a several-month-long field mentorship. Trainees learn techniques for patient engagement and how life trauma affects a patient's interaction with the health system. They learn how to identify street drugs and their health effects, signs of chronic pain and appropriate use of opium medications, and they gain a holistic understanding of the multiple local systems of care so they can connect people to the appropriate facility.
Image for this story by myfuture.com (CC BY-ND 2.0) via Flickr.