Playworks Emphasizes Safer, Healthier Schoolyard Play
In-school coaches, training help reduce the discipline problems associated with recess – which pediatricians say is critical to healthy development, but can also be the crucible of conflicts between kids
April 17, 2013 -- Just a few years ago, Susan McElroy wouldn't schedule anything at Grout Elementary, where she serves as principal, for the period immediately following recess.
That's because recess had become the part of the school day when conflicts between students came to a boil – and spilled over into classroom time, so much so that teachers and administrators would count on having to clean up a few messes each day before teaching or returning to administrative work.
But, in a relatively short period of time, all that has changed. McElroy said so far there have only been two suspensions at the southeast Portland grade school this year, down from 54 six years ago when it began collecting data to reduce bullying and other behavioral problems.
Grout now employs a counselor to support children and families, and started using a different approach to discipline – one based on Positive Behavior Support, a research-backed approach to reducing challenging behavior in schools and other settings.
And, to address the problems associated with recess, the school started working with Playworks, a nationwide nonprofit that brings coaches into schools to identify students to serve as "junior coaches," as well as offering in-classroom instruction on game play, and training to help other schools improve the recess experience for children. Playworks also offers after-school or before-school programs in some areas, which includes play as well as assistance with homework, and organizes sports leagues.
"If you tell a kid to exercise, they'll roll their eyes at you, but if you tell a kid, go play, they'll play," said Jonathan Blasher, executive director of Playworks Portland.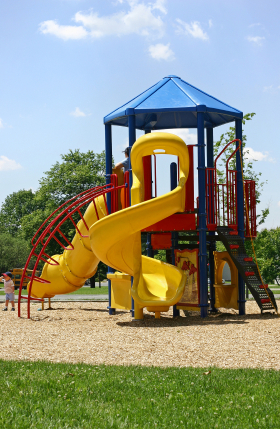 In December, the American Academy of Pediatrics released a policy statement called "The Crucial Role of Recess in School," which said "safe and well-supervised recess offers cognitive, social, emotional, and physical benefits that may not be fully appreciated when a decision is made to diminish it" and called on schools to keep or expand, rather than reduce or eliminate, recess.
Only a handful of states require schools to set aside recess periods, and Oregon is not among them, though state regulations recommend all schools set aside a recess program. According to the Centers for Disease Control and Prevention's School Health Policies and Programs study, which was released in 2006, 96.8 percent of elementary schools regularly scheduled recess for students in at least one grade, though only 79.1 percent of schools provided daily recess for students in every grade. A recent survey conducted by RWJF, though, said one in five principals say their districts have reduced the number of recess minutes offered, generally in the hopes that increasing classroom time will improve schools' chances of meeting adequate yearly progress standards set by the No Child Left Behind Act.
"For the first time in our country's history, children have a lower life expectancy then their parents," said Nichole Maher, president of the Northwest Health Foundation, which provides grant funding to Playworks. "This is due to maternal nutrition, obesity, diabetes and a whole host of preventable health issues. Playworks is an example of engaging children and families in a healthy life in a fun and safe environment. It also proves educational and social outcomes! We are big fans at NWHF."
But even as experts tout the benefits of school recess, educators and coaches are working to, as Blasher said, "maximize the benefit of recess."
Often, playground disputes at Grout would arise from kids arguing over the rules of a game, or picking teams.
"We just find that kids didn't have any idea how to organize for play," McElroy said. Now, kids are taught the rules of many common playground games during classroom time, and they are taught how to resolve disputes without yelling or fighting.
When The Lund Report visited the school during a Monday-morning recess period, a group of kids playing foursquare talked about how to count a play where the ball hit the line. They decided to defer to the judgment of a junior coach (a student wearing a "Playworks Junior Coach" shirt, who has received some leadership training) and continued playing.
"They're working it out," Blasher said, smiling.
McElroy said teaching kids to play rock-paper-scissors – similar to drawing straws or rolling dice to make quick decisions – has saved kids a lot of grief when they organize games or settle minor disputes.
"It's so easy. You wouldn't believe how much it helps," she said.
When the bell rang, kids politely and slowly walked into the school building: "Normally, they'd be pushing and shoving," Blasher said.
Playworks also hires adult coaches who participate in the games with children, and regular school staff who supervise. Teaching games and respectful behavior in the classroom also creates the opportunity for students who can't communicate well with other kids – such as English language learners or students who are nonverbal due to autism or another disability (Grout has two self-contained classrooms whose students all have autism) – to be included in play.
Playworks started in 1996 at two schools in Berkeley, and started to expand beyond the Bay Area in 2003 after developing relationships with Americorps and receiving seed funding from the Robert Wood Johnson Foundation. Now Playworks is in 22 cities serving a total of 270,000 students, and launched in Portland in 2009, where it currently serves 13 schools. Playworks' presence in schools is funded by a combination of sources: funds directly from the school, and those from private, corporate and individual sources. The price tag for direct service in schools averages between $60,000 and $70,000 per school -- with 35 to 45 percent coming from schools and the rest coming from Playworks' fundraising -- but services don't stop there. Playworks has provided training for an additional 40 schools across the state.
One mother reached out to Playworks after hearing about the program and went through volunteer training to take their ideas back to her kids' preschool, where she had already seen kids force each other to eat sand and engage in other bullying behaviors. 
The key to all Playworks' programs is to see what schools are already doing and build on that work, Blascher said.
"We're about supplementing existing programs, not replacing them," Blasher said. "It's a both-and, not an either-or."
Reporter Christen McCurdy can be reached at [email protected].
FOR MORE INFORMATION
To visit Playworks' website, click here.