Physicians Now Know More About Treating COVID-19
Nine months ago, when Hector Calderon was admitted at Kaiser Permanente Westside Medical Center in Hillsboro, physicians had no training in how to treat him.
The 46-year-old custodian at a Lake Oswego elementary school was the first patient diagnosed with the novel coronavirus in Oregon and the second patient nationwide who contracted the disease through community spread. Doctors had no medications targeting the disease, which can attack the lungs, heart and other organs, and they had no treatment guidelines. 
Dr. Katie Sharff, a Kaiser Permanente infectious disease specialist and part of Calderon's care team, thought he might die.
"He was critically ill, and he was hospitalized for such a prolonged period," Sharff said. "We were absolutely concerned."
Though the federal Food and Drug Administration had not yet approved any medications to combat COVID-19, Calderon's care team obtained compassionate use authorization to treat him with a new antiviral medication, remdesivir, which appeared to have helped patients early on in Italy and China. Calderon received good critical care, Sharff said, but remdesivir was his main treatment.
After 71 days in the hospital, including 60 days on a ventilator, Calderon survived. 
"His recovery is just remarkable," Sharff said. "He's actually back working at the school, and that's pretty incredible."
It's likely to be months before the general population can be vaccinated against COVID-19, and cases are soaring. Most people recover without hospitalization. But the in-patient numbers are growing.
During the biggest surge of Oregon hospital admissions in March, from the 22nd to the 28th, 86 people were hospitalized and 49 were in intensive care. In comparison, between Nov. 29 and Dec. 5, 317 were hospitalized and 47 were in an ICU. As of Tuesday, 580 were hospitalized, with 132 in an ICU.
Though physicians have more patients now, they also know more about the disease than they did last spring and are better equipped to prevent severe illness.
"The volume is definitely higher than it was earlier in the year," said Dr. Melinda Muller, interim senior vice president of medical affairs at Legacy Health. "But we're not overwhelmed. Most of the patients are not in the ICU, which is different than last spring."
Better Outlook For Patients
As a new disease, COVID forced physicians to experiment. Some tried vitamin C infusions, zinc and vitamin D, hoping that therapies that are inexpensive and widely available would be effective against COVID.
But the results were inconclusive or disappointing.
"We've not found any of those treatments to be significantly effective at reducing the risk of either deterioration or dying," said Dr. David Zonies, associate chief medical officer for critical care at Oregon Health & Science University.
Last spring, President Donald Trump pushed chloroquine, an anti-malaria drug, and hydroxychloroquine, an anti-inflammatory. But data showed they were ineffective and even even hurt the patient. The FDA withdrew its emergency use authorization for the two drugs in June after it became clear that any benefits were overshadowed by harms. 
"Early in the pandemic, people were just trying lots of different therapeutics, and we've learned that some of those didn't work," Sharff said. 
Trials are now underway for treatments such as convalescent plasma and monoclonal antibodies. 
But there has been progress. Death rates are down and fewer people need intensive care. The median hospital stay is about six days, according to the Oregon Health Authority, with about 20% of patients needing intensive care. 
"We've learned a lot about the treatment of COVID-19," Sharff said.
Remdesivir, a broad use antiviral developed for hepatitis C, is one of the success stories. It helped Calderon and plenty of others across the country. In May, the FDA approved it for limited emergency use for COVID. In August, after more data emerged, the agency expanded that authorization to cover all COVID patients, including children.
Federal authorities recommend its use early on to help prevent severe disease and keep people off ventilators.
"When you get someone on a ventilator, it's hard to get them off," Muller said.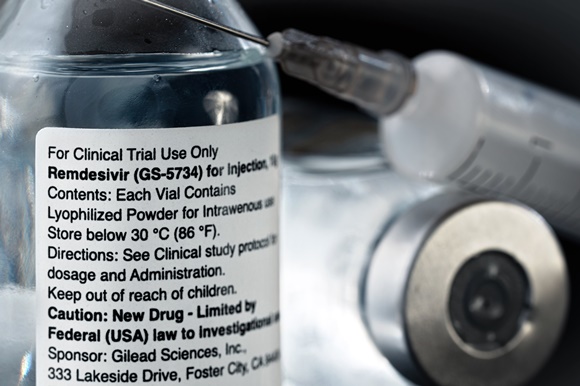 Last spring, state officials worried about running out of ventilators. Oregon now has plenty available -- 752 according to the Oregon Health Authority authority. Among the 642 hospitalized patients in Oregon diagnosed with COVID or suspected of having the infection, only 62 are on a ventilator.
Hospitals keep their own supply of remdesivir. Until Nov. 4, they had to report daily use to the U.S. Department of Health and Human Services, which is tracking hospital beds, staffing and supplies needed to treat COVID patients. A course of treatment costs more than $3,000 for a patient on private insurance. Pharmacies keep vials, which cost more than $500 apiece, under lock and key. Pharmacists at Asante Rogue Regional Medical Center in Medford carry it in person to providers.
Use Of Traditional Treatments
An inexpensive anti-inflammatory -- the corticosteroid dexamethasone -- has become the go-to treatment for patients with severe respiratory symptoms, following a trial in Britain that was published this summer.
COVID can cause the immune system to go into overdrive in what's known as a cytokine storm. Cytokines are proteins secreted by immune cells that serve as messengers. They're a kind of SOS system. But too many causes the immune system to turn on itself, attacking the lungs, surrounding tissue and other organs like the heart. Cytokines also play a role in coagulation. One of the hallmarks of COVID is the development of blood clots.
Dexamethasone calms the immune system, backing it off from potential deadly overreaction. 
"Some of the mechanism is really still unknown, but that's our best understanding of how the physiology of the process works," Zonies said. He said the drug has helped stop patients in acute care from worsening and needing critical care treatment.
"We're really averting the worsening of their disease process and preventing them from developing multiple organ dysfunction and admission to the intensive care unit and relying on a ventilator," Zonies said. 
Dexamethasone is not recommended for mild cases but many of the patients admitted to the hospital have severe symptoms, including difficulty breathing. 
"The earlier we start the treatment, the better your chances of  a successful recovery," Zonies said. 
Another treatment that is being used for patients with more mild symptoms, so called monoclonal antibodies, are lab-produced antibodies that resemble those produced by the body to fight SARS-CoV-2. They're used to bolster the immune system's ability to fight the virus. 
One, Regeneron, was given to Trump. Another is bamlanivimab. Last month the FDA gave emergency approval for using it. The government has bought stocks of bamlanivimab and is doling it out to states. 
The Oregon Health Authority is in charge of supplies in Oregon. An agency spokeswoman was vague about its distribution, saying that "some is being held back to allocate to smaller sites and the rest is going out to hospitals that have said they want it and can use it."
Other treatments are being studied. Nearly 40 clinical trials have been launched in Oregon alone on potential treatments and vaccines for COVID-19.
"Having these randomized trials is really key so that we know what we are offering and actually some good data to support it," said Sharff, of Kaiser Permanente.
Sometimes Home Rest Is Best
In Oregon, hospital critical care units are not yet overwhelmed with COVID-19 patients, according to federal data just released. But with cases soaring, hospitals are forced to triage who is admitted and who stays home. 
"If you're going to be admitted to the hospital, it's because you've not only got COVID, but you're also pretty symptomatic," Zonies said. 
Physicians check vitals and review a patient's medical history to determine who would be most likely to recover at home. They look at blood oxygen saturation, blood pressure and heart rate. Patients who need oxygen are likely to be admitted. Those who don't and are not suffering severe symptoms are often sent home.
Providers are improving how they monitor patients who are sick at home.
They're told to isolate as much as possible from other family members, rest and drink lots of fluids. The symptoms can resemble the flu, including extreme fatigue and muscle aches. COVID-19 can also cause gastrointestinal problems. Zonies warned that if patients become dehydrated, they should go to the hospital.
Over-the-counter medications like acetaminophen or ibuprofen can help bring down a fever. But if a fever persists, patients should seek medical help.
"If you can't bring it down and it lasts several hours or a day - that's more worrisome," said Muller of Legacy Health.
Aspirin can also be useful. One observational study indicated that people who regularly take a low-dose aspirin for their heart were at a lower risk of blood clots from COVID-19, Zonies said.
Kaiser Permanente has set up a daily monitoring system through televisits so that physicians can advise patients about what to do and track their symptoms. 
"We've really (created) a lot of supportive services for patients who are stable enough to go home, but still need frequent check-in," Sharff said. 
Patients are asked to check their oxygen saturation and heart rate using oximeters, which are widely available. They have daily video chats with a doctor. That allows providers to monitor their patients and get them to the hospital if needed.
Though treatments have improved, they are far from a cure. Zonies advised the public to follow state guidance: stay home, wear a mask outside, stay away from others not in your household.
"Prevention is still the best treatment," Zonies said.  
You can reach Lynne Terry at [email protected] or on Twitter @LynnePDX.
×
This article is for premium subscribers. If you are one, please sign in below.
You can see
two
more premium stories for free. To subscribe,
click here
. We depend on premium subscriptions to survive, and they are tax deductible.