Physicians Focus on Curbing Opioid Abuse, Accidental Deaths
Oregon's high rate of prescription abuse and reports of accidental overdoses nationwide have spurred conferences and discussion groups to change treatment protocols
October 8, 2012 -- In the 1990s, prescribing opioid painkillers for any patients besides those in the last stages of a terminal illness was frowned upon and could even result in censure, said Betsy Boyd-Flynn, deputy executive vice president of the Oregon Medical Association.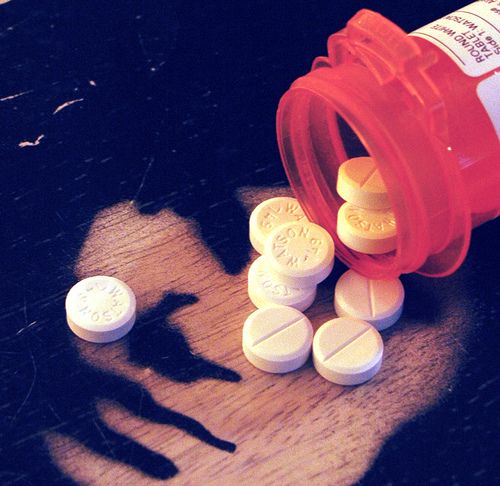 Then the pendulum shifted, as research revealed that many people were living with chronic, untreated pain and needed help to manage it – and pharmaceutical companies also began manufacturing, and aggressively marketing, more powerful opioid painkillers.
Now opioid abuse – and accidental deaths from prescription medication overdose – is a cause of public health concern nationwide, and Oregon is particularly hard hit. The state has the fifth-highest rate of opioid medication abuse in the country, according to information released by the Oregon Medical Association, and in 2009 drug overdose deaths exceeded motor vehicle collisions for the first time as the leading cause of accidental death nationwide – with prescription drugs being involved in a majority of overdoses.
Striking a balance between appropriately treating pain and ensuring patients don't become addicted or harm themselves was the focus of a Portland conference last week, and has been on the tip of physicians' tongues at conferences and continuing medical education events around the state, including a May seminar held by Kaiser Permanente and FamilyCare.
It's also been the focus of a grass-roots effort by doctors and other healthcare professionals in Jackson County, who have formed a group to educate themselves on the effects of opioid drugs, as well as alternative methods of pain management to come up with new protocols for treating pain.
"What we're trying to do is to make those decisions from the ground up. I think it's pretty clear that something has got to be done," said Dr. Jim Shames, a family medicine physician and addiction specialist who formed the group, and also spoke at the OMA conference. "If providers don't do something, the government is going to step in and try and tell us how to practice medicine."
The conference was inspired in part by Shames' work, Boyd-Flynn said, noting that Shames was selected as OMA's doctor-citizen of the year earlier this year for his work with the task force, which is unique because it has pulled together a broad swath of the community: the group's meetings have included not just doctors, but mid-level providers, pharmacists and even dentists and naturopaths.
"I don't think we were adequately trained for this," Shames said. "I don't think we realized how powerful these drugs could be."
Other speakers at the conference discussed identifying which patients may be abusing medications or may be more susceptible to addiction, but also matching the drug and the dose to the patient – including whether medical marijuana would be an appropriate alternative to opioid pain medication for some patients. Another session focused on how the mechanism of pain itself, including how pain reactions are triggered in the brain.
Shames said the increased acceptance of prescribing medications for chronic pain was due in part to changes in research and partly to aggressive marketing by the pharmaceutical industry.
"I think the 600-pound gorilla sitting in the room is there's so much marketing to doctors, so much marketing to patients, where we think there's got to be a pill that cures everything," Shames said. "We've got to think about our pain in a different way."
Image for this story by Flickr user adumb! ryeon (CC BY-NC-ND 2.0).