Pharmacists Want to Give Shots to Young Children
Senate Bill 167 would give the state health director the right to allow pharmacists to immunize children in a disease outbreak, but Sen. Laurie Monnes Anderson was concerned about letting pharmacists inject babies
February 12, 2013 -- If a disease outbreak swept over Oregon like this winter's flu pandemic or the whooping cough epidemic declared in Washington last April, children under 11 could not get shots at pharmacies under current law without a prescription.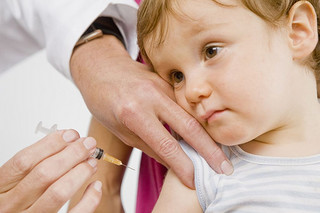 Senate Bill 167, pushed by the Oregon State Pharmacists Association, would give the state public health director the right to lift that restriction in case of an epidemic.
"I'm very supportive of this because of the access issues," said Sen. Elizabeth Steiner Hayward, D-Beaverton, a family care physician.
Pharmacist Amy Valdez said she instructs pharmacists on giving intramuscular and subcutaneous injections to the deltoid, a procedure that can be conducted on children as young as 3.
"There is a gap in between what we're trained to do and what we can provide legally," said Amy Valdez, a pharmacy care manager at Safeway in Portland.
Testimony submitted by Bill Cross, representing the Oregon State Pharmacists Association, noted that the state of Washington has no immunization age limits for pharmacists, and they were more easily able to respond to the flu outbreak.
A vote on the bill was delayed after Senate Health Committee Chairwoman Laurie Monnes Anderson, D-Gresham, expressed concerns about pharmacists giving injections to babies.
But Valdez said pharmacists would not immunize babies because they can only give injections to the arm, which is not well developed on children under 3. "We're not trained to practice outside the deltoid area."
Valdez also noted that pharmacists cannot be certified without their instructor approving their procedural techniques in a practice drill.
"They can't do something they're not trained to do. That would be considered unprofessional and they'd have trouble with the board," said Gary Schnabel, the executive director of the Oregon Board of Pharmacy.
Still, Monnes Anderson asked that the bill be held until a bottom age limit could be written into SB 167.
A bill signed into law by Gov. Ted Kulongoski in 2009 expanded access to childhood immunizations by lowering the age pharmacists could immunize from 15 to 11. That bill did not limit the practice to disease outbreaks like this one.
Image for this story by Sanofi Pasteur (CC BY-NC-ND 2.0) via Flickr.