Pfizer-BioNTech's Deep-Freeze COVID-19 Vaccine Poses Fresh Challenges
The COVID-19 vaccine from Pfizer and BioNTech poses special challenges for providers.
The vaccine has to be stored at minus 70 degrees Celsius. That's minus 94 degrees Fahrenheit - colder than an Arctic winter. To keep vials that cold, they have to be stored in special freezers, which can cost $20,000, and not all hospitals or clinics have them. Shipping is another challenge. The vaccine is shipped in custom containers packed with 50 pounds of dry ice that are monitored by GPS tracking. The Federal Aviation Administration has been working with airlines on trial runs, ensuring that control towers keep the planes coming, news reports said. On the ground, FedEx and UPS are handling transport. Each has set up special command centers.
The packages arrive full of trays of vials and dry ice, forcing medical personnel to wear thermal gloves so their skin isn't burned.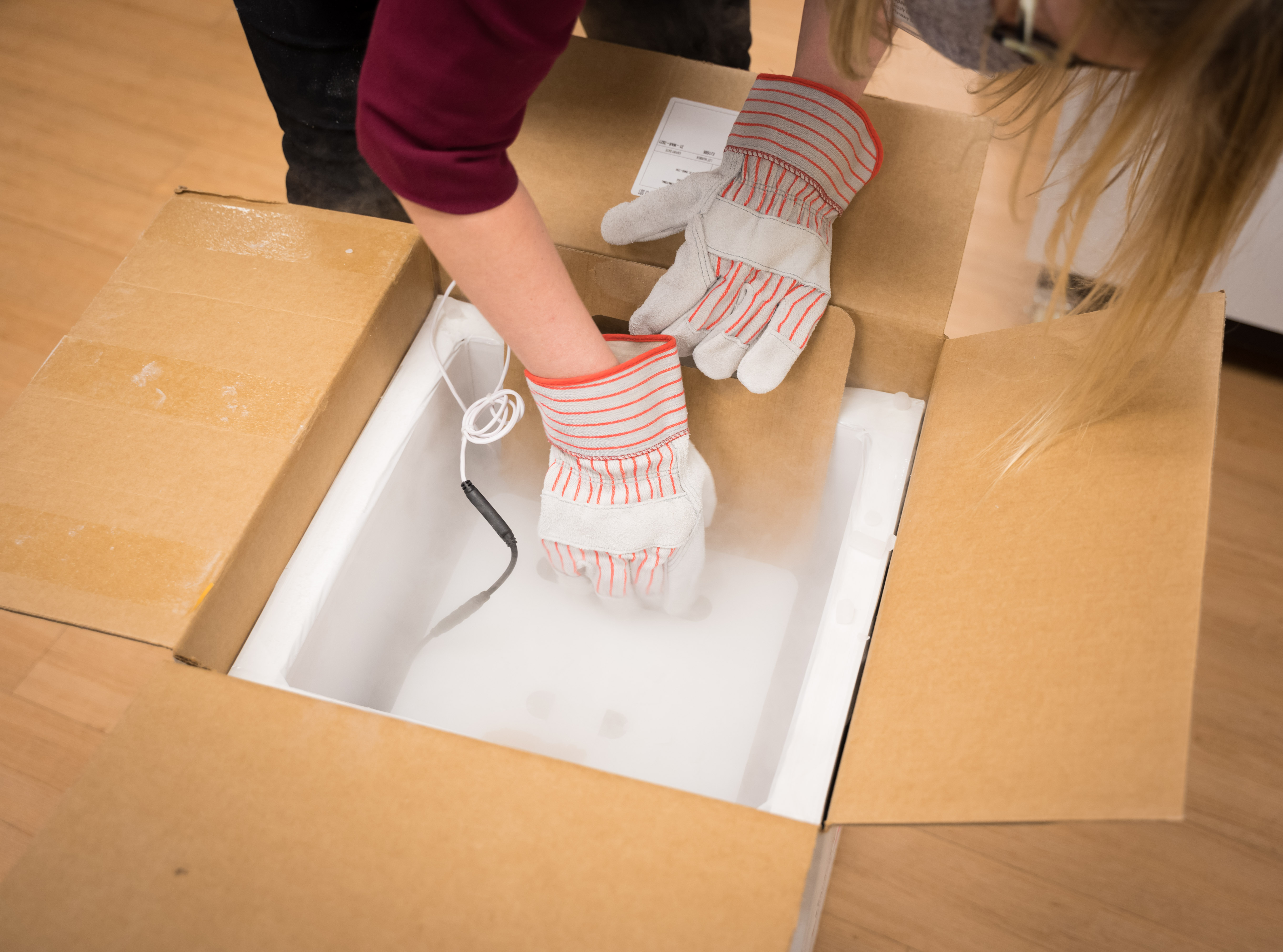 The challenges don't stop there. Once the vaccines are taken out of the dry ice or special freezers they're put in a  standard refrigerated unit for up to five days. If they're not used by the sixth day, the vaccine has to be thrown away.
The vaccines are precious: It will be months before there are enough doses available for everyone who wants them. That means that medical personnel have to plan carefully so that no doses go to waste.
The Oregon Health Authority projects the state will receive 35,100 doses by the end of this week. The first shipments on Monday and Tuesday -- of 4,875 doses -- went to Legacy Health, Oregon Health & Science University and Kaiser Permanente and Saint Alphonsus. St. Charles Health System's hospital in Bend received 975 doses on Thursday. The health authority has designated 10,725 doses to pharmacies that will vaccinate staff and residents in skilled nursing facilities, starting next week. The remaining 19,500 doses will go to other facilities.  
More Pfizer-BioNTech vaccine is set to come later this month, with a shipment of 25,350 doses during the week of Dec. 20 and another 48,750 doses the week of Dec. 27. But those numbers could change, the health authority said. Shipment decisions are being made by the federal government. .
Most vaccines don't require ultra cold storage. But the Pfizer-BioNTech vaccine is based on a strand of messenger RNA, the molecules that instruct the body to produce protein. The mRNA is endoced to prompt the manufacture the spike protein that sits on the novel coronavirus. That, in turn, fires up the immune system to fight it if the virus actually enters the body. The vaccine had a high efficiency rate but it's delicate.  . 
"RNA is a volatile molecule," said Dr. Louis Picker, one of Oregon Health & Science University's top vaccine experts, told The Lund Report. "It degrades really easily, which makes it nice in terms of safety because it doesn't last very long, but on the other hand it means you have to take special care in keeping it intact during shipping."
Carefully Orchestrated Injection
The administration of  the vaccine is complex, marking a new process for health care staff, said Dr. Katie Sharff, an infectious disease specialist with Kaiser Permanente, which will start vaccinations at its Hillsboro and Clackamas hospitals on Friday. 
Here's the process:
The vaccines are stored in ultra-cold freezers until providers need them. When they are ready to vaccinate people, they will take out a tray containing 195 vials. Each vial is supposed to contain five doses but hospitals said this week some have more in them, stretching out the supply. Health care staff will put the vials into a refrigerator where they can stay at 2 to 8 degrees Celsius for up to five days. That's the equivalent of 36 to 46 degrees Fahrenheit. In comparison, the U.S. Food and Drug Administration recommends a refrigerator temperature at or below 4 degrees Celsius to safely store food.
The ultra-cold storage option gives providers more time to use the vaccine. Pfizer says the specialized freezers will extend the shelf life of the vaccine for up to six months.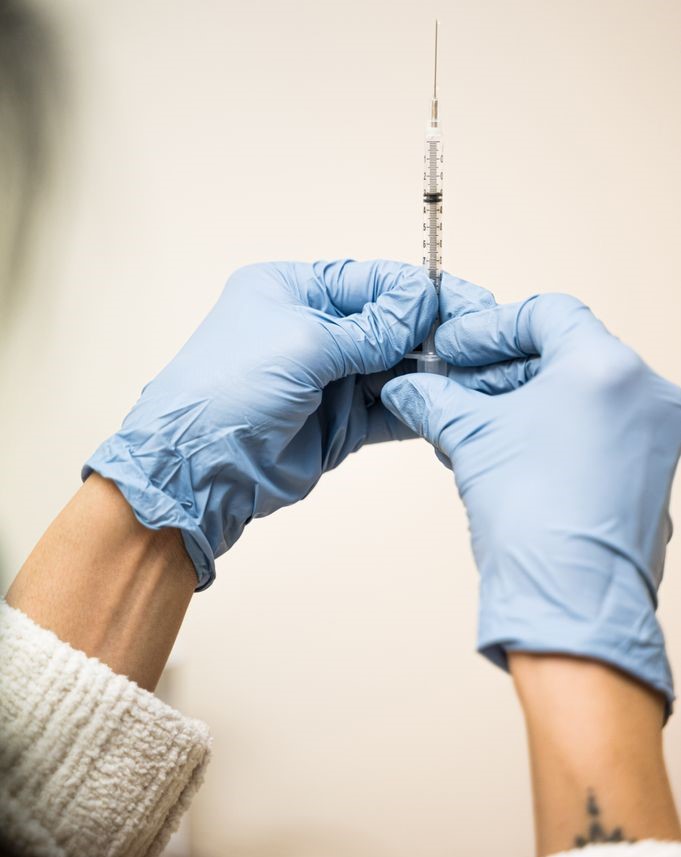 To prepare an injection, staff take a vial of the refrigerator and dilute the powder inside with 1.8 milliliters of a special saline solution made by Pfizer. They gently invert the vial to mix the vaccine powder and saline solution together. With a sterile needle, a nurse can pull 0.3 milliliters of the vaccination for one dose. 
The five doses ior more in the vial have to be administered in six hours. This means that practitioners who give the injections in the upper arm will need to have five patients scheduled to get their vaccinations when they prepare the doses. 
Sharff said Kaiser Permanente nurses and medical assistants will administer the vaccine. 
Staff at the other sites that receive a shipment will have to repeat the same process. At OHSU, pharmacy personnel will remove the vaccine from ultra-cold storage and put in a refrigerator the day before injections are scheduled. Jennifer Zamon, assistant director of pharmacy services at OHSU, said staff need to protective wear eye protection in addition to thermal gloves when they remove the doses from the cold storage. 
It's critical that the cold storage chain stays intact. 
The hospital's pharmacy has special equipment that monitors storage equipment to ensure it maintains the correct temperature.  It also has an emergency power backup just in case, said Yen Pham, OHSU's chief pharmacy officer. 
More Units Needed 
Hospital and public health officials are planning to ramp up vaccinations quickly.
To do so, the state needs more ultra-cold storage units. Kaiser Permanente's ultra-cold freezer units can hold about 230,000 doses of the vaccine, or enough to vaccinate about 115,000 people. OHSU's pharmacy has enough cold storage for up to 20,000 doses. But it has more equipment available, Pham said.
Another COVID-19 vaccine in the pipeline will not require ultra cold storage equipment and dry ice.  Moderna, a Cambridge, Massachusetts-based pharmaceutical company formed to develop mRNA vaccines, is producing it. The Food and Drug Administration is expected to grant emergency use authorization for its COVID-19 vaccine on Thursday. Shipments could go out by the beginning of next week.
State officials anticipate they will receive an estimated 71,900 doses the week of Dec. 20 and 31,700 doses the week of Dec. 27.
For now, health care workers will be the first to get the initial doses of COVID-19 vaccinations in Oregon. By the middle of next year, medical personnel will likely be giving them to the general public, though public health officials stress the timeline is unclear because the federal government and pharmaceutical companies have not made any guarantees about the timing or quantity. 
Because the Moderna vaccine doesn't require ultra-cold storage units, public health officials expect it to be a convenient option in rural areas. 
Both the Moderna and Pfizer-BioNTech vaccines were shown in clinical trials to be about 95% effective.
You can reach Ben Botkin at [email protected] or via Twitter @BenBotkin1.
×
This article is for premium subscribers. If you are one, please sign in below.
You can see
two
more premium stories for free. To subscribe,
click here
. We depend on premium subscriptions to survive, and they are tax deductible.