SEIU-represented workers at PeaceHealth say high turnover, low pay affect patient care.
Image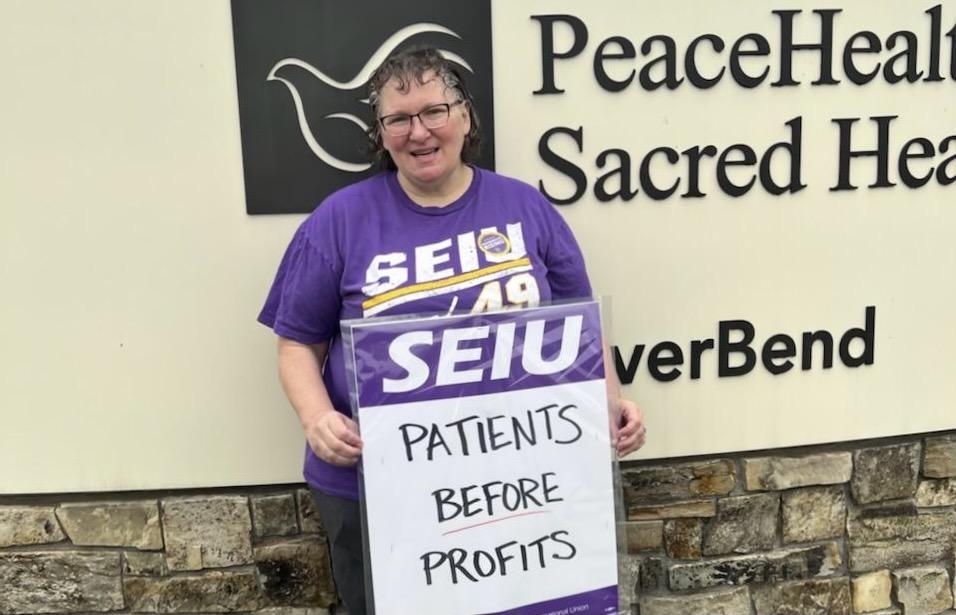 October 4, 2022
Health care workers held an informational picket on Tuesday at three PeaceHealth hospitals to voice concerns about staffing levels and working conditions as they negotiate a new contract.
The action came amid negotiations for nearly 2,000 PeaceHealth employees represented by the Service Employees International Union, including dietary workers, certified nursing assistants and housekeeping staff. They raise similar concerns as health care workers at other Oregon hospitals, where workforce shortages and low wages are taking their toll on workers who soldiered on through a two-year pandemic.
Workers came out on their breaks or before and after their shifts for the picket at three sites: PeaceHealth's Sacred Heart Medical Center Riverbend in Springfield; Sacred Heart Medical Center University District in Eugene; and St. John Medical Center in Longview, Wash..
Laurie Younkin, a certified nursing assistant at PeaceHealth Riverbend, told The Lund Report that workers are tired of feeling undervalued.
"My concerns are the way they're treating us and how we're being disrespected," said Younkin, an employee at the hospital for 27 years.
The starting pay for a new CNA at the hospital is $16.16 an hour, which is not competitive with nursing homes that pay about $19 an hour, Younkin said. The end result is high turnover – and that impacts patients, she said.
"The patients are suffering," Younkin said. "We are running short-staffed every day. Our patients have to wait longer to go to the bathroom, for food, to be cleaned up. It affects us in a big way."
In a statement, PeaceHealth officials said the picket won't affect care. "PeaceHealth respects the rights of our caregivers to participate in these kinds of activities as part of ongoing union contract negotiations."
Felisa Hagins, political director of SEIU Local 49, said the high turnover has forced workers in some cases to work nine days straight without time off. Other issues include affordable health care.
"Our demands across the table are that workers need to feel like the hospitals are making the effort to improve staffing," Hagins said.
You can reach Ben Botkin at [email protected] or via Twitter @BenBotkin1.