The announcement comes a day after Kaiser Permanente said that it would require all employees to be fully inoculated.
Image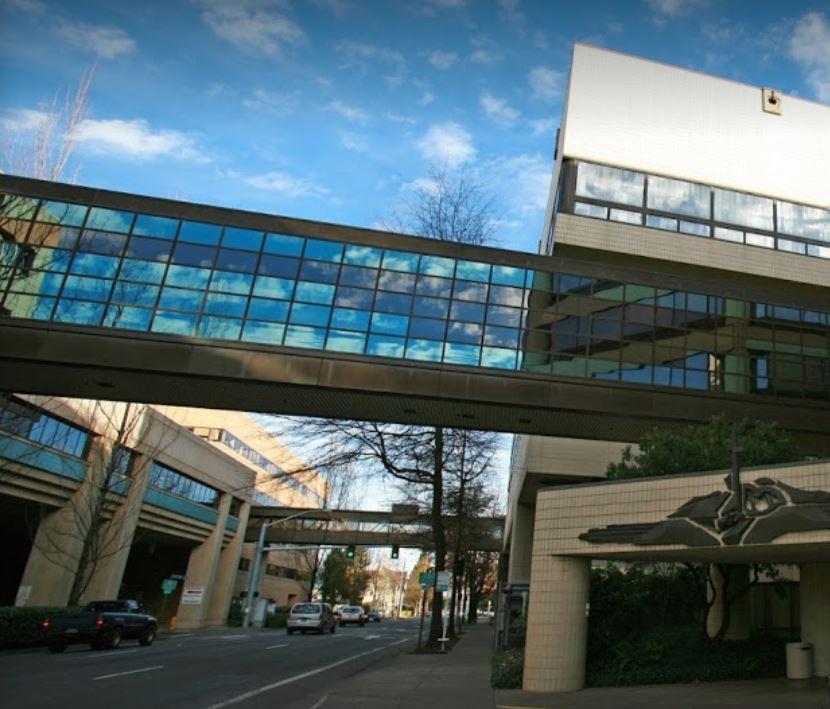 August 3, 2021
PeaceHealth, which has four hospitals in Oregon, announced Tuesday that it will require all staff to be vaccinated against COVID-19.
The announcement comes a day after a similar statement by Kaiser Permanente, saying it will mandate vaccines for all employees by Sept. 30. PeaceHealth intends to have all staff fully inoculated by Aug. 31.
PeaceHealth said that it will allow medical exemptions. But employees who don't get vaccinated will be subjected to regular COVID-19 testing and they'll have to take additional safety precautions, including additional masking, potential reassignment to non-patient care settings and other safety protocols. 
PeaceHealth said its policy will apply to all caregivers, including providers, students, contractors, vendors, and volunteers.
Nearly 80% of PeaceHealth caregivers are vaccinated across the system, Dr. Doug Koekkoek, PeaceHealth's chief physician executive, said in a news conference. 
"This is a public health emergency that requires administrative action," Koekkoek said, adding that the vaccine is the best protection against infection from the delta variant, which is now dominant across the country, including in the Northwest.
"We believe all health care workers who are medically able should get a COVID-19 vaccine to keep themselves, our patients, and our communities safe," Koekkoek said. "Doing so is part of our mission to promote personal and community health and our vision to make sure that every person receives safe, compassionate care." 
Koekkoek said PeaceHealth will work with employees on a case-by-case basis if they aren't fully vaccinated by Aug. 31 to get them inoculated as soon as possible. Employees who refuse could be moved to jobs that have no contact with patients or they might have to work remotely.
The goal is to preserve the workforce, he said, adding that he hopes that employees who refuse to take the vaccine will be "rare instances."
Earlier, PeaceHealth also announced that it will restrict visitation at its hospitals to stem the spread of the coronavirus.
PeaceHealth has 10 hospitals in Alaska, Washington and Oregon, with a total of 16,000 employees. They include nearly 5,600 employees in Oregon and 7,300 in Washington. The nonprofit's four hospitals in Oregon are located in Springfield, Eugene, Florence and Cottage Grove. About 78% of its Oregon employees are vaccinated, and 75% of staff in Washington are inoculated.
Koekkoek said the mandate is not directly tied to any COVID-19 outbreaks in the PeaceHealth system. PeaceHealth Southwest Medical Center in Vancouver reported an outbreak in July that infected at least 10 patients and four staffers. 
In Oregon, the vaccine mandate defies 1989 law that bans health care companies from making vaccinations a condition of employment. The Oregon Association of Hospitals and Health Systems has called on the Oregon Health Authority to write a rule to overturn the law. It could also be changed by the Legislature, but lawmakers are not currently in session.
Koekkoek told reporters that the "law is certainly a barrier" but added that PeaceHealth hopes to have support from the government. 
"We're looking at this as a public health emergency," he said.
Gov. Kate Brown is now working with the hospital association, health care organizations and the Oregon Health Authority on a provision to allow health care companies to skirt the law. An announcement is expected soon.
The U.S. Department of Veterans Affairs is requiring all staff to be vaccinated, and Oregon Health & Science University made a similar announcement, though it will allow exemptions. 
Elsewhere, a growing number of health care companies have announced that they will require staff to be vaccinated, as have several national professional organizations, including the Catholic Health Association, the American Hospital Association, the American Medical Association and the American Nurses Association.
Their pleas come amid a worrying spike of COVID-19 cases fueled by the delta variant. Oregon, which had a relatively low case count throughout last year compared with some other states, is now reporting more than 1,000 new cases a day. Dr. Dean Sidelinger, the state epidemiologist, expects a daily count of 1,200 new cases by mid-August.
Anyone not vaccinated who comes into contact with a person infected with the delta variant is certain to catch it, health officials warn. Oregon Health Authority data show that nearly 70% of adults in the state are vaccinated. The agency said it would like to reach 80% by the end of August, but that's not likely to happen.
"New variants of COVID-19 pose a critical threat to those unable to be vaccinated, including children and the medically vulnerable," said Dr. Bob Pelz, PeaceHealth's medical director of infection prevention. "It is our moral obligation to first do no harm and act for the common good. COVID-19 vaccines are proven to be the best way to protect ourselves and reduce the likelihood of harming others."
Ben Botkin contributed to this report.
You can reach Lynne Terry at [email protected] or on Twitter @LynnePDX. You can reach Ben Botkin at [email protected] or on Twitter @BenBotkin1.