PeaceHealth Names New ZoomCare CEO
Six months after buying health care clinic chain ZoomCare, PeaceHealth has installed one of its own executives as CEO of the business, which has rapid-service clinics in the Portland and Seattle metro areas.
Torben Nielsen replaces interim Zoom CEO Bill Frerichs, who is leaving the company May 30, PeaceHealth said Tuesday.
Nielsen has extensive experience in health care and other fields, most recently as PeaceHealth's senior vice president of the business transformation office.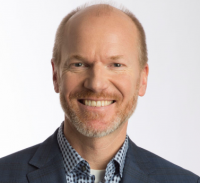 Nielsen has moved through a string of companies in the past two decades, PeaceHealth said.
In addition to working for Connecticut-based tech company Xerox Corp. and Denmark-based toymaker LEGO, Nielsen co-founded and led product strategy for the startup company HealthSparq, now part of Portland-based health insurance company Cambia Health Solutions. He later moved to Premera Blue Cross, a health insurance company that serves Washington state, where he was vice president of innovation and strategic investments.
Founded by entrepreneurs, Zoom has 26 clinics in the Portland metro area, 10 in the Seattle area and one in Salem.
The purchase, for an undisclosed sum, gave the nonprofit PeaceHealth immediate and major expansion into the two big Pacific Northwest metro markets where it has been largely absent.
PeaceHealth already has a clinic system, PeaceHealth Medical Group, but that serves smaller markets in the Pacific Northwest, including the Eugene area and some areas of Washington and Alaska.
Observers have said the purchase of Zoom gives PeaceHealth the ability to serve more patients in lower-cost and speedier clinic settings, an alternative to costly hospital settings.
"As we look to continue to evolve Zoom's presence and offerings, Torben brings a unique mix of experience from startup company to multinational corporation, and from health care to high-tech," said Karl Carrier, chairman of Zoom's board and PeaceHealth's Board of Directors. "The board was impressed by his proven track record in areas including product strategy, strategic investments and digital solutions."
PeaceHealth CEO Liz Dunne also lauded Nielsen. "PeaceHealth acquired Zoom
(Care) late last year to accelerate our vision of ensuring greater health care accessibility and affordability and to ensure that we remain at the forefront of innovative, person-first, community-centric care," Dunne said in a news release.
PeaceHealth has 10 hospitals across the Pacific Northwest, mostly in mid-size and rural markets.
As a private company, Zoom's financials have never been disclosed. PeaceHealth said Zoom will continue "to operate as its own brand with its own leadership and separate board."
You can reach Christian Wihtol at [email protected].