PeaceHealth CEO Scored $3.8 Million Payout After Retirement
Four years ago, the PeaceHealth hospital system lavished praised on Alan Yordy, its longtime top executive, when he announced he would retire in June 2015.
PeaceHealth lauded Yordy's accomplishments as president and chief mission officer. Yordy himself said in a late 2014 news release that "it is a good time to pass the torch to the next generation of leaders…. I am leaving, secure in the knowledge that a strong leadership team is in place."
What PeaceHealth and Yordy neglected to mention was that Yordy actually didn't leave the organization, which is based in Vancouver. He remained on PeaceHealth's payroll for another two years, picking up a total of $3.8 million in pay, according to PeaceHealth's financial filings with the Internal Revenue Service.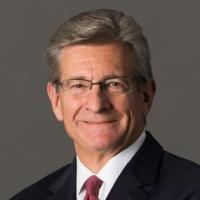 After the widely publicized announcement that Yordy, a top health care executive in the Northwest, would retire effective June 2015, PeaceHealth kept Yordy on as "president emeritus" for two fiscal years, the records show.
In the first fiscal year after his retirement, from July 2015 to June 2016, PeaceHealth paid him $2.8 million, according to the financial filings with the IRS. Yordy worked 40 hours a week for PeaceHealth during that year, according to the filing.
His pay that year was a lot more than PeaceHealth paid him in his final year as president and chief mission officer: $1.5 million.
In the fiscal year ending June 2017, PeaceHealth paid Yordy $1.1 million as "former president emeritus." He did not work any hours for PeaceHealth in that fiscal year, according to the filing, which PeaceHealth submitted to the IRS in 2018.
The company, which is focused on increasing profits and employee productivity, declined to comment on Yordy's pay. The hospital group also declined to respond to repeated questions from The Lund Report about its finances for a company profile. 
PeaceHealth has not yet filed with the IRS its annual report for the fiscal year ending June 2018, so it is unclear whether Yordy was on the PeaceHealth payroll for that period too.
Soon after Yordy's resignation as CEO, PeaceHealth hired a new top executive, Liz Dunne, who joined the company in November 2015, and remains in the top slot. PeaceHealth pays her $1.5 million a year, according to filings.
Yordy, an Oregon resident, currently works as a health-care consultant for California-based CEO Advisory Network. He did not respond to requests for comment from The Lund Report.
You can reach Christian Wihtol at [email protected].
×
This article is for premium subscribers. If you are one, please sign in below.
You can see
two
more premium stories for free. To subscribe,
click here
. We depend on premium subscriptions to survive, and they are tax deductible.