Oregon is considering a proposal that would force Medicaid chronic pain patients to cut opioids entirely.
Image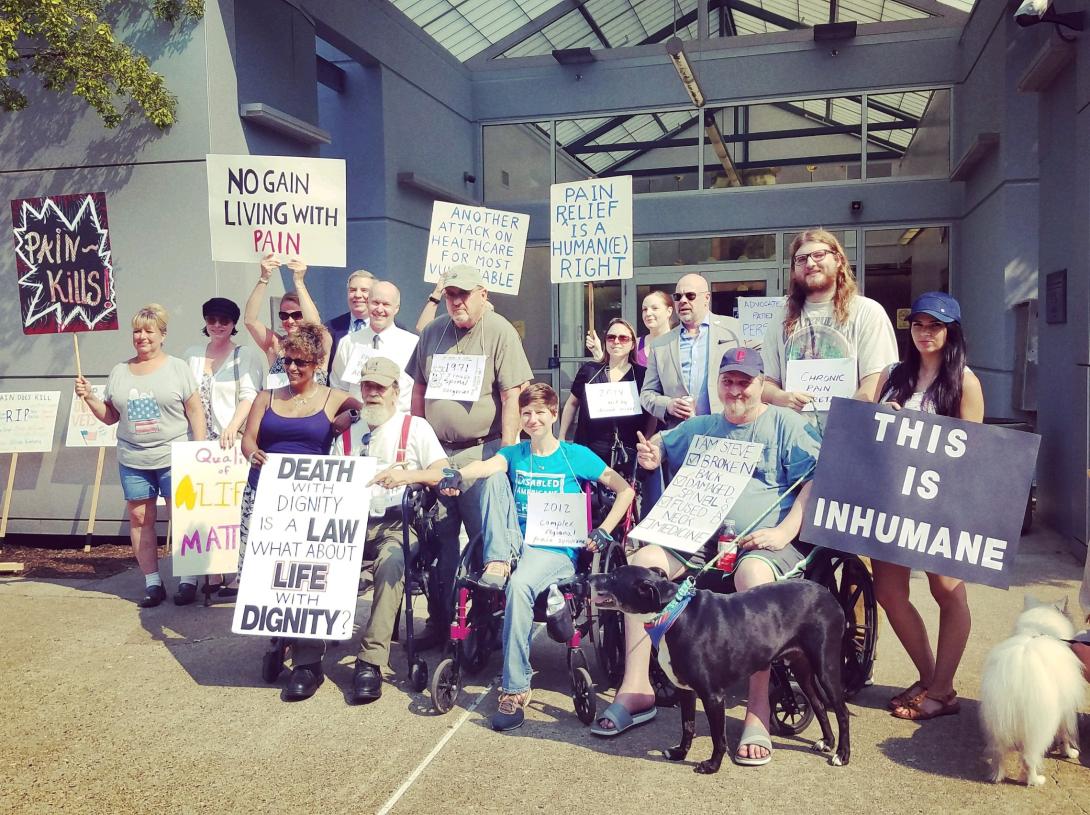 October 9, 2018
Evelyn Blackburn suffers from severe pain caused by a spinal cord condition.  
Largely confined to a wheelchair, Blackburn has tried every option to ease her pain. She takes anti-inflammatory medications. She goes to aqua-therapy and takes 13 different supplements that she pays for out of pocket. She follows an expensive anti-inflammatory diet. She's tried acupuncture, nerve root blocks, lotions, physical therapy, epidural injections, steroids and muscle relaxers.
She also has an implanted device that pumps a powerful opioid -- fentanyl -- into her body. It works when some of the other treatments don't, she said.
But it might not be an option in the future. A state-backed committee is considering forcing Medicaid patients off opioids altogether.
The proposed policy is the latest response in Oregon to the opioid epidemic which has swept the country, causing alarm among health officials and policymakers.
In Oregon, deaths and hospitalizations from opioids peaked in 2011, with 12 hospitalizations per 100,000 people and more than 330 deaths. But the number of prescriptions kept rising after that, hitting a high of more than 260 per 100,000 patients in 2015.
Oregon used to have a liberal prescribing policy, stemming from a concern about patient comfort, but as awareness of the opioid epidemic spread, the pendulum has swung back the other way.
State officials say that limiting the number of prescribed opioids will keep pills out of the wrong hands, but pain patients and experts say the state is overstepping its authority by letting bureaucrats determine medical treatment.
Chronic pain patients say they are being unfairly targeted. One patient said the new rules make her fear for her life. The last time a doctor forced her to taper, she turned to illicit drugs and lay in bed for days contemplating suicide.
Specialists have flown to Oregon from across the country to lobby against the proposal. They fear it could harm patients and set a dangerous precedent nationwide. They've blasted the state for moving to expand opioid rules before evaluating the impact of a 2016 policy that requires tapering for patients with back and spine conditions.
The proposed rule, they said, could have devastating effects on chronic pain patients who've been prescribed opioids for years. Forced tapering can cause psychological distress, withdrawal symptoms, illicit drug-seeking to manage suffering, and suicide, they said.
"We need to address these risks so we are not unwittingly inflicting further suffering on patients in an attempt to help them," said Beth Darnall, a Stanford clinical professor and pain psychologist who urged caution at a recent chronic pain task force meeting.
No More Opioids
This division has erupted at meetings of a state-led chronic pain task force which is considering the proposal. Pain patients have picketed and testified, with Blackburn joining at least a dozen pain patients in calling on officials to reconsider the proposal. They fear they'd be condemned to a lifetime of pain if it goes through, they said.
Oregon would be the first state to adopt such a drastic option.
The proposal, backed by the Oregon Health Authority, would require doctors to get patients diagnosed with chronic pain and fibromyalgia to cut their opioid intake to zero. Patients who have relied on the medications for years to manage their pain would have to stop them within a year. The rules would also limit the circumstances under which providers could prescribe opioids to Medicaid patients recovering from surgery or experiencing acute pain.
They would expand Medicaid coverage for non-pharmaceutical pain treatments such as acupuncture, physical therapy, cognitive behavioral therapy and yoga.
"The bottom line is this is about patient safety," Oregon Health Authority spokeswoman Saerom England said. Reducing the number of opioid prescriptions is part of an effort to reduce opioid abuse, misuse and deaths in Oregon.
Blackburn understands and supports the state's efforts to address the opioid abuse crisis, but said they're overcorrecting by setting prescribing rules.
"Our care should be overseen by physicians knowledgeable in complex chronic pain and the management of it, not by government agencies and committees who have no expertise in treating it," Blackburn said.
An Incomplete Assessment
The chronic pain task force is part of the Oregon Opioid Initiative, which aims to expand pain treatment options in large part to reduce the number of opioid pills in circulation, England said.
The proposal expands guidelines the Oregon Health Authority adopted in July 2016 on treating patients with back and spine conditions, common ailments that cause chronic pain.
The guidelines require patients with chronic back pain to get off opioids within a year. They direct Medicaid to cover up to 30 combined visits for alternative pain treatments that include acupuncture, chiropractic manipulation, occupational therapy and physical therapy.
The state has yet to evaluate these guidelines.
Critics say state officials are getting ahead of themselves by trying to expand the guidelines before understanding whether they helped or harmed patients. "They have to do the outcome assessment, figure out why this isn't working and what the outcome has been on patients before they expand it," said Bob Twillman, executive director of the Academy of Integrative Pain Management in Kansas. Twillman testified at an Oregon chronic pain task force meeting in June.
"They can tell us what's happened to the pills because there are fewer pills being prescribed, but they haven't told us what's happening to the people," he said.
Two studies are looking at the outcomes of the back and spine policy, but England said they probably will not be finished before the chronic pain task force agrees on its plan.
The Kaiser Center for Health Research and OCHIN, a nonprofit research group, are one year into a three-year study looking at the impact of the back pain policy. The National Institute of Drug Abuse recently agreed to fund a study by Oregon Health & Science University and Health Insight, a nonprofit consulting firm, to look at the back pain policy changes. It's not clear when that study will be complete, England said.
England said it's up to the task force to decide whether to move forward with the recommendations before the studies are complete.
"Nothing is definitive," England said. "The task force really wants to hear this. We'll absolutely be making adjustments to recommendations based on the evidence."
The Oregon Health Authority's chief medical officer, Dr. Dana Hargunani, told The Lund Report that the task force intends to follow up on the input they received from patients.
The group also requested that OHSU review all existing medical evidence related to involuntary opioid tapering. OHSU will report their findings to the task force in December.
Task force members also requested input from coordinated care organizations -- the groups that act as insurers for Medicaid patients in Oregon. In response to the outpouring of concern, state officials added two chronic pain providers to the task force, Hargunani said.
She said no final decision has been made regarding tapering opioids.
But patients remain concerned. The physicians added to the group specialize in addiction treatment and pharmaceuticals, not comprehensive pain care, they said.
One of them, Dr. Amanda Risser, specializes in treating the babies of opioid-dependent mothers and has published an article on treating opioid dependencies. Dr. Jessica Gregg, the other one, is board certified in addiction services, teaches at OHSU and is the medical director of the Hooper Detoxification and Stabilization center, which offers supervised drug and alcohol detoxification to homeless and uninsured Oregonians. The state also recently added pharmacist Lisa Boyle to the task force. 
Patrick Starnes, independent gubernatorial candidate and chronic pain advocate, said he was "insulted" that they didn't add a chronic pain patient and provider to the task force as he requested in August.
Patients Are Afraid
Kera McGee, 29, has a connective tissue disorder that has required 36 spinal surgeries and severe pain.
When her doctor suddenly reduced her Vicodin prescription this year from six pills to four a day, she suffered severe pain, depression and became suicidal. She lay in bed for days. In pain, she bought some heroin on the street and ended up overdosing. That was after staying off methamphetamine for seven years. McGee told her story to the pain commission. Afterwards, she told The Lund Report she's worried what will happen to her if she no longer has opioids as a pain option.
"I just want somebody to do something about it," McGee said. "As long as I'm willing to put in the work and stay sober, I deserve to live."
Clinical psychologist and task force member Catriona Buist said the committee has received calls from patients like McGee who feel abandoned by their doctor when they tell them they have to taper off opioids but fail to offer other options.
"There's a lot of fear on the part of the patients to maybe take away something that they feel has been helpful for them," Buist said. "That would be a normal reaction to that."
Physical therapist and task force member Nora Stern emphasized that the task force is looking at expanding treatment options.
"We are not dismissing their concerns," Stern said. "We are doing incredibly important work to bring best practice treatment options for pain care to patients where they never had them before."
Stern chairs the Oregon Pain Management Commission, which trains clinics, providers and patients around the state on how to manage pain.
"We want our whole community to better understand pain and how they can actively change their pain experience," Stern said.
A Shift In The Conversation
Providers struggle to help patients manage their pain without opioids, Buist said. Medicaid limits coverage of non-pharmacological treatment to 30 visits. Often, that's not enough, she said.
Buist said she gets one to 10 visits with her Medicaid patients, but in most cases, she sees them only once. She has to apply for an exception for follow-ups and often sends patients to county mental health providers to limit their costs.
She joined the committee to help increase access to different types of care, she said, not to create require providers to get rid of medication options.
"A lot of us think things have kind of derailed in terms of the focus here," Buist said.
Pushing For Education
Pain experts say policymakers should focus on expanding and funding pain education instead of limiting treatment options.
"If we did that as intensively as we're focusing on a reductive opioid number, that would be a fantastic start in the United States," said Darnall of Stanford
Twillman, the Kansas pain specialist, said physicians receive little pain management training in medical school. He said policymakers should expand coverage and require better pain management education. They should not, he said, dictate treatment.
"They shouldn't be practicing medicine by telling us what we can and can't prescribe," Twillman said.
'Every Person Is Different'
Darnall found in a study that patients can successfully reduce their opioid use without state-sanctioned requirements. She invited 110 patients who had used opioids for three months or more to work with physicians to reduce their opioid use by as much as the patient wanted. Of those, 68 patients enrolled and 51 patients completed the study.
The patients in the latter group reduced their opioid dose by an average of 50 percent over four months. Four people got off opioids entirely, and 16 patients reduced their doses to below the daily threshold set by Centers for Disease Control and Prevention. Some patients increased their doses based on their needs.
The National Institutes of Health and the National Center for Complementary and Integrative Health funded the four-month research, which has since been expanded into a year-long study backed by Stanford University.
Darnall said her study showed patients who feel safe, in control and trusting of their tapering process can successfully reduce their opioid use with the help of providers.
"If we force patients into a care pathway, it violates all of those principals right off the bat," Darnall said.
She said her study shows that policy should be flexible to suit patient needs.
"A one-size-fits-all approach fails our patients," Darnall told The Lund Report. "What is not good medicine for some people is maybe essential medicine for other people."
Blackburn reduced her opioid intake by 62 percent over 17 months. She endured two weeks of pain that made her feel as if she was "going to go crazy" before her body adjusted each time she lowered her dose. It was worth it, she said, because the pain would level out. Her cognitive ability and memory also improved.
However, once she hit a certain level of the pain medication, the pain did not level out. She said she worries what impact stopping opioid intake altogether would have on her health. Her pain has caused hypertension and stress throughout the body, she said.
"Every person is different," Blackburn said. "To dictate that a certain level works for everybody is impossible."
Reach Jessica Floum at [email protected]