High drug costs, under-the-radar insurer policies can put patients in a bind as hefty copays mount.
Image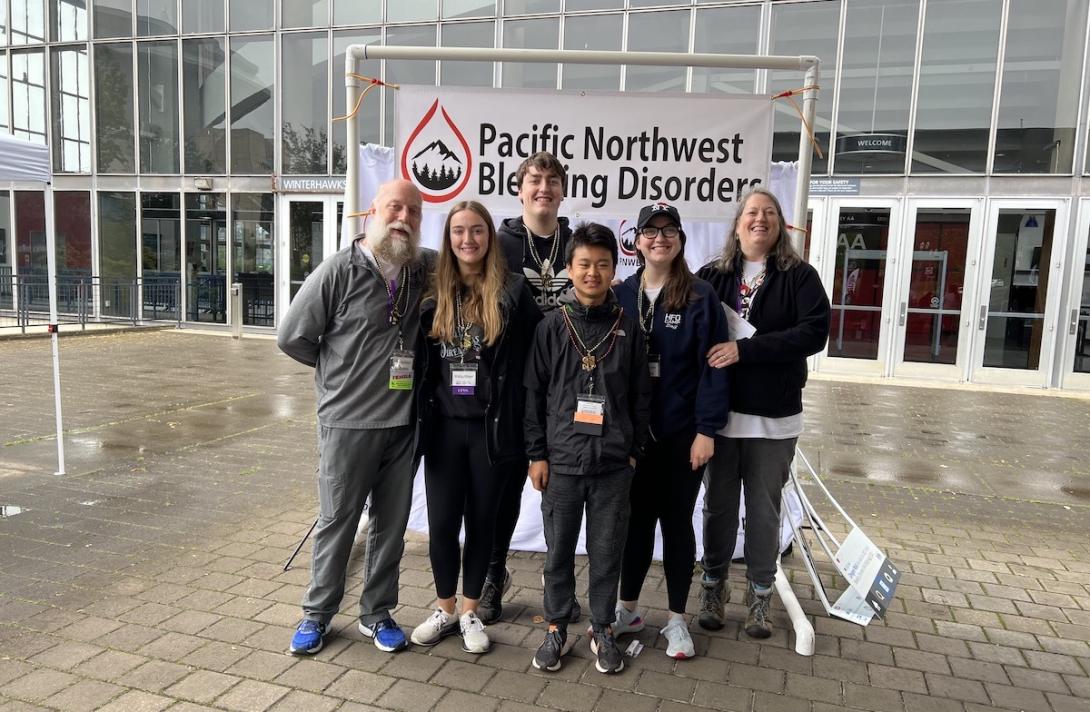 December 15, 2022
Madonna McGuire Smith's four children and husband all have lifelong bleeding disorders. These disorders are often difficult and expensive to treat — and living in Oregon adds to the challenges.
McGuire Smith and her family qualify for a patient assistance program funded by a drug manufacturer to offset or eliminate their copay on expensive medications. But a company working as an intermediary with her insurer has adopted rules prohibiting that assistance from counting toward their deductible or out-of-pocket maximum— meaning the family pays either way.
This under-the-radar practice, called a "copay accumulator," is banned in 14 states and Puerto Rico. Now several patient advocacy groups, including some that receive funding from drugmakers, have joined with Sen. Sara Gelser Blouin, D-Corvallis, to pursue legislation to add Oregon to that list of states.
The battle over the practices is the latest manifestation of a struggle between pharmaceutical companies and insurers — one that leaves people like McGuire Smith and her family caught in the middle.
To maintain high profit margins, drugmakers have increasingly boosted drug prices in the U.S. in ways that experts call unjustifiable — putting pressure on patient care across the system. Years ago, insurers responded to the trend by requiring patients to pay hefty copays for costly drugs. Drugmakers responded with patient assistance programs to fund copays, often using nonprofit patient groups as intermediaries to circumvent federal kickback laws. 
About four years ago, insurers responded with copay accumulator rules, knocking down drug prices. The federal government has adopted its own version, sparking a drugmaker lawsuit.
Gelser Blouin said she's pushing against accumulators not for drugmakers, but for the people who need treatment.
 "Patients simply need their medications. They don't care about the tug of war between manufacturers and insurers," she said. "They are just desperate for a solution that allows them to fill the prescriptions they desperately need."
"They held us hostage"
Before 2013, McGuire Smith's family paid approximately $5,000 per dose per child for the factor to treat their three children with Von Willebrand disease. McGuire said her family always hit their out-of-pocket maximum of $7,500 in January.
"We could never go on vacations. We could never really do much because we spent all of our time trying to save the money," McGuire Smith said. 
The manufacturer began offering $10,000 a year in patient assistance for the medication, a relief for her family because it helped them meet their out-of-pocket costs without spending their entire savings each year. The new assistance trend also included medications for hemophilia, which McGuire's other son has. 
In early 2020, McGuire Smith's son with hemophilia went to the hospital for a life-threatening bleed in his GI tract. After being treated, her son required at-home treatment, which would have cost their family approximately $147,000 without insurance coverage. McGuire Smith said the  intermediary company distributing the treatment — a pharmacy benefit manager, or PBM, — refused to release the treatment unless McGuire Smith signed up for the assistance program, giving the $15,000 in assistance to the company. The $15,000 wouldn't count towards their out-of-pocket maximum, now $5,000.
"So they held us hostage," McGuire Smith said.
The company was able to collect $15,000 of assistance from the manufacturer, although McGuire Smith's family only needed $5,000 of the assistance to meet their out-of-pocket maximum and have their insurance cover the treatment. 
According to the National Hemophilia Foundation, the average annual cost of clotting factor for a person with severe hemophilia is roughly $300,000. The average Oregon family's deductible in 2019 was $3,634, and in 2020 the maximum out-of-pocket cost was $16,300 for family plans. 
For McGuire Smith, the personal is also professional. Since 2014, she's been the executive director of Pacific Northwest Bleeding Disorders, a nonprofit group that's been working with Gelser Blouin to ban the practice. About a quarter of the funding for the group comes directly from pharmaceutical manufacturers, which she says helps the group serve their members.
In recent years copay accumulators have become increasingly common among insurance and PBMs for people with chronic diseases in the U.S. Avalere — a healthcare business consulting firm headquartered in Washington, D.C. — found 83%  of commercial health plans in the U.S. use them. 
Gelser Blouin's bill would ban insurance companies and PBMs from taking patient assistance without counting the money towards the patient's deductible or out-of-pocket maximum.
Disability Rights Oregon is supporting the bill. The group's public policy director, Meghan Moyer, said the nonprofit became active after hearing from people with cystic fibrosis, epilepsy, and multiple sclerosis who were subjected to a copay accumulator.
"We have begun hearing more and more concern about people who had been able to afford their prescription drugs or other treatments through the help of patient assistance programs now not being able to access those programs," Moyer said.
25% of Oregonians self-identify as disabled, Moyer said, making them more likely to be subjected to the practice, depending on the type of medication they take.
Most Oregonians subject to an accumulator may not even know they are. According to Moyer's group, most patients don't know their insurance coverage isn't counting their assistance toward their deductible or out-of-pocket maximum until midway through the year — after hefty costs for prescriptions have already begun mounting.
"I think Oregonians would be surprised that this was even an issue or that this was happening to patients," Moyer said. 
She said the practice hurts health and leads to increased costs for treatment down the line by making medications unaffordable. "It has a real cost when people can't take the medications that they need because they cannot afford them. They get much sicker."
First attempt to ban foundered
This is the second attempt to ban insurers from using accumulators in Oregon. McGuire Smith's group supported SB 560 in 2021 sponsored by Gelser Blouin and Sen. Tim Knopp, R-Bend. The bill died in the Oregon House of Representatives despite support from 29 out of 30 senators. The failure was partially due to misinformation, Gelser Blouin contends.
Insurers Moda Health Plan and Cambia Health Solutions argued copay assistance raises the cost of care for patients, citing research to that effect. 
"Copay coupons and other patient assistance programs from manufacturers effectively raise the cost of care for everyone by encouraging the use of more expensive, brand-name drugs when other lower cost and clinically appropriate alternatives, like generic drugs, may be available," argued Moda Health Plan Pharmacy Services Director Robert Judge.
Lobbyist Vince Porter of Cambia Health Solutions similarly contended that, "Third party payments clearly drive individuals to higher cost drugs and higher cost treatments."
Seemingly echoing insurer concerns and an earlier U.S. Department of Justice investigation of copay assistance programs, a report issued by Democrats on the U.S. House Committee on Government Oversight and Reform late last year called for additional transparency in such programs, faulting them for high prices. It said some expired in the middle of treatment regimens, blindsiding patients with huge copays. It cited internal pharmaceutical company documents showing that drugmakers successfully used the programs to mute criticisms of price hikes and to maintain customer loyalty in the face of generic alternatives entering the market — thus netting increased profits far exceeding the programs' cost.
But patient groups cite other research asserting that the vast majority of drugs receiving copay assistance do not have generic alternatives.
McGuire Smith said the medications her family uses her children and husband with Von Willebrand disease take and her son with hemophilia takes have no generic equivalent. 
McGuire Smith also argues that the assistance is no coupon, but real money paid by the manufacturer to help a patient reduce their out-of-pocket costs. This assistance is like any other assistance provided by charitable organizations, crowdfunding, or even a family member, according to McGuire Smith.
"You can get it from your grandma," she said, adding that she questions why manufacturer assistance shouldn't count towards a deductible or out-of-pocket maximum, if other forms of assistance do.
Gelser Blouin said the new version of the bill will include "provisions to improve transparency and to be sure that when appropriate, generic drugs are an option."
McGuire Smith, Moyer, and Gelser Bouin hope that lawmakers will be more receptive to the legislation this year. One change to the bill is the addition of language expanding the ban to include accumulators used in insurance for state employees as well as in government insurance programs, according to George Okulitch, a lobbyist for McGuire Smith's group.
Patient groups say pharma cash doesn't direct
In the battle between manufacturers and insurers, drugmakers often fund patient advocacy groups and sometimes even pay for training for patients to lobby lawmakers.
But the connection between drugmakers and patient organizations is hyped by insurance companies and pharmacy benefit managers to silence the patient voice, advocates say.
Kollet Koulianos, the vice president of payer relations for the National Hemophilia Foundation (NHF), is a part of efforts to ban copay accumulators nationally. Koulianos said the organization does receive "a majority" of its funding from pharmaceutical companies but disputes that the funding guides the foundation's agenda.
"Yes, we get funding from pharma, but they don't drive our decisions," she said. There are only about 30,000 hemophilias patients nationwide, many of them too pressed by treatment costs to contribute to the advocates working on their behalf, she added. 
"Who are we going to get funding from to do this important work and protect these patients?" she asked.
Meanwhile, insurers and pharmacy benefit managers are making a ton of money while shifting costs to patients — while trying to discredit patient groups, Koulianos said: "They make a ton of money, and they love to point the finger. They're capitalizing on all of that."
"We feel like…if we don't pull a seat up at table, we're going to be on the menu," Koulianos said.
Gelser Blouin's legislation has not formally been assigned a bill number. The session starts Jan. 17.
Aurora Biggers can be reached on Twitter at @aurorabiggers.