Oregonians rallied on Saturday calling for the Oregon Health Authority to step up its actions against substance use.
Image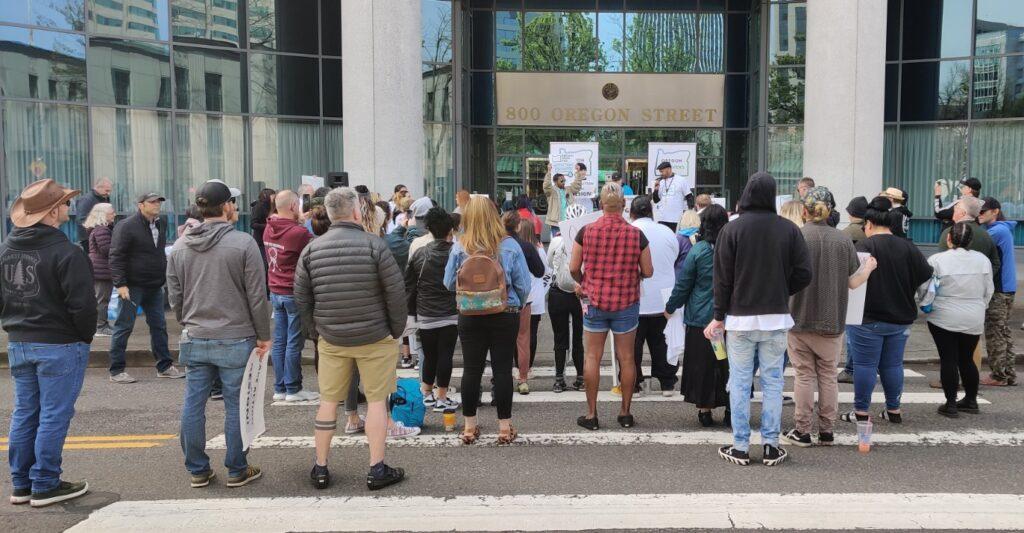 April 26, 2022
Moms and others concerned about addiction rallied in Portland on Saturday, calling for the Oregon Health Authority to take effective and immediate action against substance use. 
They included a father who lost his son two years ago after he consumed a counterfeit opioid pill he bought online that was laced with fentanyl. 
They included a mom with a 35-year-old son who recently relapsed with a drug addiction. 
And they included at least three moms whose children are struggling with addiction on the streets of Portland.
They gathered outside the northeast Portland office of the Oregon Health Authority.
The rally was organized by Mike Marshall, executive director of Oregon Recovers, an advocacy group. He has frequently criticized the state agency's handling of Measure 110. The ballot measure, passed in November 2020, decriminalized the possession of personal amounts of drugs and was supposed to build recovery facilities throughout the state, pay for harm reduction and point addicts towards treatment. But two years later little of the nearly $300 million allocated has been spent while Oregon's addiction crisis continues. 
Since the start of the pandemic in March 2020, alcohol-related deaths have jumped more than 70% and drug overdose fatalities have risen nearly 40%, according to state data. Residential treatment capacity for adults and adolescents has also fallen, and the state has shelved a public education campaign against over drinking, Marshall said.
He said the Oregon Health Authority has failed to help an advisory group that is overseeing the distribution of Measure 110 funds. They have a lot of experience with addiction but little experience allocating taxpayer dollars. 
"Take action – or resign," the group repeatedly chanted, while speakers addressed the need for addiction and recovery services in Oregon. 
In recent years, the state consistently has ranked near the top in the prevalence of addiction and at or near the bottom in access to treatment in nationwide surveys by the federal government and mental health groups.
"We need to just find the beds," Marshall told the group, referring to residential treatment facilities. 
One mother, who asked to remain anonymous to protect the identity of her 29-year-old son, told the Capital Chronicle that her son is living on the streets of Portland. He's been on a waiting list for residential treatment twice – one was a two-month wait and the other for more than six months – but he never entered treatment because he lost the desire. 
On the platform, Marshall stood in between two signs with cell phone numbers: one of an unnamed Oregon Health Authority official with responsibility for addiction services and a top health adviser to Gov. Kate Brown. He told the crowd to text those individuals – "be nice," he said – to ask for immediate action.
Almost immediately, people whipped out their cell phones, punched in the numbers and fired off messages. Another speaker, Tony Vezina, executive director of 4th Dimension Recovery, a Portland-based recovery group, said the government doesn't need to create more advisory groups. They are not effective in managing the crisis, Vezina said.
Oregon Recovers invited a number of public officials to the rally, but none showed up. Attorney General Ellen Rosenblum emailed Marshall, saying she was sorry she could not be there, according to an email which was read out loud.
Rosenblum referred to Oregon's $97 million share of a national settlement with Purdue Pharma and the Sackler family in the email sent to Marshall that was read and the Capital Chronicle later obtained:
"I do hope – anticipate – that we will start to see the beginning of the flow of opioid settlement funds to Oregon in the very near future! It is also my hope that these funds can be distributed reasonably quickly through the various mechanisms that have been set up for the different allocations.Throughout  this settlement process, we have been guided by the urgency of this moment. There is no time to waste in saving lives," Rosenblum wrote. 
Oregon Recovers has crafted a 12-step plan for tackling addiction in Oregon. It includes putting one person in charge and providing immediate access to detox, treatment and housing.
It also calls on the state to invest in prevention.
Marshall said the state needs to create an online resource that's similar to the one on the Oregon Liquor and Cannabis Commission's website that allows users to locate the nearest liquor store that sells a certain product. 
"We need that for treatment," Marshall said.
Oregon Capital Chronicle is part of States Newsroom, a network of news bureaus supported by grants and a coalition of donors as a 501c(3) charity.