Image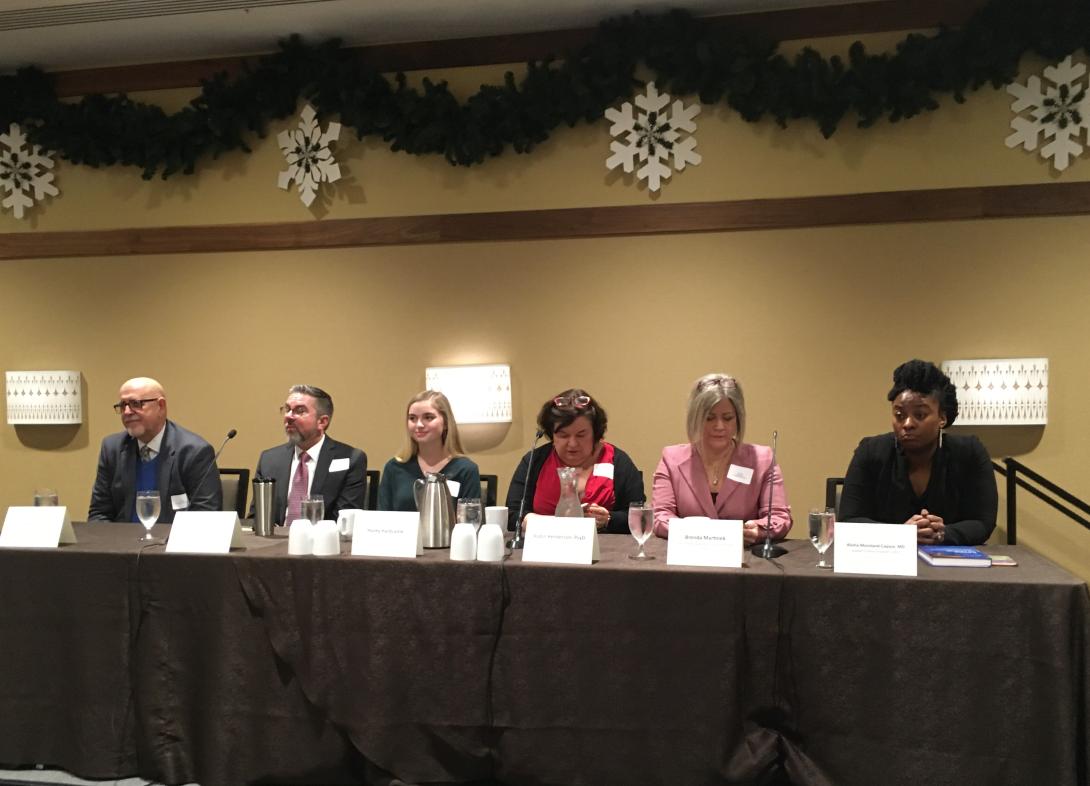 December 12, 2019
Mass shootings tend to dominate the headlines when it comes to trauma in schools. But many children also struggle with other mental health issues in their everyday lives.
"We spend a lot of time focusing on what is a highly unlikely event when every day we have children walking into our schools who live in families struggling with addiction, poverty, homelessness and food insecurity," said Robin Henderson, chief executive for behavioral health with Providence St. Joseph Health in Washington state. 
Henderson was among five panelists at an Oregon Health Forum breakfast on Thursday who called for more resources focused on mental health issues in schools. The meeting, held at the Multnomah Athletic Club in Southwest Portland, drew about 90 people.
The panel, moderated by Kim Scott, CEO of Trillium Family Services, focused on how trauma experienced by students and their families impacts the learning experience. 
"We're beginning to understand how trauma, in one way or another, in varying degrees, really affects all of us," Scott said. "Schools are not exempt from the implications and impact of trauma."
In terms of numbers, up to 6 percent of adolescents (ages 12 to 17) in Oregon struggle with a substance use disorder, or about 16,000 children, according to the Substance Abuse and Mental Health Services Administration. And when it comes to care, about 12,000 students need treatment for illicit drug use but haven't received it. 
"I see families that don't know how to get help and are scared and don't know where to turn," Bryant said. 
Making students, who have experienced trauma or are struggling with mental health, feel safe in their classes and schools will require funding and collaboration, the panelists said. 
Hailey Hardcastle, a freshman at the University of Oregon who was also on the panel, spearheaded an innovative Oregon bill that was signed into law in June that allows students to take mental health days off from school.  
Hardcastle said it's challenging to make sure schools across the state, from rural Eastern Oregon to urban Portland, get equitable funding. 
"The way our schools talk about mental health is very different, so we'd really like to close that gap, so everybody gets the same sort of treatment," Hardcastle said. 
Dr. Alisha Moreland-Capuia, executive director of the Avel Gordly Center for Healing at Oregon Health & Science University said another challenge is systemic racism in U.S. institutions. 
"Racism is consciously denied, but subconsciously applied, and it's killing people," Moreland-Capuia said. "So what's our responsibility? What's the higher moral calling? What's our role to deconstruct this powerful social construct?"
Another panelist, Brenda Martinek, chief of student support services for Portland Public Schools, said more people need to remember that our nation "was built on racism," and to understand how biases inform every decision we make. She said school systems need to be particularly cognizant of these facts.
"We have to keep race on the table with every decision," she said. 
Martinek said schools should provide mental health services, but noted schools operate differently than for-profit hospitals.
"In school systems, we don't bill for services. Anybody that walks in the doors should get the services that they need," Martinek said. "The problem is we're not funded appropriately to do that."
While there is a need for more training and resources to help students, a couple panelists did highlight bright spots in Oregon. 
Bryant brought up Harmony Academy as an example of a school filling a need. The Lake Oswego High School, which is tuition free, opened this year as Oregon's first recovery high school. It's dedicated to helping kids recover from substance use disorder and has staff with academic and recovery backgrounds . 
The school incorporates peer mentors, and Bryant said they have been extremely helpful in guiding students toward recovery through example. He said the peer mentors show students what is possible for them in the future.  
"That shows recovery is possible, change is possible," Bryant said. 
Moreland-Capuia said school systems have the opportunity to re-imagine how they care for students because of the Student Success Act.
The act, which was enacted this year, is expected to lead to a $2 billion investment in Oregon education every two years, according to the Oregon Health Authority. The Student Success Act includes 28 programs and aims to help students by doing things like increasing instructional time, expanding student nutrition services and adding as physical education and art back into their curriculum. 
Moreland-Capuia said the Student Success Act points to a future where attention won't just be on acknowledging trauma, but will also aim to repair it. 
"Oftentimes we focus a lot on trauma, but we never get to the fact that you actually can heal," she said. 
Wyatt Stayner can be reached at [email protected].