The health care industry deals with anti-vaccine workers while looking ahead to booster shots and future COVID-19 waves.
Image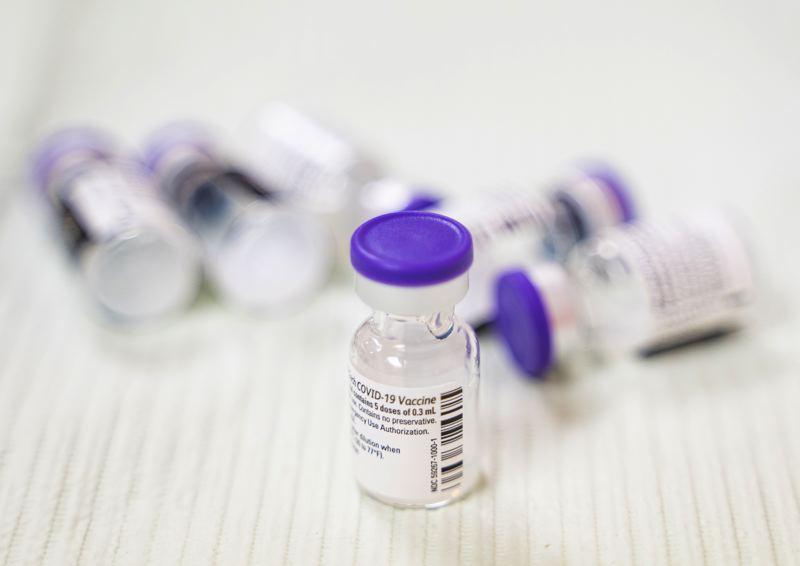 October 26, 2021
Oregon health care workers with exemptions to COVID-19 vaccination face restrictions. They need to stay 6 feet away from others, and they must also often wear heavy-duty N-95 masks and undergo weekly COVID-19 tests. These are a few ways the health care industry has balanced exemptions to the vaccine requirement with the need to keep patients and staff safe.
Experts in health care and human resources weighed-in on a panel Monday about the industry's implementation of the COVID-19 vaccine requirement for health care workers. The state mandate required workers to be fully vaccinated by Oct. 18 or obtain an employer-approved exemption for medical or religious reasons. The online panel discussion was organized by the Oregon Health Forum, a sister organization of The Lund Report.
Sabrina Van Artsdalen, senior project manager of Worksystems, Inc., moderated the event. The Portland-based nonprofit works with government agencies and employers on workforce-related issues, including in the health care industry, to ensure they have enough prospective workers in the pipeline to meet projected needs.
There were already shortages in the health care industry, including the long-term care sector, that existed prior to COVID-19, Van Artsdalen said. That increased once the pandemic started nearly two years ago.
Job Openings Across The Field
Challenges vary across the state. For example, rural areas have a smaller job pool than the Portland metro area. Also, the need for registered nurses is high, but other health care jobs are also in high demand, Van Artsdalen said.
"Dental offices are looking for people," she said in opening remarks." It's really across all fields of health care."
The good news is that job applications are trending upward in a market with hundreds of openings and employees are more comfortable in novel settings, such as working remotely, Van Artsdalen said.
Overall, the majority of health care workers statewide have received vaccinations. Only a small percentage of people in the sector have not. State data show more than 82% of the overall health care workforce in Oregon is vaccinated, although the rate varies among different professions and regions.
Vaccine Was One Challenge Of Many
Kristin Cole, director of human resources at The Oregon Clinic, talked about how her company has implemented the vaccine mandate. The Oregon Clinic has about 60 locations in the Portland metro region and more than 270 specialty providers.
The pandemic has accelerated departures from the health care industry, including retirements. It's also led to other short-term impacts, like staff callouts during the delta wave of the pandemic. As a result, it's difficult to separate the impact of the mandate from the rest of the COVID-19 pandemic, Cole said.
"The mandate, at least from my perspective, is the latest in the challenges," Cole said.
For example, some staff reduced hours to care for children and more employees tested positive and stayed home sick, Cole said, adding they didn't necessarily catch the virus at work.
The company posted ads for positions before openings actually occurred as a way to stay ahead of any staff leaving because of the mandate.
"We had a fear that some of these people would be leaving because of the mandate," Cole said, adding that staff communication and clear policies were both key to implementing the change.The clinic set up prevention measures for people who qualified for exemptions and could remain working. These include wearing a fitted N-95 face mask, a face shield, and goggles and standing 6 feet from co-workers and patients. These workers also are required to get weekly COVID-19 tests if they work on site.
The company didn't see a wave of departures, Cole said, adding that "very few" people left the organization. About 96% of its employees are vaccinated.
Future Is Uncertain
The future holds unanswered questions for the industry. For example, the state mandate for health care worker vaccinations expires in January. It's unclear if the state will extend it, but there's also a federal vaccine mandate in the pipeline for all facilities that take patients insured by Medicare or Medicaid.
Meanwhile, booster shots are on the horizon and it's unclear how future waves of COVID-19 will factor into mandates.
Dr. Ken Gatter, a professor of pathology and laboratory medicine at Oregon Health & Science University's School of Medicine, who also has a law degree, offered analysis too.
"It's too bad that so many issues about COVID have become political, but it isn't surprising," he said, adding that masks became a political issue before mandatory vaccinations were.
He noted that Oregon's vaccine requirement allows an exemption for religious reasons, which some states, including Maine, don't offer. 
Gatter said he sees the advantage of the vaccine mandate, but added "firing unvaccinated employees should be a last resort." 
Liza Morehead, a research and data analyst with Worksystems, said the projected growth across different sectors of health care, including ambulatory health care, hospitals and nurses and residential care, is 34,100 from 2019 to 2029.
"If anything, the demand is increasing," Morehead said, adding that registered nurses are most in demand.
Pay listed in job postings for registered nurses has increased by 26% from March 2020 to this September. That's an average increase from $75,000 annually to $95,000 annually.
However, that increase includes the salaries for contracted traveling nurses, who have been brought in to meet surge demands and are paid at higher rates than permanent staffers.
Remote Jobs 
For unvaccinated health care workers, remote work can be an option. Cole said it's critical for employers to have clear job expectations, an updated job description and telecommuting agreement for those workers.
It's also key to help those employees feel connected, as a telecommuter can feel disconnected and be more likely to job hop, Cole said.
Gatter said telehealth has pros and cons. For example, it's boosted access to care for people in places without access to specialists, he said. But on the flip side, the shift to telehealth has been difficult for some physicians who prefer to see patients in person. For example, Gatter said, a provider he knows retired in large part because of that shift.
You can reach Ben Botkin at [email protected] or via Twitter @BenBotkin1.