An Oregon State University fine arts student wins the grand prize, which Gov. Kate Brown had dangled to lure more people to get vaccinated.
Image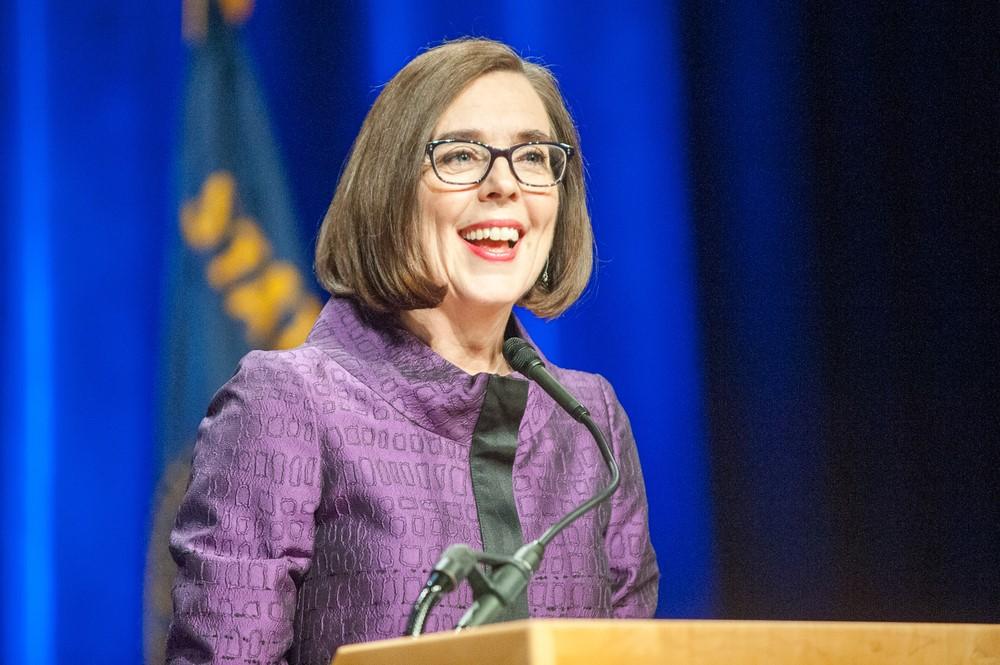 July 9, 2021
Oregon's COVID-19 vaccination push used incentives to boost the rate of those getting a jab in the arm.
That effort culminated when Oregon Gov. Kate Brown announced the winner on Friday of the state's grand haul: a $1 million prize. That was the lynchpin of a push that also included a $10,000 prize for one person in each county and scholarships for teenagers who get a jab. 
The winner is Chloe Zinda, who is from McMinnville and a fine arts student at Oregon State University. Zinda is one of more than 2.2 million Oregonians who are fully vaccinated. 
The vaccine requires two doses spaced several weeks apart, except for the one-dose Johnson & Johnson vaccine. Overall, more than 2.4 million Oregonians have received at least one dose, giving Oregon a vaccination rate of about 70.3% among adults 18 and older.
Health officials want to keep the vaccination drive going and are aiming for 80%, which would require another roughly 270,000 residents to get a shot.
State officials used a brief press event on Friday to underscore the need to get vaccinated and point to declining hospitalizations and deaths linked to COVID-19. Six weeks ago, when the governor announced the cash incentives, the state had a rolling seven-day average of 517 new cases a day, Oregon Health Authority Director Patrick Allen said. It's since dropped to 107 cases per day on average, he said.
"COVID-19 no longer holds Oregon so tightly in its grip," Allen said, attributing that to Oregonians, including the winner, who have received a jab. 
Allen said the vaccines have "all but ended the pandemic for people who have been vaccinated."
One week ago the state hit the 70% vaccination mark for those 18 and older, which triggered a broad lifting of restrictions.
"We absolutely know that by reaching our goal of 70 percent, which we reached last Friday, our communities are safer," Brown said.
Zinda, the lottery winner, said she recommends people get the vaccine to stay safe and healthy.
"This money's really going to be life-changing," she said. "I'm going to use it to pursue my dream as an artist."
That includes opening a business and art studio and paying off student loans, Zinda said.
The state still has much vaccination work ahead: Hitting 80% mark for those 18 and over will take months more work, as the number of people signing up for vaccinations has slowed.
Meanwhile, the state's vaccination rollout has continued to get an uneven reception in different regions, even with Brown's incentive program that offers residents in each county a chance to win prizes.  
Yamhill County, where Zinda is from, has a rate of about 60% of those 18 and older. Only a handful of Oregon's 36 counties have a vaccination rate above 70%, including the Portland region's Washington, Multnomah and Clackamas counties. That's pushing the overall statewide vaccination rate up to more than 70%. 
Malheur and Lake counties both have rates below 40%, the lowest in Oregon. One-third of Oregon counties -- primarily in rural areas -- still have vaccination rates below 50%, well below the ideal level, as many residents are hesitant or can't be bothered to get vaccinated.
Oregon's approach with incentives isn't unusual. Other states have turned to lottery prizes, including Ohio, which had five $ million prizes. California has conducted vacation giveaways and Arkansas has offered $20 discounts on hunting and fishing licenses. Washington state has offered an assortment of incentives, including lottery prizes, sports tickets, gift cards, scholarships and airline tickets.
You can reach Ben Botkin at [email protected] or via Twitter @BenBotkin1.