A plan to put seniors after educators and school staff has drawn scrutiny among officials calling for the state to base its priority decisions on public health data.
Image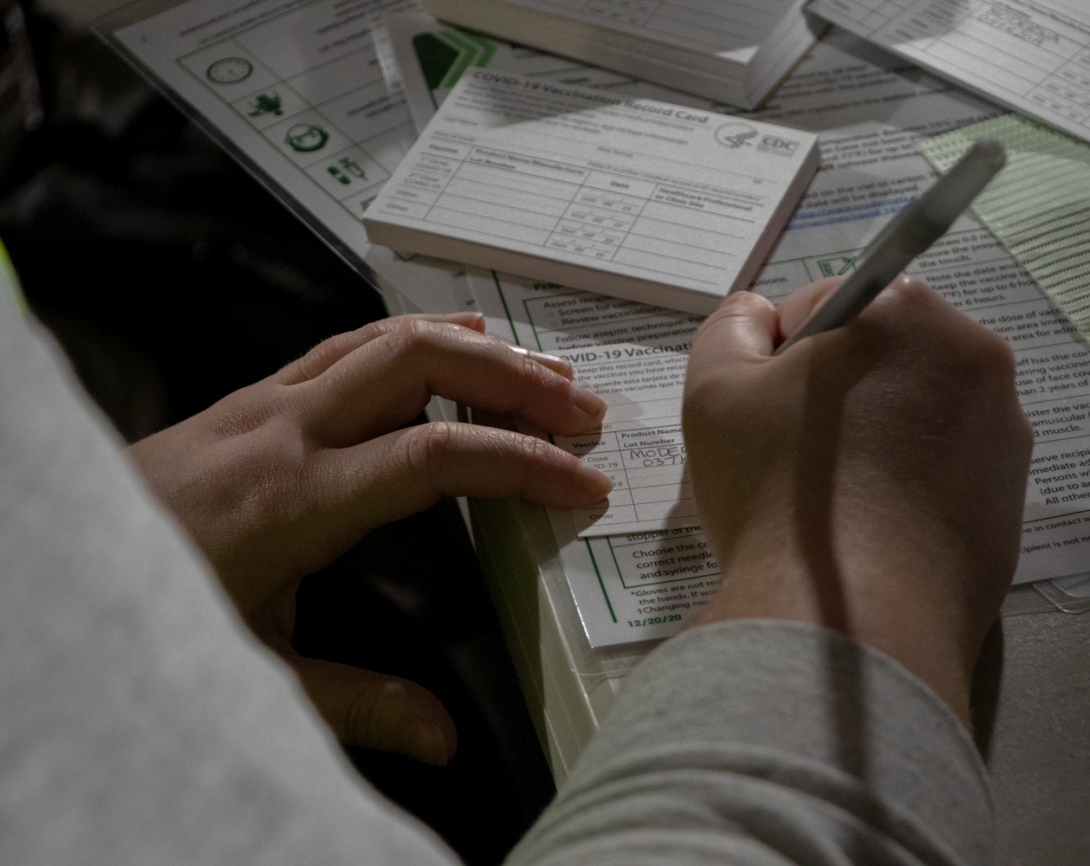 January 15, 2021
Gov. Kate Brown and Oregon public health officials have announced a new broad-brush vaccine rollout plan that puts educators and school staff ahead of senior citizens, a decision that is drawing intense scrutiny.
The latest plan raises more questions than answers: The state has not crafted a detailed program, and the federal government has not issued a detailed timeline for releasing vaccine to the states.
As a result, Oregonians in their seventies who don't live in a long-term care facility, for example, don't know when they can get vaccinated, even though they face a higher risk for severe disease and death. Some other states have made it a priority to vaccinate seniors. 
Brown has made educators and school support staff a priority. They will start to receive COVID-19 vaccinations in the final week of January, state officials said at a news conference on Friday. Officials also announced a date when seniors 80 and older can expect to start receiving vaccinations: Feb. 8. Younger seniors are supposed to begin getting vaccinated in mid and late February, state officials said.
But the picture remains fuzzy at a time when the vaccination campaign is more urgent than ever. Late Friday, the Oregon Health Authority announced that a Multnomah County resident had contracted an infectious strain of the novel coronavirus that was first detected in Britain. Authorities there have said that strain does not appear to cause more severe disease, but it is more infectious. British authorities ordered a lockdown after it was discovered, and dozens of countries, including the United States, either banned or restricted travel from Britain. But it's spread anyway. A map on the Centers for Disease Control and Prevention website shows that it's marched across the United States. 
Discovery of the strain comes at a time when cases are already on the rise following the holidays at the end of last year. The Oregon Health Authority recorded 8,150 cases last week -- a 3% increase over the week before. To date, 131,000 people have become infected in Oregon and about 1,750 have died. The state recently has stepped up vaccinations and has used nearly 44% of its supplies. Patrick Allen, the agency's director, said at the conference that many of the supplies not yet injected were being reserved as second doses. The vaccines require two shots for full inoculation.
At Friday's virtual news meeting, Brown blamed the latest change in the state's plans on the federal government, saying it promised to release doses held in reserve, but then admitted it had no reserves. State officials also blame themselves for some of the chaos surrounding the historic push to maximize vaccinations. Allen acknowledged that the state should have had the foresight to envision the scope needed to vaccinate the public, had wrongly relied on the existing flu vaccination system instead of coming up with a new blueprint, had failed to organize vaccine hubs and failed to provide enough training to vaccine administrators.
"We should have anticipated the challenges we face," Allen said at the news conference. He added that the state "needed to recognize we had to work many sites that had little experience in organizing vaccinations."
Recent days have been riddled with confusion about the amount of vaccine doses available and the expected pace of vaccinations. President-elect Joe Biden on Jan. 8 announced that once in office on Jan. 20 he would release almost all available federal reserves of the vaccine and ramp up vaccine production. Then, President Donald Trump's Health and Human Service Secretary, Alex Azar, told Brown and other state officials from around the country that the federal government would quickly release its entire supply to states. The prompted Oregon, with scant information about how many extra doses would be released to the state, to quickly declare it would start vaccinating people 65 and older on Jan. 23. But by Thursday, federal officials admitted they had no additional doses to release, prompting fury from Brown.
Brown Blasts The Feds
Brown called the federal government's reversal "certainly shocking" after "clear statements" by Azar about more shipments. 
Allen said that based on the announcement by Azar, the state made quick calculations about how much more vaccine it could expect, leading to an announcement on Tuesday that administrators would start vaccinating everyone 65 and older along with public school teachers and support staff on Jan. 23. 
The federal government's shift forced the state to retool those plans. 
Brown's press conference on Friday was originally intended to lay out plans for its surge in vaccinations.  
'While we know now that a surge is not coming, we would still like to share our Oregon plan with you," Brown said.
So far, Oregon health care providers have administered 173,073 doses of a vaccine, although Allen said the number of injections may be higher because it can take several days for vaccinations to be entered into the state database. About 120,000 doses have either been administered and not yet reported, or they are being held as second doses for people who have already received their first injection, Allen said.
State officials are not sure about the pace and volume of vaccine that will flow into the state in coming weeks. The Food and Drug Administration has approved two vaccines -- by Moderna and Pfizer-BioNTech -- for emergency use. Other promising vaccines are in the pipeline.
Vaccinations of Oregon K-12 educators and school staff - about 115,000 people - will start on the week of Jan. 25, Brown said. She has made opening schools a top priority. 
On Feb. 8, the state will start to vaccinate seniors who are 80 and older, Allen said. He estimated it will take 12 weeks to vaccinate those 65 and older. The state estinates that there are 750,000 people in Oregon who are 65 and older.
The state plans to offer a phased approach. First up will be those 80 and older, then Oregonians at least 75 years old, followed by those 70 and older. The last wave will consist of people 65 and older. But the pace will depend on vaccine supplies.
"We must return to the schedule and prioritization we put in place before this week's empty promises," Brown said. 
Oregon is still vaccinating its first priority group, called 1a, which includes 500,000 health care workers, residents and staff in long-term care facilities, first responders, prison staff, home care workers and others. The state expects to vaccinate about three-quarters of that group by Jan. 30. Allen said the state needs sites to "complete these vaccinations to the full extent possible."
Even that rollout has endured problems. Oregon public health officials faced criticism after hospitals got vaccination supplies first and gave doses to behind-the-scenes office workers and telecommuters, while frontline health care workers in clinics and settings outside hospitals waited for doses. In response, Oregon opened up the 1a category so that all types of health care workers could get vaccinations at once rather than in a sequential order that started with hospital workers with direct or indirect exposure to patients.
Allen stressed the overall pace of the rollout depends on available doses from the federal government, which is in charge of allocation.
"We must have the supplies we've been promised," Allen said.
Daily Doses Increase, But More Needed 
Oregon officials on Friday underscored a minor bright spot: They hit the state's goal of administering 12,000 doses per day. Last week, Brown had directed the Oregon Health Authority to reach that target. On Jan. 8, Oregon administered just 5,422 doses. By Jan. 8, that rose to 12,283 doses after officials simplified the 1a category. On Wednesday, the state hit 13,100 doses. 
But that goal is will need to be surpassed to allow Oregonians some semblance of normalcy in the months ahead. 
Trent Green, chief operating officer of the Legacy Health hospital system, said Portland areas hospitals -- Kaiser Permanente, Oregon Health & Science University, Providence Health & Services and Legacy Health, plan a mass vaccination clinic at the Oregon Convention Center in Portland. Starting next Wednesday, Jan. 20, the hospitals hope to eventually ramp up injections to administer 25,000 vaccines a day. OHSU is also working on a drive-through clinic with the American Red Cross and the Port of Portland to hold a mass clinic in an airport parking lot next week and has plans for other sites. It's unclear how the sites will be organized and how people will gain access.
"Our aim is to move quickly, but we do not want to repeat what we have seen across the country where we have seniors waiting in long lines for hours," Green said.
OHSU said the convention center clinic will be by invitation only. It's unclear how the airport site will be organized and how Oregonians will gain access. More details will be released next week. No plans were announced outside the metro area. Allen said facilities outside the Portland also have the capability to stage large vaccination clinics.
Announcements Draw Mixed Reactions
Asked repeatedly during the news conference why she was prioritizing teachers over seniors, Brown said she wants to get schools open as soon as possible. That decision was welcomed after the news confernce by Oregon's Department of Education. 
"Our highest priority is to return our schools to in-person instruction," Marc Siegal, the department's spokesman said in an email to The Lund Report. "And, we want each community to have the ability to do that as soon as we believe we can provide safety and stability for students, families and staff at the school. Vaccinations are a key tool to minimizing risk and increasing safety and today's news is an important step in the right direction."
In December, Brown said she wanted the schools to open by Feb. 15.
Brown's allegiance to teachers, however, did not sit well with many seniors. AARP Oregon, which has more than 500,000 members in Oregon aged 50 and over, has repeatedly insisted that the state follow the data showing that older people have been the most harmed by the pandemic. Data presented this week by Dr. Dean Sidelinger, the state's epidemiologist, showed that people 60 and older accounted for 90% of the deaths from COVID-19 in the state and 60% of the hospitalizations.
"We're responding to a pandemic, and the Oregon Health Authority is a public health agency," Joyce DeMonnin, spokeswoman for AARP Oregon, told The Lund Report after the news conference. "We would assume they would follow the public health guidance."
Many other states have put seniors high up in their eligibility rankings. Washington state, for example, decided that those 70 and older and people 50 and older who live in multigenerational households should follow its 1a group, which is less expansive than Oregon's. Officials in California gave people 65 and older top priority along with health care workers, long-term care residents and first responders.  And Nevada put older adults -- starting with those 70 and older -- and essential workers -- next in line right after health care workers who are in the top tier.
Older adults who are in long-term care facilities in Oregon are in the top 1a tier. Under a federal contract, three pharmacy companies -- CVS, Walgreens and Consonus Pharmacy -- are in charge of holding vaccination clinics in residential facilities -- including those for people with developmental disabilities. So far, about 40% percent of residents and staff in those facilities have been vaccinated.
DeMonnin said people in facilities should come first, before teachers or anyone else.
"I hope that before we begin vaccinating other groups that we finish that group first because they are in group 1a," DeMonnin said.
Critics have repeatedly asked what the state's plan is -- and none has been produced. DeMonnin said a big problem has been communication.
"At this point we really have to work on clear and consistent communication to Oregonians that makes it sound like it's a fair process," DeMonnin said.
Though the vaccine campaign started three weeks ago, the state is only just now organizing a call center for the public to get information. But the state still lacks a signup sheet similar to the one in Washington state which has allowed people eligible for a vaccine to obtain appointments.
DeMonnin said AARP is willing to work with state officials on the vaccine campaign. On Monday, the group sent a letter to Brown, calling on state officials to base their priority decisions on health care data. One of Brown's health care policy advisors responded by contacting an AARP lobbyist, but so far the governor has not consulted AARP or asked for help, despite its large membership. 
The Lund Report's editor, Lynne Terry, contributed to this story.
You can reach Ben Botkin at [email protected] or via Twitter @BenBotkin1.