The state's system doesn't show the bivalent booster for those who've had the first four shots.
Image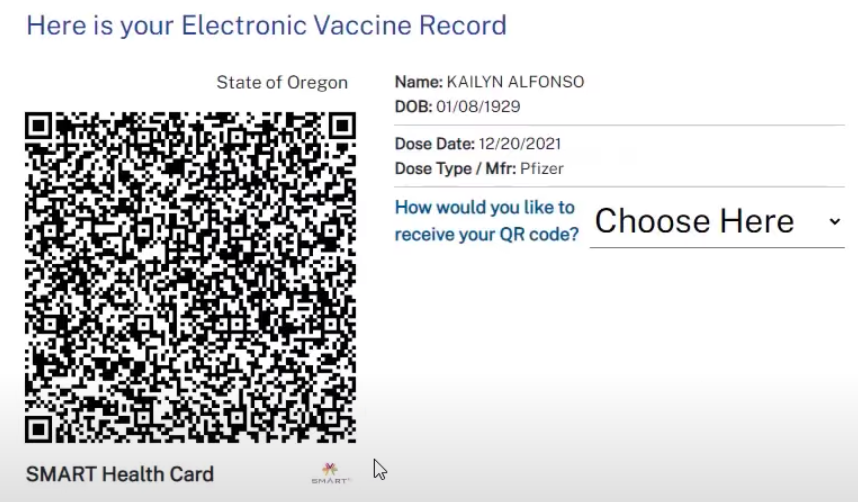 October 25, 2022
(This article has been updated with additional reporting.)
People using the state of Oregon's digital COVID-19 vaccination record system launched in the spring may be waiting a while for their fifth shot to appear.
That's because a glitch is blocking the record from working as planned when a user has more than four shots, state officials say. That could be inconvenient if you were relying on it to get into Providence Park in Portland on Sunday for the Portland Thorns national semifinals game, for instance.
People in that situation can "use your paper card as a backup until the system is updated," Erica Heartquist, an Oregon Health Authority spokesperson, told The Lund Report. 
It's unclear how many people are affected by the glitch. While the focus on vaccines has let up somewhat in light of variants that are considered less dangerous, it's unclear whether that trend will continue. As of October 19, 2022, there have been 74,986 QR codes downloaded by users.
Launched in late April at a cost of more than $2 million, the system was supposed to make shot-tracking easy.
"By using this new and completely voluntary service, you can use your mobile device to show proof of vaccination in places such as businesses, airports, international borders or in medical settings," according to an Oregon Health Authority website.
The system successfully displayed the first four recommended shots. It's the fifth that it can't display.
The problem is not with the vaccine card program itself, said Heartquist. It's with how the state's pre-existing ALERT/Immunization Information System interacts with it.
On Sept. 30, Heartquist portrayed a fix to the "My Electronic Vaccine Card" as "challenging" but also imminent in the "coming weeks," saying it would not cost the state anything. "There are no additional costs here — it will (be) completed under our maintenance and operations contract."
On Oct. 13, Heartquist conceded the state was no closer to a fix and did not have an estimate for when the problem might be solved. "We don't have an ETA unfortunately, because we don't have a known fix," she said.
Asked why the delay, she said, "There is now an ever-growing variety of COVID-19 vaccinations coming forth. We are adapting as quickly as we can."
In California, the state's version of the app is working fine right now, but has its own built-in limit of eight shots, according to a spokesperson from the California Department of Public Health. That said, state offiicials there are working to expand and improve their system.
"CDPH plans to expand use of the DVR to provide a record of all vaccinations reported to the California's Immunization Registry," according to the spokesperson.
You can reach Nick Budnick at [email protected] or at @NickBudnick on Twitter.