Oregon is the first state to decriminalize possession of small amounts of hard drugs and legalize psychedelic mushrooms for medical treatment in clinical settings.
Image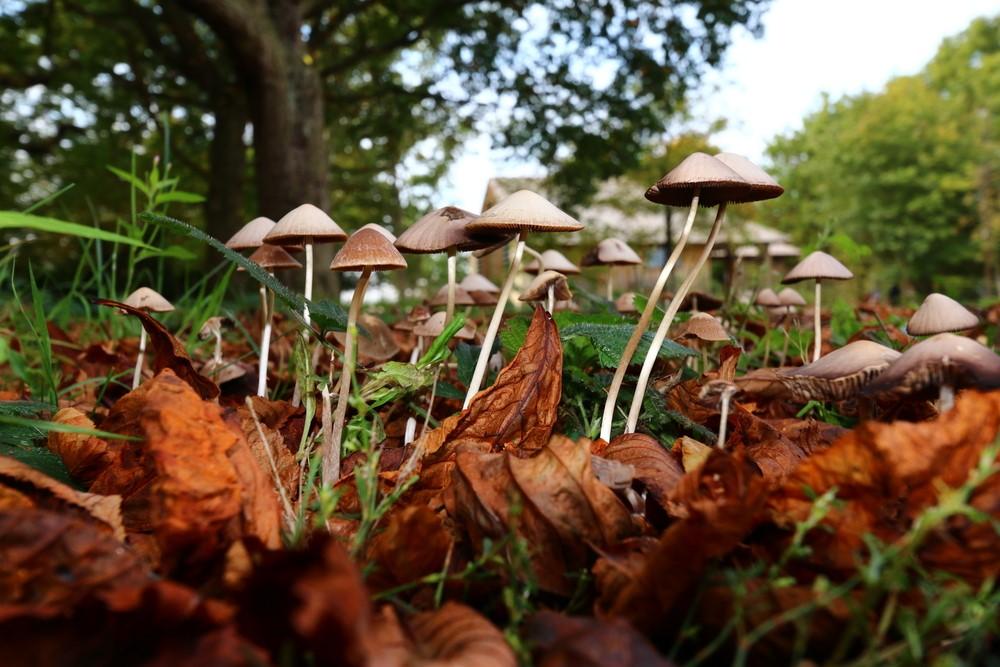 November 4, 2020
Voters put Oregon on the forefront of drug policy reforms nationwide on Tuesday, approving two ballot measures that reframe the war on drugs. 
Oregon is the first state to decriminalize possession of small amounts of all types of drugs. Voters also legalized psychedelic mushrooms for medical treatment in clinical settings. Drug policy experts say passage of the measures could lead other states to follow suit. On Tuesday, Washington D.C. approved an initiative that essentially decriminalizes the noncommercial cultivation, distribution, possession and use of psychedelic plants. A few cities nationwide -- Denver, Colorado; Ann Arbor, Michigan; and Oakland and Santa Cruz in California -- have also decriminalized psychedelics.
For now, it's too soon to say whether the vote in Oregon will spur a nationwide trend or turn into a failed attempt to end the high incarceration and costs associated with illegal drugs. One certainty remains: Drug policy reform advocates are rooting for the Oregon experiment to succeed. 
"I suspect many other states are going to be paying close attention to how this plays out," said Beau Kilmer, director of RAND Drug Policy Research Center, a nonprofit, nonpartisan organization based in Santa Monica, California. 
With the passage of Measure 110, Oregon became the first state to decriminalize possession of small amounts of hard drugs, including cocaine, heroin, methamphetamine, ecstasy, LSD, methadone, oxycodone and psilocybin. The measure, approved by nearly 59% of voters, sets up a system that gives people citations similar to traffic tickets instead of criminal charges and uses revenue from marijuana taxes to pay for more treatment options. 
Measure 109, backed by nearly 56% of voters, will legalize psychedelic mushrooms as a treatment for mental health issues. The measure gives the Oregon Health Authority two years to set up a system to regulate the product, which providers can only dispense in clinical settings without retail sales.  
The approval of the psilocybin measure echoes back to 1998 when Oregonians approved the use of medicinal marijuana, becoming the second state to do so after California. The approval of recreational marijuana in Oregon followed in 2014, two years after Colorado and Washington became the first states to legalize it.
On Tuesday, more states approved marijuana measures. New Jersey, Montana, South Dakota and Arizona passed recreational marijuana ballot measures. Mississippi voters approved a medical marijuana ballot measure. 
The national trendline points toward bipartisan support for drug reforms. For example, Democratic-leaning New Jersey passed measures alongside Republican-dominated states like South Dakota and Montana that voted to re-elect President Donald Trump. 
"That in and of itself is interesting because it shows how the political split on this issue has really gone away," said Katharine Neill Harris, a drug policy fellow at Rice University's Baker Institute for Public Policy in Houston.
Neill Harris said Oregon's move to decriminalize hard drugs marks a major step forward and demonstrates that reforms need to go beyond legalizing only cannabis. Overall, the system needs to move beyond the concept that the criminal justice system should be in charge of dealing with drug addictions, she said.
"It's really an indictment of our health system and how poor it is, and we've under funded all of the other possible responses we have," Neill Harris said. "It's just really backwards."
Measure 110 changes low-level drug possession cases from misdemeanors or felonies to a citation with a $100 fine. Violators can avoid paying the fine if they get a health assessment at an addiction recovery center. The measure calls for each coordinated care region in Oregon to have a designated addiction recovery center with 24-hour service. The state is supposed to have an oversight and advisory council in place by February 2021, and the measure requires treatment centers to be up and running by Oct. 1 next year.
Providers who support the measure say it will bring about a change in the mindset of patients. 
"I think it will probably change the culture in health care because our patients often struggle to be open about their substance use, partly for fear of all the legal issues that can come up for them," said Dr. Moxie Loeffler, who practices internal medicine and addiction medicine in Eugene. Loeffler said the stigma of a criminal record can destroy some of the incentives and reasons that people have to get sober, such as job opportunities and housing. 
The measure will fund addiction recovery centers throughout Oregon with existing marijuana tax revenues and savings from reduced incarceration, arrests and supervision of people in the criminal justice system on noncommercial drug possession charges. 
The measure's passage represents a substantial shift "in treating drug use as a matter of public health," said Lindsay LaSalle, managing director of policy for Drug Policy Alliance, a New York advocacy group that wrote and supported the measure in Oregon.
The Drug Policy Alliance has long been involved in Oregon drug policy and worked to advance its medical marijuana legalization. 
"We had a sense that Oregon voters would have an open enough mind to embrace it," LaSalle said.
The measure will redirect marijuana tax revenues after the first $45 million that currently go toward government spending like public schools, state police and county mental health and alcohol treatment programs. That redirection will apply to all revenues after the first $45 million, and put the money toward addiction recovery centers and substance use disorder services, including programs like housing and peer support services. Last year, marijuana taxes gave the state more than $100 million. Revenue estimates project that marijuana taxes will put $182 million into the new program in the 2021-2023 biennium.
That redirection will affect Oregon public schools. The  schools would have received an estimated $73 million in marijuana revenues in the 2021 to 2023 biennium, the highest of any recipient. Lawmakers still can spend the first $45 million of revenues on unrelated parts of the state budget like roads and education. 
A state analysis projects the measure will save the criminal justice system an estimated $24.5 million in the 2021-2023 biennium because of fewer arrests and incarcerations. This savings will go toward the addiction recovery centers. 
Measure Draws High Level Support
Meanwhile, work will begin on Measure 109, which allows the regulated manufacture and administration of psychedelic mushrooms in clinical settings to treat mental health conditions like depression and post-traumatic stress. Psilocybin, which has been researched for use in treating mental health issues, is classified as an illegal Schedule I drug under the Controlled Substances Act. 
Supporters said its passage marks a recognition of the need for a new approach.
"I think Oregonians take pride in chiseling away at the failed war on drugs," said Sam Chapman, campaign manager for the measure.  
The measure drew support from one of Oregon's U.S. representatives, Democrat Earl Blumenauer, along with a prominent state lawmaker, Sen. Elizabeth Steiner Hayward, D-Portland, who's  a family physician. Supporters say that psilocybin will add to  Oregon's toolbox to help it fight  the state's mental health crisis. Oregon ranked the worst in a national study that analyzed the rate of adult mental health problems. An estimated one in five adult Oregonians suffer from a mental health condition.
The program will be regulated by the Oregon Health Authority, which also oversees marijuana. It needs to set up an advisory board and establish a regulatory framework to oversee psilocybin-assisted therapy to adults 21 and older.
"The Oregon Health Authority and the Psilocybin Advisory Board can now get to work creating state-of-the-art licensing and training standards for psilocybin therapy facilitators, ensuring that everyone providing these services will be able to meet the needs of clients while maximizing safety," Steiner Hayward said in a statement. 
You can reach Ben Botkin at [email protected] or via Twitter @BenBotkin1.