Lawmakers passed a bill that allocates $5 million to programs offering support to victims of gang violence and seeks Medicaid dollars for future funding.
Image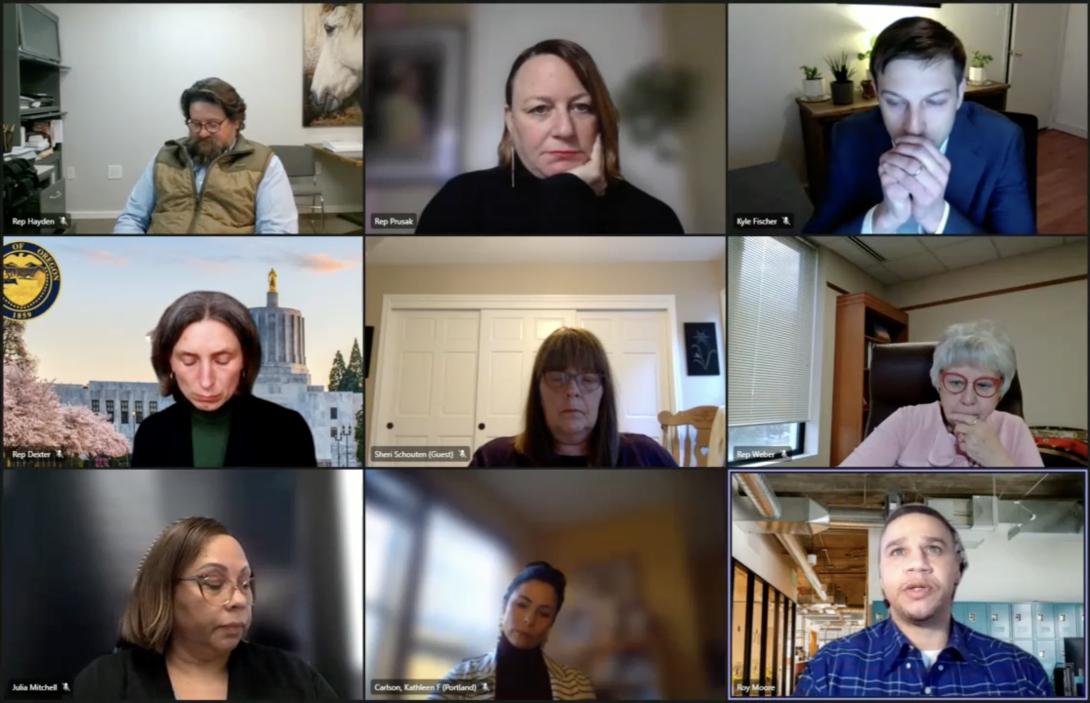 March 2, 2022
Roy Moore knows what it's like to lay in a hospital bed after experiencing gang-related violence.
"I was lonely, and I felt isolated," he told Oregon lawmakers on Feb. 7.
"I wish I had somebody in my bedside at the hospital who looked like me and shared my story to help me navigate that experience."
Today, Moore is that person. And his story was among the testimony considered by Oregon lawmakers before they passed House Bill 4045, appropriating $5 million in grant funding to community-based violence intervention programs like the one Moore's involved with. 
On Monday, the Oregon House passed the bill to fund these programs 57 to 1, followed by the Senate, which on Wednesday passed it 25 to 1. Only Rep. Jami Cate, R-Lebanon, and Sen. Dennis Linthicum, R-Klamath Falls, voted in opposition. The bill now awaits Gov. Kate Brown's signature.
After his experience with gang violence in 2005, Moore knew the right kind of support would have reduced his trauma and provided him with the knowledge and resources he needed to change his life a lot sooner than he did. 
As a contractor with Healing Hurt People, he now visits people impacted by violence while they recover from their injuries in Portland-area hospitals. He offers support to victims and their families that extends beyond the hospital stay. The program is an evidence-based method of disrupting the cycle of retaliatory violence.
The bill earmarks $1.5 million to increase the capacity of Healing Hurt People. It also sets standards for other groups. According to the bill, funded programs should provide evidence-based, trauma-informed, supportive and non-psychotherapeutic services, as well as peer support or counseling, mentorship, conflict mediation, crisis intervention, targeted case management, referrals to health care and social service providers, and screening services aimed at preventing future injury, improving health outcomes and reducing the likelihood the victim will commit or promote violence themselves.
Portland saw a record-breaking 90 homicides in 2021, and more than 1,300 shootings, with much of the violence attributed to gangs. In recent years, gun violence has increasingly been considered a public health crisis. 
Healing Hurt People is considered a national model, run locally through Portland Opportunities Industrialization Center in partnership with Portland and Gresham police at Legacy Emanuel and Oregon Health & Science University hospitals.
In 2021, the program served 120 individuals and their families, "however across Legacy and OHSU, there were almost double that number of cases that met the Healing Hurt People criteria," Julia Mitchell, Chief Operating Officer at Portland Opportunities Industrialization Center told the Oregon House Health Care Committee during the same public hearing where Moore testified. "We did not have the capacity to respond," she said.
The bill also allocates an additional $2.5 million to be distributed through Portland Opportunities Industrialization Center for grants to other organizations for community violence prevention and intervention efforts. The nonprofit center was established in North Portland in 1967 and operates four community-based alternative high schools, as well as employment training and community safety programs, all focused on at-risk youths and adults.
The remaining $1 million will go to the Oregon Health Authority to develop hospital-based violence intervention and reduction services in communities outside of Multnomah County.
The bill also requires the health authority to approve at least one national training and certification program for violence prevention professionals and seek federal approval to provide Medicaid coverage for community violence prevention services by October 1. And, the agency is required to establish an advisory group to support this work.
Former House Speaker and now gubernatorial candidate Tina Kotek first introduced the bill as a legislative concept on her way out the door in January. At the time, she told The Lund Report that she'd heard about the Connecticut Hospital Violence Intervention Program's success. Lawmakers in Connecticut passed a bill last year to fund the program through Medicaid, and Kotek thought Oregon should do the same.
Oregon lawmakers expect that securing Medicaid funds for such programs will be easy now that the Biden administration has included hospital-based interventions as one of its key measures for combating community violence.
OHSU epidemiologist and professor of public health, Kathleen Carlson, testified in favor of the bill, saying her team's data "overwhelmingly show the need for and positive impact of hospital based violence intervention programs in our state."
Carlson said that while OHSU has the expertise necessary to treat the physical injuries of violence victims, "we don't have the personal lived experience specific training and community support that the Healing Hurt People program will bring to patients."
She also said the need extends beyond the Portland metro area, with emergency department records showing that between 2018 and 2020, there were 290 firearms assaults and 1,026 stabbing-related assaults across Oregon. More than half were billed to Medicaid at an average of about $150,000 to $250,000 per assault for the hospital costs alone, she said, adding, "Many of these injuries were treated in hospitals across the street states, including in Salem, Eugene, Medford and Grants Pass." 
She said the research across the country on Healing Hurt People and other hospital based violence prevention programs over the past two decades shows these programs to be among the few public health interventions that are evidence-based practices for reducing violence.
"The use of trusted community messengers," Moore told legislators, "is essential to our program's success. The pain that I felt back then now allows me to help people who are going through the same things that I went through."
 You can reach Emily Green at [email protected] or via Twitter at @GreenWrites.