Oregon Struggles With Lack Of Hospital Beds, With Fewest Per Capita In Country
The Lund Report is offering this coverage for free to better inform the public at this difficult. But we need your support to help us stretch our resources. Please sign up for a tax-deductible premium subscription or consider making a donation. That is also tax deductible because we're a 501(c)(3) organization.
Oregon's expanded Medicaid system, which cares for one in four residents, has worked to improve access to primary care and reduce the need for expensive hospitalization. 
But the goal of improving the health of more low-income people has a drawback in the age of COVID-19. The state only has 1.6 beds per 1,000 residents, according to Kaiser Family Foundation.
That's the lowest ratio in the country.
By next month, Oregon might not have enough capacity to treat the expected numbers of coronavirus patients, Dr. Renee Edwards, vice president and chief medical officer at Oregon Health & Science University, said at a news conference on Monday. 
Data specialists at OHSU and the Oregon Health Authority expect coronavirus cases to double every 6.2 days. By April 11, Oregon will need 1,000 hospital beds and 400 intensive care beds to serve those patients.
The state has 6,600 licensed beds, including about 1,000 for intensive care, though many of those are designated for cardiac and neonatal patients, according to the Oregon Association of Hospitals and Health Systems. Emergency departments are also "boarding" mental health patients who end up camped out in rooms, requiring extra staff, because they have nowhere else to go. 
Then there's this: The 62 hospitals in the state already run at about 65% of full capacity without treating coronavirus patients, and some hospitals, like OHSU, face even higher demand.
"Without a significant slowing of COVID-19, Oregon will not be able to serve the hospital needs of Oregonians without creating more beds," Edwards said.
Under an agreement announced Monday, the Portland area's four hospital systems -- Legacy Health, Kaiser Permanente, Providence Health & Services and OHSU, which includes Adventist Health Portland and Tuality Healthcare -- are working with the Oregon Health Authority in an unprecedented joint effort to coordinate beds, add capacity and share resources.
The effort is just getting started, and it won't be enough. State officials said all residents must also pitch in to prevent disaster.
"We're working hard to prepare for this surge, but we absolutely need your help," Edwards said. "Social distancing works."
Gov. Kate Brown announced new measures on Monday to encourage people to avoid crowds. She canceled all events of 25 people or more and recommended that gatherings be limited to 10. She also ordered all bars and restaurants to limit service to takeaway or delivery starting Tuesday for at least four weeks. That comes on top of school closures through at least the end of the month.
Grocery stores, pharmacies and workplaces will remain open, though many employees are now working from home.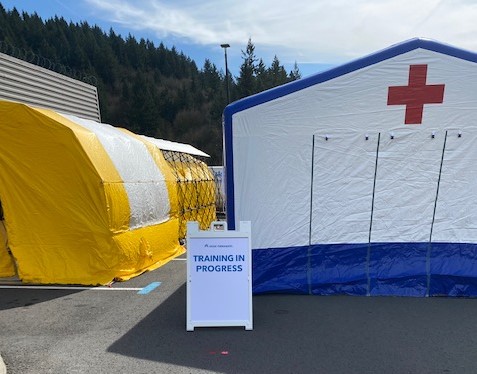 Kaiser Permanente staff at the company's Sunnyside medical facility in Clackamas underwent a training exercise with pop-up tents which will be used for triage./Courtesy of Kaiser Permanente
Hospitals, which are on the frontlines, are scrambling to create more beds. Hospitals are also canceling elective surgeries, Edwards said. 
Besides postponing elective and unnecessary surgeries and procedures, OHSU is freeing up resources by essentially putting all research staff who are not seeing patients or working at clinics on leave, with all research labs due to be shut down on Friday. President Dr. Danny Jacobs has guaranteed full salaries through June 30. On Monday, workers were converting the auditorium in the main hospital into a ward by tearing out chairs and putting in beds and medical dispensers, sources on-site told The Lund Report. 
At Providence, administrators told providers to delay any procedure that doesn't risk significant risk to life or limb for six weeks. Kaiser Permanente did the same, including postponing dental treatments that are not urgent. Legacy Health did not respond to a request for comment. 
The state has a limited supply of ventilators -- 688 -- and a total of 510 negative pressure isolation rooms which are needed for coronavirus patients to prevent contaminated air from infecting other patients and staff. About half are in the Portland area. But Kaiser Permanente has the capability to convert entire floors in its hospitals into negative pressure rooms, Foley said.
Besides adding and shifting beds on-site, hospitals may need to move patients who don't require critical care to clinics or other facilities to free up intensive care units.
That could include moving patients who need rehab to another facility.
"Displacement" is a term that Oregonians might have to get used to. Another word that's becoming all too common: "shortage."
In two weeks, the Portland metro area will run out of the disposable gowns, gloves and masks that are crucial for health care workers, Dr. Jennifer Vines, tri-county lead health officer announced Tuesday. She said the county is pursuing ways to conserve scarce supplies and find ways to create more supplies.
"There is definitely fear," Vines said Tuesday about frontline health care workers. "There is concern about the lack of personal protective equipment."
A lack of supplies and beds could mean that health care workers have to "triage," prioritze patients who most urgently need care.
Overloaded hospitals might have to erect tents outside to triage patients and determine which are in the most dire need of care. Both Providence St. Vincent and Kaiser Permanente Sunnyside recently held training exercises with pop-up tents.
Edwards said the Portland-area hospital collaboration will help rural hospitals as well because they, too, could become overwhelmed. Cases are popping up across the state. As of Tuesday morning, there were 51 cases, with new patients in Benton, Deschutes, Clackamas, Marion, Multnomah and Washington counties.
You can reach Lynne Terry at [email protected] or on Twitter at [email protected].