A spokeswoman said this was the first time since January that employees didn't have to work overtime to staff all shifts because 24 managers and employees volunteered to work.
Image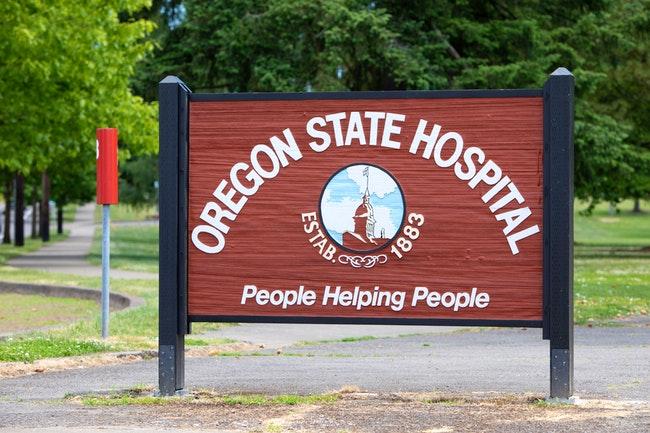 June 3, 2021
The Oregon State Hospital had enough staff to care for more than 500 patients for the three-day Memorial Day weekend despite a dire ongoing labor shortage at the Salem psychiatric hospital.
Rebekah Gipson-King, hospital spokeswoman, said the weekend was the first time since January that employees weren't required to work overtime shifts because a mix of 24 staff members and managers volunteered to work.
She didn't have the total number of staff that were required to staff the hospital but said it was "adequately staffed." Gipson-King said it's difficult to project what staffing levels at the hospital will look like for the rest of the week. But she said there were 136 Covid-related on Tuesday, about a third of its nursing staff.  
Gipson-King said pharmacy clerks, office specialists, as well as supervisors and the hospital's deputy chief financial officer, volunteered.
In his plea for help, Oregon Health Authority Director Pat Allen said management service employees who volunteer for emergency assignments would support nursing staff on each unit. The nurses would delegate duties based on each volunteer's skill set and could include serving patient meals, escorting them to treatment activities and working with staff to provide activities in each unit.
Last week, the hospital took the drastic step of calling for the National Guard to respond to a staffing crisis caused by the pandemic that's become worse in recent weeks.
A third of nursing staff at the hospital are on leave, up from 20% in April. The hospital is seeking 30 registered nurses and licensed practical nurses from the guard to work 10-hour shifts to provide care for more than 500 patients at all hours.
According to numbers provided by hospital officials, mandatory overtime has increased since the pandemic. There were 37 hours of overtime mandated at the hospital in April and May of 2019. For the same months this year, that number rose to 2,861.
Gipson-King said the hospital is currently in talks with the National Guard about getting more help.
"It's all in the discussion phase right now," she said.
She said they're discussing details, such as how many people would be brought in, what their presence would look like and if members of the guard would wear military fatigues or not. Training could begin by next week, she said.