Oregon Senate Votes to Ban Smoking in Cars with Kids
Senate Bill 444 passed with nearly a two-thirds vote. The bill gives police the ability to write tickets for people seen smoking in cars with children present
March 14, 2013 — The Senate passed SB 444 on a 29-10 vote yesterday, which would make smoking in cars with children a secondary traffic offense, punishable by fines of up to $250 for first-time offenders.
Sen. Elizabeth Steiner Hayward, D-Portland, championed the bill on the Senate floor, noting that children are more likely than adults to be exposed to secondhand smoke, often because they have no choice by sitting in the backseat of a car.
"An ounce of prevention is worth a pound of cure," Steiner Hayward said. "This bill is an ounce of prevention both for our children's health and for our state's budget."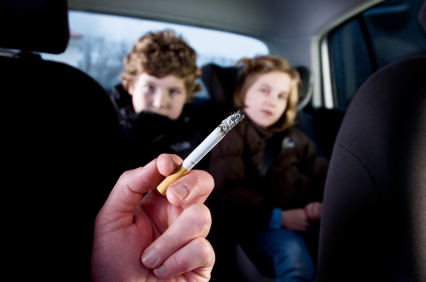 According to the EPA, secondhand smoke has been found to worsen asthma in up to 1 million children.
Steiner Hayward added that asthma is the third-leading cause of hospital visits for children under 13 and that in just 2011, the Oregon Health Plan paid out more than $1 million in emergency room visits for children with asthma.
Smoke concentration in cars can be up to 27 times higher than in a smoker's home, according to the California EPA.
The chief Republican sponsor of Senate Bill 444, Sen. Brian Boquist of McMinnville, specifically cited "Obamacare" and the expansion of Medicaid to 260,000 more Oregonians as the reason to enact a law curtailing adults from smoking when children are in the car. "If we have to pay the bill, we get to make the rules," he said.
The vote spilt the Republican caucus, with five Republicans supporting the bill and nine in opposition, along with Democratic Sen. Betsy Johnson of Scappoose who did not return a call seeking comment. A vote in the House could come as early as next week.
Sen. Betsy Close, R-Albany, voted for the bill in the Judiciary Committee, but switched her vote on the Senate floor. 
"I think we needed to have this debate. It is something that people are concerned about," Close told The Lund Report. "I just felt it was over-reach."
Sen. Rod Monroe, D-Portland, said the debate reminded him of a law he helped pass three decades ago requiring car seats. The same arguments against dictating parenthood were used then. "When the health and welfare of our children is in play, the state has a role," he said.
The bill has the support of the Oregon State Sheriffs' Association, but police are not authorized to pull over a car simply when they see an adult smoking and a child in the backseat. The driver must be speeding or committing another traffic offense. Previous bills giving such authority failed in past sessions and even liberal lawmakers expressed concern about racial profiling.
SB 444's requirements mirror those in California's law which bans smoking in cars with children. Maine, Arkansas and Louisiana have similar laws.
The chorus of conservative Republicans opposing the bill was led by Sen. Jeff Kruse of Roseburg, who also opposed the bill in the Judiciary Committee after working to get the bill broadened to include all smoking — not just tobacco.
"I'm opposing this. How dare the government tell me what to do in my own car," said Kruse, a smoker. "For every protection that we put into statute, Oregonians lose a freedom."
Kruse also discarded Steiner Hayward's claims calling them "lies, damned lies and statistics," earning the rebuff of Sen. Diane Rosenbaum, D-Portland:
"The word lies was used in conjunction with the debate on this bill which I think is not an appropriate term to be used in the Senate," Rosenbaum said. "But it does bring to mind that not so long ago we had a tobacco industry in this country spending lots of money telling people that smoking does not cause cancer and that certainly can be called a lie."
Sen. Bruce Starr, R-Hillsboro, asked where the government's intervention stopped when it comes to parenting, mentioning that lawmakers might start telling parents not to take their children to fast food outlets such as McDonalds.
"We have already mandated that all passengers be restrained in vehicles. Children must be in the backseat where the smoke pools," Steiner Hayward said. "There is a safe level of fast food. There is no safe level of secondhand smoke."
While some Republicans objected to the idea of an encroaching "nanny state" where the government dictates personal responsibility, a surprise yes vote came from conservative Sen. Fred Girod, R-Mollala, who had opposed the ban on smoking in workplaces such as bars and restaurants.
"Nanny state bills are a real problem in this state," Girod said. "The victim here is a kid who doesn't have a say in the matter."