Image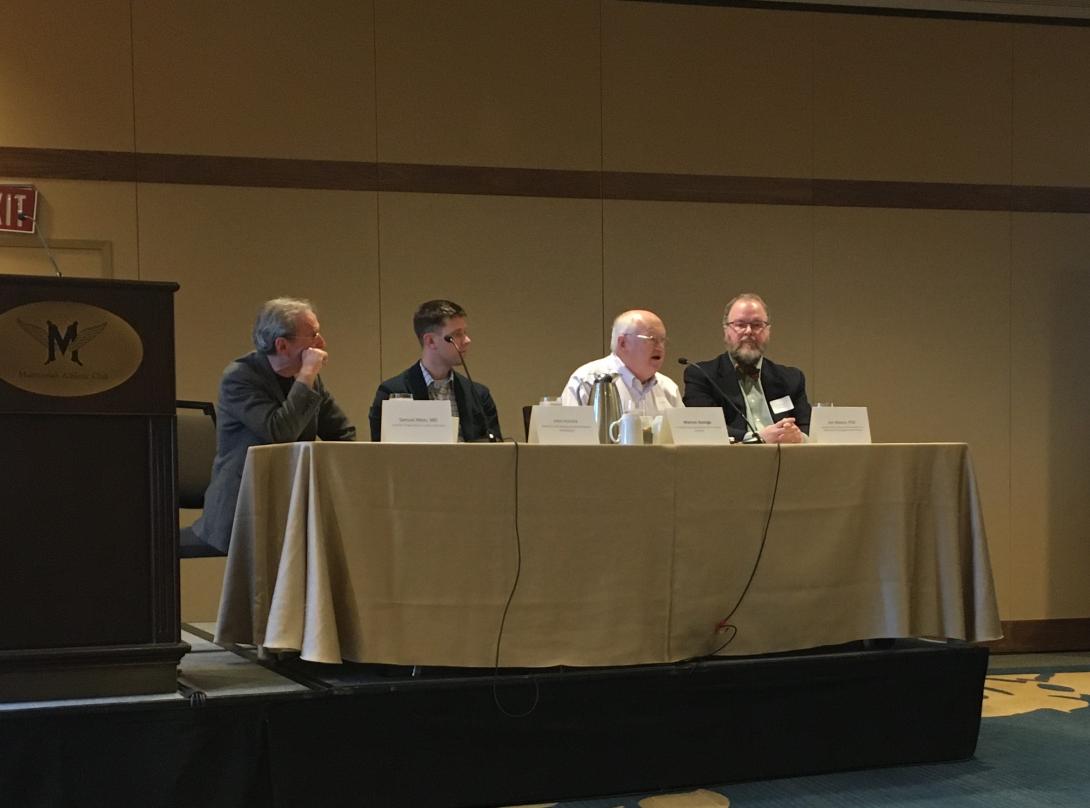 November 19, 2019
Oregonians might be ripe for statewide tax-funded universal health care, but it's going to take political creativity and backbone for change to occur.
That was the message Tuesday from an Oregon Health Forum panel at Multnomah Athletic Club in Southwest Portland.  
The discussion, moderated by Dr. Samuel Metz, a member of Oregon Physicians for a National Health Program, spun off a poll earlier this year showing wide support in the state for universal health care.
The poll, commissioned by panelist Warren George, a management consultant, showed that 75 percent of Oregonians favor a universal health care system over the insurance-based model that exists now, which costs consumers, on average, about $10,000 a year. 
But that doesn't mean Oregonians are ready to adopt a universal system, said another panelist, John Horvick, head of political research at the nonpartisan firm, DHM Research.
The poll "does tell us Oregonians are open to this conversation, but it would be the beginning of this conversation," Horvick said.
The closer a universal health care system loomed, the stronger the opposition would grow, fueling fear and doubt, Horvick said. 
Horvick asked rhetorically whether Oregonians would feel the same about universal health care if it would mean that people would have to switch doctors. Or would Republicans be on board if a universal system were being championed by the state's Democratic governor, Kate Brown? Horvick said he didn't think any of the universal health plans favored by Democratic presidential candidates would move forward if a Democrat were elected president but the U.S. Senate remained dominated by Republicans.    
But he did say that Oregon could overhaul its health care system if politicians were creative. 
"The status quo is easy, and I can tell you all kinds of reasons this isn't going to happen, but I would hope this could spur some political entrepreneurism," Horvick said. 
Jim Moore, a political analyst at Pacific University who was also on the panel, said Oregon could be propelled to adopt some form of universal coverage if President Donald Trump won re-election. 
If an overhaul isn't likely to occur on the national level, legislators might feel more strongly about taking up single-payer health care on the state level, he said.    
"This poll indicates there would be space if Trump were re-elected to really push back and do something like this," Moore said in an interview after the panel. 
But Moore said hospitals and insurance companies would likely be strong opponents to universal health care and could use their power to lobby against it. For the state to adopt a new system, it would need a political champion who would be willing to "crack heads," he told the audience of nearly 90 people.
That approach happened in the 1990s, he said, when the state approved physician-assisted suicide. Oregon's Death With Dignity Act was the first of a kind in the country and drew strong opposition from Catholic and conservative groups.
Voters endorsed the law and challenges were upheld in court.
Moore said Oregon is still a place where new ideas can take hold but he said universal health care would need vocal supporters.
"You can see there's a culture here that might be supportive of this, but it's going to take champions," Moore said. "It's going to take people who are entrepreneurs, and quite frankly entrepreneurism in our political class these days is in short supply."
Wyatt Stayner can be reached at [email protected].
Comments
Submitted by

steve syron

on Wed, 11/20/2019 - 11:29
Permalink
One more huge step towards communism.