The site, which is being organized by Kaiser Permanente, will open Wednesday and operate through Saturday. It will reopen Monday with three other health care companies.
Image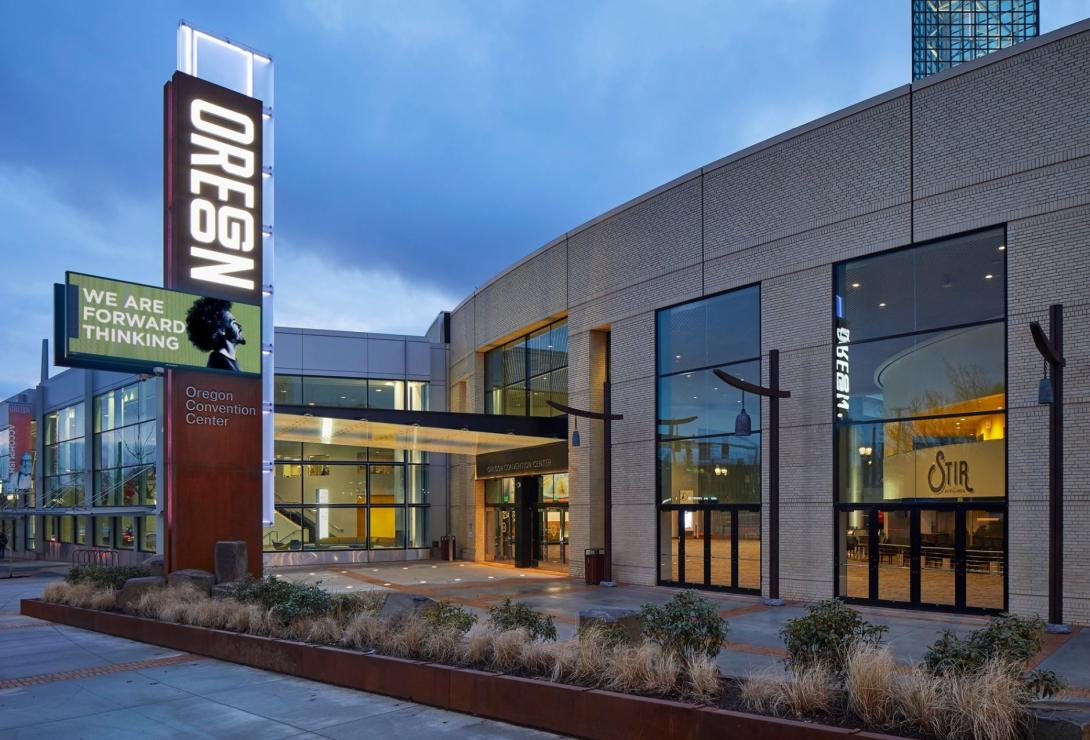 January 19, 2021
Oregon is opening a mass COVID-19 vaccination site at the Oregon Convention Center in Portland on Wednesday but don't rush down there for a shot.
Kaiser Permanente, which is leading the effort, said it will first vaccinate people who have already been approved and are waiting for an injection.
"We have quite a list of people," said Michael Foley, spokesman for Kaiser Permanente. 
He said Kaiser Permanente expects to vaccinate 1,490 people by invitation only on Wednesday between noon and 6 p.m. The clinic will be open through Saturday and then close Sunday in preparation for Legacy Health, Oregon Health & Science University and Providence Health & Services joining the effort. They plan to run the clinic seven days a week, from 7 a.m. to 7 p.m., with the hope of vaccinating between 5,000 to 7,500 people a day.
Kaiser Permanente held a dry run this past weekend at its medical center in Tualatin. Over two days, the company vaccinated 3,100 people. 
The site will be the third in Oregon offering mass vaccinations. The two others, operated by Salem Health, are the fairground centers in Marion and Polk counties. 
Washington state is also planning mass clinics. Next week clinics will open in the Clark County Fairgrounds in Ridgefield, the Benton County Fairgrounds in Kennewick, the Town Toyota Center in Wenachee and at the Spokane Arena.
After vaccinating health care workers at risk of contracting the virus, Gov. Jay Inslee has given the go-ahead to start vaccinating the next group: those 65 and older. Washington state is following the data-based recommendations from the Centers for Disease Control and Prevention. Oregon is not. It approved hospital staff and a broad range of health care workers -- including bill collectors and clerical staff -- along with corrections officials, attorneys that visit jails and morticians. Educators are next. Seniors, who've faced the highest risk of severe disease and death, have to wait.
The Oregon Health Authority said the state is now vaccinating about 12,000 people a day. The Portland clinic could help increase that pace, provided it is supplied with vaccines. Foley said it remains unclear how much vaccine will be coming from the state. 
The Oregon Health Authority said Monday the state had received a total of about 335,000 doses and had injected nearly 217,000 shots, for a vaccination rate of 64%. Federal authorities have been unclear about how many more doses it has and how many it will distribute. Supplies are generally shipped weekly.
Kaiser Permanente came up with the Portland idea, inspired by Salem Heath's clinic at the Salem fairgrounds. That site, which has been open 10 days, administered 18,700 doses as of Saturday, averaging about 2,500 per day. Salem Health said it takes 100 people to operate it. A Kaiser team of infectious disease experts and others recently visited the fairgrounds to gather information about the set up.
Kaiser's team was impressed. "It's very smooth," Foley said.
In Portland, OHSU has held weekend clinics in the convention center's parking lot, with people driving through. But the Kaiser Permanente site will be held inside the center.
To get the convention site going, Kaiser sought permission from the Oregon Health Authority and then asked the three other companies if they'd like to participate, Foley said. They all agreed. Such cooperation among the competing health care systems is rare.
An algorithm will decide who can get vaccinated there at first, Foley said. Right now people have to sign up through Kaiser but Foley said the four companies are planning a joint signup. It's not clear who will be sending out appointment invitations.
You can reach Lynne Terry at [email protected] or on Twitter @LynnePDX.