Oregon Officials Watched As Cases Spiked, Waiting Until Now To Act
In recent weeks, Oregon Gov. Kate Brown and the Oregon Health Authority have largely taken a hands-off approach to the surge in COVID-19 cases, leaving it up to hospital systems and local leaders to care for patients and rein in the pandemic.
But that strategy failed. The state's hospitals are in crisis, with too few beds and too many patients. Some facilities even have resorted to rationing care to ensure that the sickest get treatment. The Bend-based St. Charles Health System pleaded for Brown to send in the Oregon National Guard to help.
This dire situation is likely to get worse: By next month, Oregon hospitals might not have 500 beds for patients if something is not done, according to the latest forecast by the Oregon Health & Science University.
With health leaders sounding the alarm, the state is stepping in. Brown on Tuesday announced a statewide indoor mask mandate, and the Oregon Health Authority told The Lund Report it will organize a centralized command center to help hospitals cope with the demand.
Dr. Paul Cieslak, director of the infectious disease and immunization program at the health authority, said in an interview that until now the agency had been watching the increase in hospitalizations and COVID cases, while its focus was elsewhere.
"We've been working other angles and trying to get people vaccinated," Cieslak said. "It's really sort of a rapid surge in the last couple of weeks that has brought us to this point. The surge that we're seeing now is actually exceeding the projections that were made. And so, we are facing a bigger problem than had been anticipated."
The command center idea is in its early stages.
"The first job is we need to get some bodies working on it," Cieslak said. "We're going to be reassigning some staff to this task."
Staff will work to ease the nursing shortage and improve the lack of beds in nursing homes and long-term care facilities so hospitals can discharge patients more quickly, Cieslak said.
This strategy appears to mark a sudden shift by the agency. Just last week in an interview with The Lund Report, Dr. Margaret Cary, who's on the agency COVID-19 team, said the agency had several options for helping hospitals but no central plan.
"There is no one overarching plan because the situation is so dynamic," Cary said. "The role for OHA is to help facilitate information sharing, brainstorming, problem-solving and help coordinate some of the answers and regulatory flexibilities that we can with our hospital systems and in coordination with DHS."
More than that is needed now, hospital officials say. 
Though the command center will work on a range of issues, it will not take over the job of transferring patients among hospitals or trying to find space in facilities out of state. 
"We decided not to get involved with that for the simple reason that nobody's got room," Cieslak said. "So there's not going to be a lot of transferring of patients from one hospital to another."
Hospitals Control Traffic
Last year as the pandemic hit, the state set up a hospital resource structure divided into seven regions, with each having a hospital that's in charge of coordinating care by moving patients among hospitals and even out of state when necessary. In the Portland metro area, which is Region 1, OHSU Hospital is in charge. In Region 7 which includes Jefferson, Deschutes, Klamath, Lake, Crook, Wheeler, Grant and Harney counties, St. Charles Health System's Bend hospital coordinates care. And in Region 5 covering Jackson and Josephine counties, Asante Rogue Regional Medical Center in Medford has the responsibility.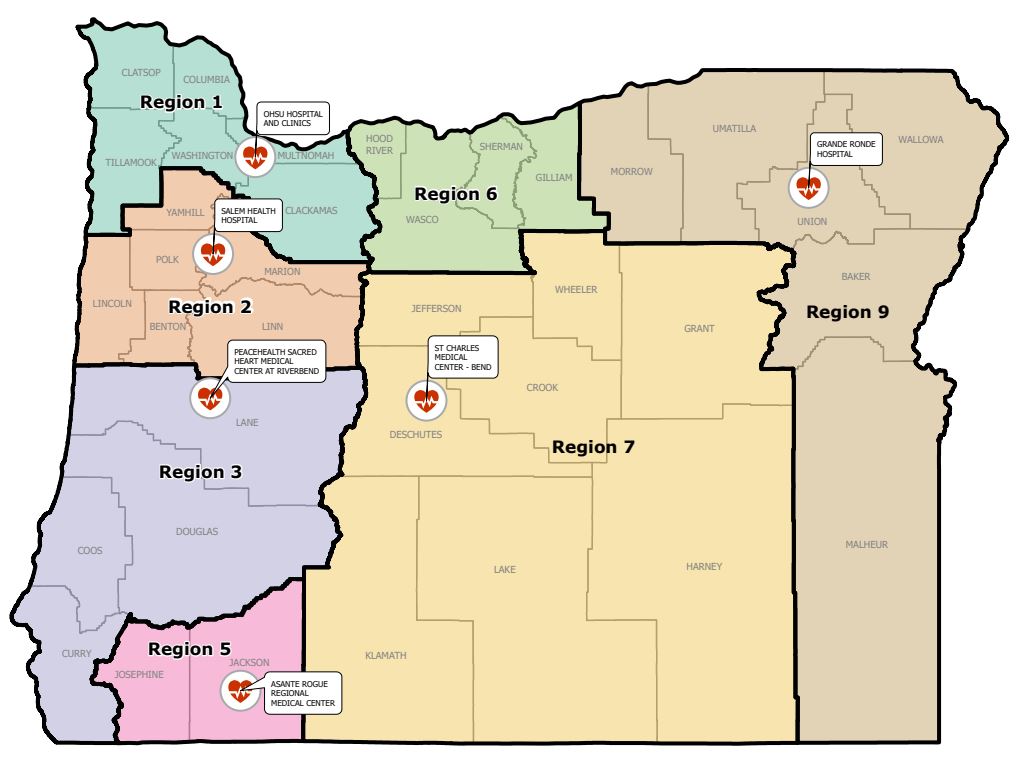 Some hospital systems also have their own systems. Providence Health & Services, the largest hospital group in Oregon, recently set up a center in Northeast Portland to coordinate patient traffic among the system's 1,000 staffed beds in Oregon.
"The patient logistics center is a regional effort to ensure the right patient gets to the right bed at the right time," Providence said in an email. "It gives us a bird's-eye view of patient flow for all eight Providence hospitals in Oregon, allowing us to work together like a 1,000 bed hospital to improve access, quality and safety of patient care."
The center uses software that provides real-time data on patients and forecasts, Providence said.  
A Providence spokesman said the health care system as a whole has not dialed back elective surgeries though each hospital is managing its own care. Other hospitals systems have had to ration care by curbing non-urgent procedures that require a hospital stay, to preserve beds for the sickest patients. St. Charles,with four hospitals in central Oregon, has canceled procedures for nearly 260 surgeries since the end of April, Dr. Doug Merrill, chief medical officer of St. Charles' hospitals in Bend and Redmond, said at a news conference on Tuesday.
"The backlog of surgical procedures that we have not been able to accommodate has reached 2,500 or so," Merrill said. 
Other hospitals in Oregon have also curtailed surgeries, according to the Oregon Association of Hospitals and Health Care Systems.
In Medford, Asante just asked the state to set up a field hospital to accommodate patients in Jackson and Josephine counties, according to the Mail Tribune.
"We are in crisis as a health care system," Dr. Jamie Grebosky, chief medical officer for Asante, told the Mail Tribune. "We are asking for help. We are in crisis as a community because patients may not be able to access the services they need." 
Only patients on the verge of dying are able to have surgeries.
In the past, hospitals might have been able to transfer patients to other facilities. In recent weeks, Oregon hospitals have even had to send patients to Idaho and Montana for treatment, health officials told The Lund Report. 
But now those states are under pressure, too. The St. Luke's Health System, which is based in Boise and owns six hospitals in Idaho, recently announced it was suspending non-elective surgeries at certain facilities, news reports said.
The situation in Montana is better though the state recently declined a recent request from Texas to take in patients, said Rich Rasmussen, CEO of the Montana Hospital Association.
But he said the state's hospitals appear to be coping with the demand.
"I'm not aware of any (hospital) that has paused their elective procedures at this point," Rasmussen told The Lund Report. "We're managing the patients that we have."
The surge is coming during the traditional trauma season, when people get into boating or hiking accidents And COVID-19 cases are on a dizzying rise. On Tuesday, the Oregon Health Authority reported more than 2,300 new cases, marking a new daily high though some of those cases were from the weekend, officials said. On Wednesday, it announced nearly 2,000 new cases. By Wednesday afternoon, the tally of hospitalized COVID patients had soared to 685, setting another new high for the state.
"Right now we're at the highest point in the pandemic for the number of (hospitalized) patients," Cieslak said.  "Our hospitalizations are going up 10% per day. It's really a steep curve."
Though Oregon has nearly 7,000 staffed beds, only 673 are in adult intensive-care units, which require more staff per patient. A quarter of the current COVID patients are in intensive care, according to the Oregon Association of Hospitals and Health Systems, but those beds are also needed for many other patients. That's why St. Charles recently had to board 20 people overnight in the emergency room in Bend while they awaited a bed.
Fewest Beds Per Capita
Several states in the country are struggling with hospital capacity. But the situation is particularly severe in Oregon for one reason: Together with Washington state, Oregon has the fewest beds per capita in the country, according to a review by the Kaiser Family Foundation. Oregon and Washington have 1.7 beds per 1,000 residents. That compares with 4.8 in South Dakota, which is at the top of the list.
The bottom of the ranking is dominated by states in the West and Southwest because those are the ones that have emphasized managed care, said Jeff Luck, associate professor at Oregon State University and an expert on health care systems.
For 30 years, Oregon, Washington and California have focused on expanding managed care plans or HMOs, health maintenance organizations. Kaiser Permanente is a prime example. It has a closed network of providers and focuses on preventive care to keep people out of the hospital. The most expensive health care is in a hospital. Another example are Medicare Advantage Plans that offer HMO plans. They fill in for traditional Medicare and work on the same principles as Kaiser. Oregon has the third highest share of Medicare beneficiaries enrolled in a Medicare HMO plan, Luck said.
This emphasis on managed care with set budgets rather than the fee-for-service model where the insurer pays per procedure has led to a reduction of hospital beds, Luck said. 
HMOs emphasize out-patient procedures rather than paying for a hospital bed. 
"If you do the right things clinically, hospital utilization is one of the easiest things to reduce," Luck said. "And so over a period of, say, 10 or 20 years, hospitals just reduce the number of beds that they maintain."
Though managed care plans have reduced hospital use they've also been blasted for denying needed care.
"There are a lot of people who say this is not a good thing, but a lot of research shows that many types of health care are overutilized," Luck said. "The best run managed care plans do a good job of balancing patient care needs versus financial ones."
He cited Kaiser as an example.
Managed care plans have not improved health outcomes, however, Luck said. They've not hurt them either, while working to curtail soaring health care costs.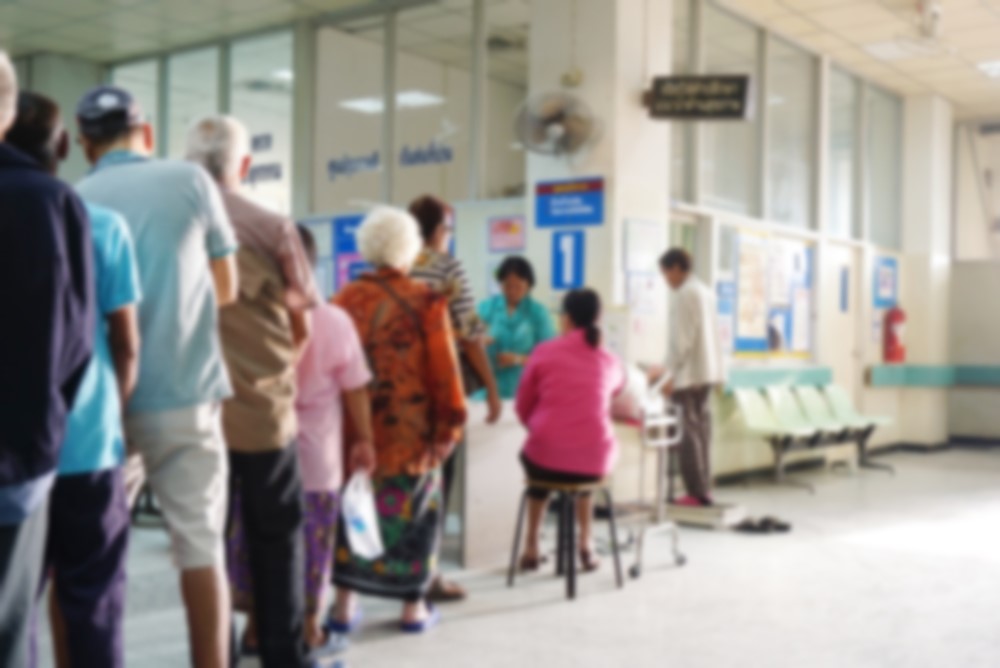 Crisis Teams Planned
To address the current crisis, the state's command center will focus on the most acute problems hospitals are having, like adding staff and moving patients who no longer need hospital care to a lower level of care. 
"We'll look to see whether we can increase the number of staff beds and long-term care facilities, but also bring in ancillary help that may be able to care for people in a home with less than less than full nursing capability, for example," said Cieslak of the health authority.
The state is also working on creating nurse crisis teams to allow hospitals to expand beds. It's not clear, however, where the staff would come from. Hospitals in Oregon and across the country are grappling with a nursing shortage. Not enough nurses are graduating to meet the demand, and many nurses are taking early retirement out of exhaustion, health care officials say. St. Charles and other systems are relying on traveling nurses to fill gaps but they are in short supply.
St. Charles asked the Oregon National Guard for help, but it lacks nurses,
"The amount of nursing staff that's available in the state with the National Guard is relatively limited," said Dr. Jeff Absalon, executive vice president at St. Charles. "They are currently working in other locations."
The state has a list of potential volunteer medical professionals on its State Emergency Registry of Volunteers in Oregon, or SERV-OR,  that includes nearly 2,000 nurses, but the health authority said most are already working full time. Just over 100 retirees with various medical experience are also screened to deploy for support roles, but they are not approved for clinical care. This year, the state has used 850 people on the registry for vaccine distribution, outreach, clinic staffing, contact tracing and emergency operations coordination and support.
Enticing registered nurses from out of state to work in Oregon could help but nurses are in demand everywhere and they have to jump through hurdles to get approved. 
The state is not part of the Nursing Licensure Compact, which allows registered nurses and licensed practical nurses to easily move to a member state because their licenses are recognized. The compact, which dates to 2000, now has 37 members, according to the Oregon State Board of Nursing. Idaho is a member but Oregon and Washington are not. 
Oregon State Sen. Elizabeth Steiner-Hayward, who's a physician, sponsored a bill in 2021 that would have allowed the nursing board to join the pact but it never got a hearing. 
The board told The Lund Report that it processed more than 5,600 Oregon license applications in 2020 for out-of-state registered nurses and licensed practical nurses. It also authorized nearly 450 applications from out-of-state nurses under an emergency approval process to allow them to work in Oregon with a state license, the board said. 
It did not say how long the approval process took. Health officials said that the already long process has been exacerbated by the pandemic, something the state will now try to address, Cieslak said. The Lund Report knows of one case of a recently retired nurse from California who applied but never received even an acknowledgement of her application.
Another area where the state can help is with getting people discharged to nursing homes and long-term care, Cieslak said. Health officials say the state has been slow to approve disability applications to give patients financial resources to move to assisted living or another type of care. Aaron Adams, president of the St. Charles hospitals in Bend and Redmond, said he'd like to see weekly approvals rather than monthly or quarterly.
That's clearly not going to happen. The Department of Human Services told The Lund Report on Wednesday that the state is required to make a decision in 45 days and usually needs that much time.
"Part of the reason it can take so long is that the individual applying must provide all of the information to determine their eligibility," DHS said in a statement. That includes meeting financial requirements and proving the need for long-term care, for example. DHS said it's tried to streamline the process by letting applicants attest to income and doing interviews over the phone.
Moving patients out of hospitals has also been a problem in Washington state, according to Cassie Sauer, CEO of the Washington State Hospital Association. 
"We've got a lot of people in our hospitals who don't need hospital level care any longer," Sauer told The Lund Report. "They need to go to a nursing home or rehab or they need a family home. And it just takes a long time to get them to move, especially if they're a state client."
But state officials there did not wait for a major crisis to get people quickly approved for disability, Medicaid or Medicare. 
"We worked a lot with the state last spring to get them to accelerate those placements, and it really helped," Sauer said. "They also instituted a payment increase for the long-term care settings, including a bonus payment for placement."
She said that helped because long-term care admissions can be complicated, including getting doctors' approvals, sorting through medications and understanding the person's situation.
"An initial bonus for taking a patient is very helpful, so that was a really big deal, " Sauer said.
Like Oregon, Washington state set up a system for sharing resources and transferring patients though the hospital association and Harborview Medical Center in Seattle.
Sauer said it was useful to establish an agreement that whenever a hospital denied a transfer from another hospital that the CEO was informed to get their help. She said CEO involvement helped clarify communication and ease transfers.
Some of Washington's lessons could apply to Oregon.
Cieslak said the state is looking at relaxing the rules to allow long-term care facilities with a COVID-19 case to take others. Right now they're essentially shutting down amid outbreaks.
The Oregon Department of Human Services also has contracted with Hearthstone Nursing and Rehabilitation Center in Medford for 45 beds to take in people from Jackson and Josephine counties who can be discharged from the hospital but have no other options. It is paying up to $500 a day to reserve the beds. 
The quicker the state moves, though, the better it will be for Asante and St. Charles, the two hospital systems in Oregon that are full.
"We've been doing our work internally and externally to request support, but we're not in this alone," said Absalon of St. Charles. "Thus far we've not been able to receive significant hands-on support
You can reach Lynne Terry at [email protected] or on Twitter @LynnePDX.
×
This article is for premium subscribers. If you are one, please sign in below.
You can see
two
more premium stories for free. To subscribe,
click here
. We depend on premium subscriptions to survive, and they are tax deductible.