Gov. John Kitzhaber will sign Senate Bill 444, which expands the state's smoke-free zones to include private automobiles that carry children. Police will only be able to cite motorists who allegedly violate another traffic law.
June 4, 2013
June 4, 2013 — Oregon has passed laws making bars, restaurants, work places, parks, public buildings and public transportation free of toxic cigarette smoke. Now Senate Bill 444 will become law, making it a crime to smoke in private automobiles — if children are in the car.
"This is a bill whose time has come. We know the effects of secondhand smoke," said Rep. Jim Thompson, a Dallas Republican, who was a chief sponsor of the legislation along with Sen. Elizabeth Steiner Hayward, D-Beaverton.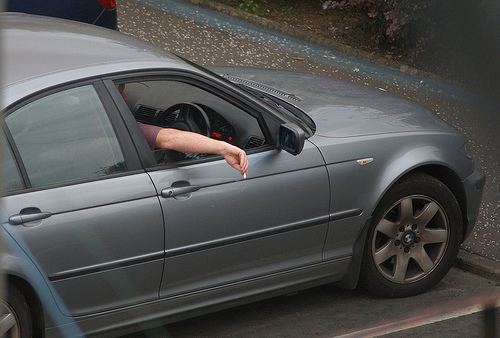 Thompson said society had come a long way in its attitudes toward smoking and protecting children was the logical next step. Children who are exposed to secondhand smoke are much more likely to develop asthma and can develop a dependency on nicotine, increasing the likelihood that they'll pick up the cancer-causing habit and become addicted.
Despite banning smoking in most public places, the automobile has remained a place where children can be exposed to smoke at high levels.
"It's legal to strap your kids in your car and smoke them like bacon," Thompson said.
According to a study by the California Environmental Protection Agency, secondhand smoke levels in a smoker's car are 27 higher than a smoker's home. Rolling down the windows does not improve the situation, since the smoke pools in the back seat where many children are required to sit.
Not too many years ago, people could smoke in airplanes, elevators and hospitals. Thompson said when he was in high school, the forward-thinking administrators banned smoking in the school hallways.
"We had a smoking room where students went to smoke alongside the teachers," he said. "That was a bad idea."
He saw SB 444 as a continuation of the education process more than a punishment for bad parents.
Rep. Mitch Greenlick, D-Portland, echoed Thompson's desire that law enforcement officers use the new authority as an educational tool to write warnings rather than tickets.
"This is a nanny-state bill because nannies take care of children," he said. "When parents are either too ignorant or too stupid, we have an obligation to remind them of what's good for their children."
One Democrat, Rep. Jeff Barker of Aloha, opposed the measure, arguing it didn't go far enough.
"This should not be a secondary offense," Barker said. "This should be a primary offense," — meaning police could stop a car simply for seeing someone smoking while children were in the vehicle.
Previous legislation that would have made such smoking a primary offense in Oregon has been defeated, partly on the grounds among liberals that allowing police to stop drivers for non-moving offenses like smoking cigarettes could encourage racial profiling. Others have argued such traffic stops would be a waste of police resources.
Among the states that ban smoking in cars with kids, California and Maine consider it a secondary offense, while the violation is a primary offense in Louisiana and Arkansas.
Not all of Thompson's fellow Republicans agreed with his position.
Rep. Sherrie Sprenger, a Stayton Republican and former county sheriff's deputy, said giving police the authority to write tickets on parents who smoke in front of their children could encourage scofflaw parents to punish their kids, the innocent bystanders.
SB 444 has already passed the Senate, and Gov. John Kitzhaber intends to sign the bill into law, said spokeswoman Amy Wojcicki.
Image for this story by DNQA (CC BY-NC-ND 2.0) via Flickr.
Christopher David Gray can be reached at [email protected].