Hospitals still have enough capacity to treat patients, but the rising number of cases prompt officials to carefully monitor the availability of beds.
Image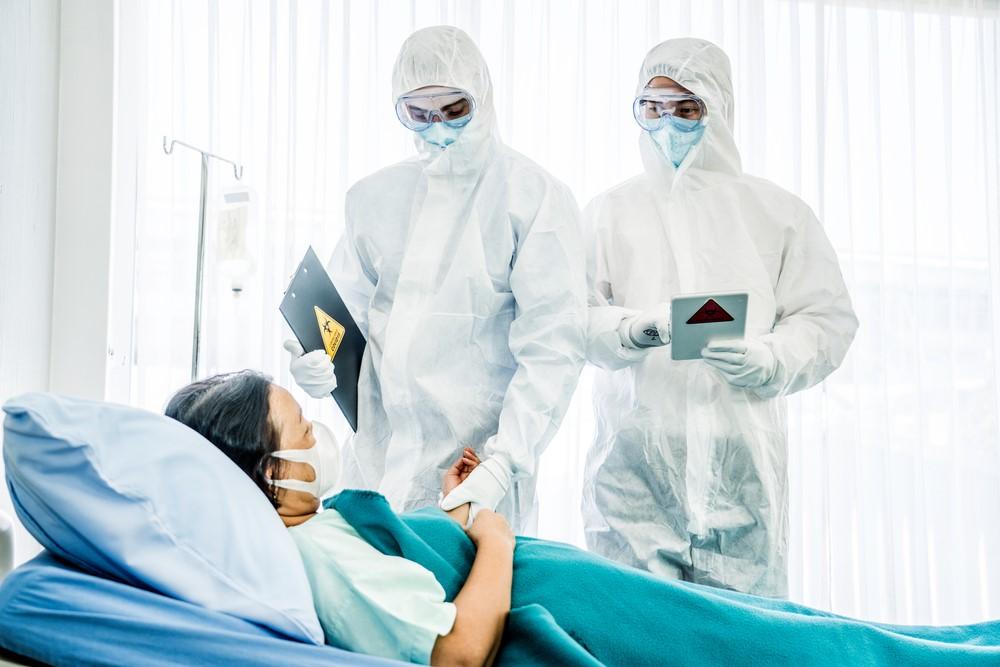 November 9, 2020
As COVID-19 cases mount across Oregon, hospital from rural Ontario to urban Portland, are continuously monitoring bed capacity using a statewide database that updates every two minutes so hospitals know whether neighboring facilities in the region have room for more patients.
Meanwhile, state health officials are incrementally imposing new restrictions to try to slow the accelerating cases. For now, nine counties face special state restrictions for two weeks in a bid to slow the spread of the virus. Gov. Kate Brown ordered a two-week pause that starts Wednesday for four counties -- Baker, Clackamas, Union and Washington -- that limits social activities because of  COVID-19 case counts relative to each county's population. Those four counties are on top of five others announced Friday: Jackson, Malheur, Marion, Multnomah, and Umatilla.
Those counties fit the criteria because they have a case rate of above 200 per 100,000 people during a two-week period, or more than 60 cases if the county has a population of under 30,000.
The order limits restaurant parties to six people and overall capacity in restaurants to 50 people, including staff and customers. It also halts visits to long-term care facilities and limits household gatherings to six  people from outside the residence. 
"We all must continue to do our part to stop this virus from spreading, particularly limiting our social gatherings and interactions, or we risk further closures and restrictions," Brown said.
(See also: Hospitals Curtail Elective Surgeries In Anticipation Of COVID Surge.)
The Oregon Health Authority reported four more COVID-19 deaths on Monday, which takes the total death toll to 734. Health officials also reported 723 new confirmed and presumptive cases, putting the total for the course of pandemic at 51,155.
Overall, 3,463 people have received care in Oregon hospitals for COVID-19 since the pandemic started, state data show. Of those, 788 patients had been in an intensive-care unit. 
As of Monday, 319 COVID-19 patients were being hospitalized, with 64 of them in intensive care beds. In comparison, there are still 191 open adult intensive-care beds out of 703 statewide. There are nearly 800 adult non-intensive care beds available, out of almost 4,500, so the system is holding up under the strain.
Hospitals are now able to track COVID-19 cases in real time. Oregon Health & Science University, through a partnership with GE Healthcare, has set up a capacity monitoring tool that hospitals across the state are plugged into. The system gives hospitals a bird's eye view of how other hospitals across the state are managing capacity and COVID-19 cases. The system is linked to each hospital's bed manager database and updates every two minutes based on patient admissions and discharges at a hospital. 
The project is an expansion of a project that Oregon Health & Science University and GE Healthcare started in 2017 to manage bed capacity on a regional level with affiliated hospitals such as Tuality Healthcare and Adventist Health Portland.
The goal is to help hospitals collaborate on a regional level. This way, one hospital does not get overwhelmed if there is a hospital nearby that still has capacity. 
Hospital executives who joined Brown on Tuesday for a press conference said resources, including staff, are finite, especially when workers face an increased risk of catching COVID-19 and need to quarantine. It's also possible elective surgeries will need to stop in some hospitals if COVID-19 cases continue to increase so those staff can work with COVID-19 patients.  
Dr. Jeff Absalon, chief medical officer for St. Charles Health System in Central Oregon, said that the four hospitals in Bend and the surrounding region have surge plans to move patients between facilities if necessary. If COVID-19 cases continue to grow, he said, St. Charles will have to reduce elective surgeries or shut them down altogether "if we hit a crisis point."
Oregon Health & Science University is at 85% capacity overall in the 576-bed facility. 
Dr. Renee Edwards, the hospital's chief medical officer, said OHSU's plans are constantly changing based on circumstances. The hospital has 79 adult intensive care beds and 20 pediatric intensive care beds in four units.
Last week, based on its increase in COVID-19 patients, the hospital launched a plan that designates one of its intensive care units only for COVID-19 cases. Normally, the hospital will have COVID-19 patients and patients without COVID-19 in the same unit because they are isolated from each other. That decision could be reversed with day-to-day adjustments as patient counts get lower, Edwards said.
Edwards said patients, regardless of hospitals, need to understand that hospitals have limited resources to deal with the pandemic. 
 "If we start becoming overwhelmed then pretty soon those beds are in the hallways instead of in the rooms," Edwards said. 
The hospital reported 12 patients with COVID-19 in the hospital on Monday. Since Feb. 28, the hospital has had 4,821 detected cases in patients, with 20 deaths in the hospital.
The hospital has detected 126 new cases in patients since Nov. 6, a figure that includes those who have been discharged from the hospital.
PeaceHealth, which operates four hospitals in Oregon and one in Vancouver, is currently not experiencing capacity issues, spokesman Jeremy Rush said. Rush said PeaceHealth continues to monitor the pandemic and its impacts on the health care system.  PeaceHealth has hospitals in Eugene, Springfield, Florence and Cottage Grove.
"We are able to expand COVID-19 units within our facilities, well as alternative sites, should the need arise," Rush said. "PeaceHealth has seen recent increases in COVID-19 admissions in our hospitals, which is consistent with the number of cases being reported by public health agencies for the counties we serve."
 At Salem Hospital, occupancy is 64% overall, or 74% without including restricted units such as inpatient psychiatry, labor and delivery and neonatal intensive care, said spokesman Michael Gay. 
"We are prepared to manage any eventual surge in COVID patients," Gay said. "However, we are concerned about the spike in community spread cases across the state and potential effects on the state's overall hospital capacity."
At 25-bed CHI St. Anthony Hospital in Pendleton, its contingency plan allows for up to 30 COVID-19 patients if necessary. For now, the hospital is operating under normal protocols and is not at capacity, spokeswoman Emily Smith said. However, the hospital is closely watching the capacity of larger facilities it relies  upon.
"We are keeping an eye on the capacity of metro hospitals, as we will utilize these larger hospitals to accept our sickest COVID patients," Smith said in an email. "As these hospitals fill up, this will of course hinder our ability to transfer patients out."
The Saint Alphonsus Hospital System, which serves residents in eastern Oregon and Idaho out of four hospitals, reported 60 patients systemwide with COVID-19 and 295 patients hospitalized for other reasons, excluding specialized services such as rehabilitation and behavioral health. Malheur County patients with COVID-19 make up a smaller share of the county's overall patient census compared to overall figures. In Malheur County, just 11% of patients have COVID-19. Systemwide, including Idaho, it's 16%, hospital data show. 
Saint Alphonsus Safety Officer Kathryn Quinn said the hospital is on coordination calls every day, and "it's really a balancing act right now." Like every other hospital official, Quinn said people -- regardless of jurisdiction -- should wear face coverings and socially distance, especially as cases grow and the holidays approach when people gather more. 
"We're heading into a really complex part of the (virus) event," Quinn said.
You can reach Ben Botkin at [email protected] or via Twitter @BenBotkin1.