State and county officials, with the help of FEMA and emergency services, have launched mobile clinics to ensure that homebound and group home residents get a jab.
Image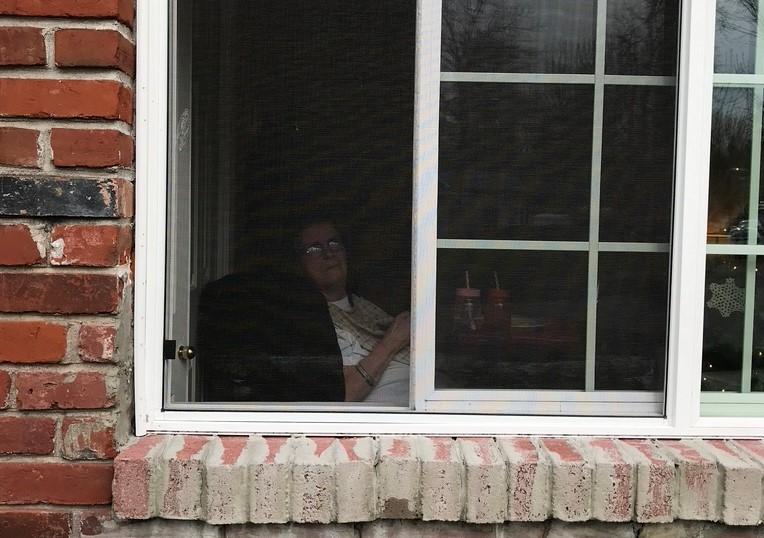 March 11, 2021
County and state health officials are slowly accelerating their COVID-19 vaccine campaign targeting vulnerable Oregonians who live in adult care homes.
In the past two weeks, they've vaccinated hundreds of residents in the Portland area, much to the relief of families of residents and the care home owners. 
"I feel so relieved now knowing my residents are safe," said Meko Tolola, owner of two adult care homes in Washington County. 
As long-term care residents, they should have been vaccinated already. These residents, in homes with five or fewer occupants, are in the state's top priority category -- 1a -- along with residents in larger facilities that house dozens of residents. Residents in almost all of those large facilities -- there are nearly 690 statewide -- have been offered their first shot and some are fully vaccinated as part of a federal pharmacy program.
But Oregon's smaller homes fell through the cracks as Walgreens, CVS and Consonus Pharmacy held vaccination clinics in long-term care facilities and then the state moved on to other priority groups.
Oregon Health Authority officials spent weeks arguing with the federal Centers for Disease Control and Prevention, which oversees the federal program, trying to get the 3,800 small care homes and other facilities signed up, but only 18 managed to do that.
Some of the 16,000 residents in these homes were able to get vaccinated at drive-through clinics like the ones at Hillsboro Stadium or PDX Airport, which are run by Oregon Health & Science University. But many residents are not able to sit in a car for long or they're bed bound. Tolola had four residents who were either physically or mentally unable to go to a clinic.
Tolola said their status caused her sleepless nights and anxiety. 
"As a home care provider caring for the seniors, it was a big challenge for us," Tolola said. "The bigger facilities were done a long time ago, but we had to wait and wait. I wish they had been more focused on seniors."
Prusak Gets Involved
Long-term care facilities and small adult care homes house similar populations of vulnerable Oregonians. Many are elderly and bedridden. Some suffer from dementia or have other disabilities that limit their mobility. When they have health problems, providers must come to them.
Rep. Rachel Prusak,  D-Tualatin and West Linn and a nurse practitioner, cares for residents in small care homes. Worried they were being left behind in the vaccine campaign, she used her political muscle as chairperson of the House health committee to lobby on their behalf during weekly briefings with the Oregon Health Authority.
"I was a broken record," Prusak said. "To me, they were the next group that needed to be vaccinated after long-term care residents."
Health officials say that getting residents in large facilities had to come first because that's where the big outbreaks were, leading to hundreds of deaths. There have also been deaths in adult care homes, though the state refuses to release those numbers, citing a statute that keeps secret the findings of outbreak investigations.
Prusak said that after wasting several weeks trying to get the homes into the federal pharmacy program, OHA pivoted to focusing on getting the residents vaccinated through other means, like drive-through clinics and mobile units like the one that visited Tolola's two homes on Monday.
Allocations This Week
State and county health officials have been working on organizing mobile clinics for weeks. The Oregon Health Authority contracted with American Medical Response and MetroWest and has also received assistance from the Federal Emergency Management Agency, which recently gave the state $110 million for vaccination efforts. An OHA spokesman said that last month four FEMA officials started working on building a statewide system for mobile clinics.
As of Wednesday, according to written testimony to the House COVID-19 subcommittee by the Oregon Health Authority, about 1,300 adult foster homes, residents and staff in nearly 770 homes have had access to a vaccine. Nearly 590 homes still need vaccinations, according to the Department of Human Services.
The state has not released vaccination details for care homes that serve people who are mentally ill or who have other disabilities. 
The state also has 25,000 people with high needs who receive in-home care. Patrick Allen, the Oregon Health Authority director, told the committee that only about 6,600 of them had been vaccinated.
Allen said that this week the state allocated extra doses for adult care residents and the in-home care population. It sent nearly 2,600 doses to Josephine and Marion counties; 3,100 to Washington County, which has a high concentration of adult foster homes; and 4,800 doses were allocated for Baker, Clackamas, Douglas and Multnomah counties. 
In addition, the single-dose Johnson & Johnson vaccine was just approved. State officials said those doses will help vaccinate people in remote areas and those with mobility issues.
Multnomah County Launches Mobile Clinics
Multnomah County's chief of emergency management, Alice Busch, is overseeing the county's mobile vaccination clinics for small care homes and people receiving care in their own residences.
Busch helped pilot the program on Feb. 27 with county volunteers and members of the Medical Reserve Corps, a group of licensed medical professionals that assist in emergencies. They were divided into 20 teams of two people. They included nurse practitioners, physician assistants, dentists, pharmacists and physicians operating under the license of Dr. Jennifer Vines, the county's health officer. Busch said Vines set strict protocols.
"Her standing orders are more restrictive than that of the CDC for safety's sake," Busch said.
Vines said that all of the team members had to at least be registered nurses, even if they merely discussed the permission forms with residents or watched patients after they received the shot to ensure they didn't need medical help.
County officials identified care homes and residences that needed a clinic on site, keeping a careful tally of patients. They then had to be grouped to allow each team to cover a certain geographic area. Creating a grid of the city helped with that.
The teams are using the Moderna vaccine, which does not have to be stored in sub-Arctic temperatures like Pfizer's but only remains viable for six hours.
"As soon as you pierce a vial the clock starts ticking," Busch said. "You have six hours to use that entire vial."
Each team was given 10 syringes wrapped in bubble wrap and put in a styrofoam ice chest. That meant that they had to vaccinate 10 people each trip. Although county officials tried to identify patients who wanted a vaccine, sometimes the numbers were different on site. That meant ending up with an extra unused syringe -- or not having enough.
"There are so many variables," Busch said.
The patients didn't always have their forms filled out either. And in some cases the teams had to work in homes where residents were not masked.
On the first day of clinics, the teams vaccinated about 150 people. That doesn't seem like a lot but sometimes only one or two people in a home needed a vaccine. It took a day to work a lot of the kinks out, Busch said.
"We sent people all across the county," Busch said. "It was a bit messy."
Lydia Dennehy's mom, Molly Cooley, who lives in Rose City Adult Care Home in Northeast Portland, was one of the first vaccinated. Cooley, who's 76 and has Parkinson's disease, and her daughter had tried for weeks to get a vaccine appointment. They managed to finally get one the afternoon of Feb. 27.
"I was relieved when she called Friday night saying that they were coming Saturday morning," Dennehy said. 
But hugs will wait. "We are planning a big hug for 10 days after her second dose, but (we're) still doing elbow bumps for now," Dennehy said.
The Wait's Not Over
The county has now vaccinated 900 people through the mobile clinics. But the work is far from over. Officials still have to reach 5,000 people in Multnomah County alone who are receiving in-home services -- and others  who remain stuck at home but are not using county in-home services. It's not clear how long it will take health officials across the state to offer vaccines to the elderly and disabled who cannot get to an outside clinic.
Allen said the state intends to allocate 3,000 to 3,600 doses a week to foster care homes and 15,000 doses through mid-April for people receiving in-home services.
It's not clear when everyone who is currently eligible for a vaccine -- including adult care home residents -- will be vaccinated. 
A week ago the health authority said in a Facebook post that the  job was done for long-term care and group home residents. That statement, which echoed one by Brown last month, angered Sharri Anderson, whose 79-year-old mother, Linda Kenny, lives in an adult foster home in Northeast Portland.
"I understand that the response to the pandemic is unprecedented and complicated, and that there were and will be problems to overcome," Anderson wrote to OHA, "but what concerns and angers me is telling the Oregon public that -- hooray! -- you've accomplished something you haven't, and that these vulnerable populations are protected, when they aren't."
Anderson also complained about the statement to Prusak, saying it was flatly untrue.
"My mother's (adult care home) has been urgently working for weeks and weeks to get their residents vaccinated, without success," Anderson wrote.
That changed on Monday. Kenny, who has advanced multiple sclerosis and encroaching dementia, lives in Beaverton in Angel Light, one of Tolola's two care homes in Washington County. Four residents in both, including Kenny, received a Moderna shot from an AMR employee.
Anderson is ecstatic. Until today she's only seen her mom through a window, while standing outside.
"Not being able to see her during this time has been very difficult for us as a family," Anderson said.
Though her mom does not yet have immunity, Anderson went into her room on Monday for the first time since the pandemic hit.
"I really wanted to see her receive the shot in person," Anderson said.
Anderson said she hopes the state learns from this experience and next time has a plan for small adult care homes.
"Another pandemic will come around again," Anderson said. "How can we make sure that adult foster homes are attended to at the beginning at the 1a vaccination schedule? We need to learn from this and make it better next time."
You can reach Lynne Terry at [email protected] or on Twitter @LynnePDX.