Oregon Health Insurers Seek Modest Premium Increases For 2021
Oregonians who purchase individual or small-group health insurance plans on the marketplace will see only modest rate increases in 2021, the second straight year cost growth has been held largely in check after years of steep price hikes.
But it remains to be seen how the ongoing coronavirus pandemic, and a staggering rise in unemployment that's expected to shift thousands of policyholders from private to government-backed health care plans, will affect the insurers who offer those health plans.
The Oregon Insurance Division on Tuesday released the requested rate increases by insurers in the state's individual and small-group markets. The requests range from an 11.1 percent increase by small insurer BridgeSpan Health Company to a 3.5 percent reduction by Kaiser Foundation Health Plan of the Northwest.
The other individual market insurers – Moda Health Plan, Providence, PacificSource Health Plans and Regence BlueCross BlueShield – requested increases between 2.5 percent and 4.7 percent. The weighted average rate increase across the individual market is 2.2 percent.
Last year, individual market insurers proposed rate increases averaging 3.3 percent only to see the state approve a lower increase of 1.5 percent.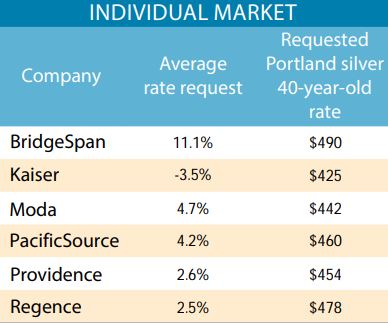 The new rates must be approved by the state insurance division, which regulates health policies. The division's two-month review will try to account for COVID-19's impact on insurance claims and other risks. But "it is too early to understand the effect COVID-19 relief efforts will have on health insurance rates," according to a statement released by the division.
The individual marketplace represents a small piece of enrollment in Oregon. About 150,000 residents purchase individual plans through the marketplace, compared with roughly 1.8 million residents who receive coverage through their employers, 600,000 who receive Medicare and more than 1 million who receive Medicaid through the Oregon Health Plan.
The small increases this year and proposed for next year follow years of double-digit rate growth. Rates shot up by 23 percent in 2016, 27 percent in 2017, 13 percent in 2018 and 9 percent last year, as critics questioned the viability of Oregon's commercial marketplace set up by the Affordable Care Act.
The 2020 rates offered the first clear evidence that costs were beginning to stabilize after insurers took on sicker patients who would have been denied coverage before the ACA. The proposed rates for next year are further indication the marketplace has finally reached solid ground.
"The initial data reveals that Oregon's reinsurance program continues to provide premium relief and stabilization for the market," Insurance Commissioner and acting Department of Consumer and Business Services Director Andrew Stolfi said in a statement. "It's early in the process, but it is encouraging to see more carriers expand their coverage area statewide and another year of modest rate change requests."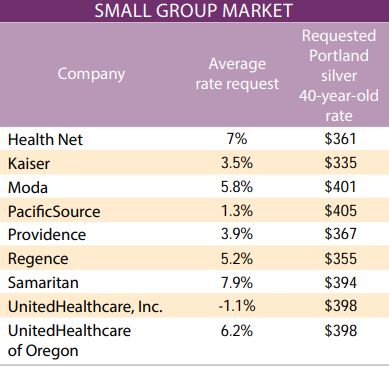 Yet costs are still rising and pose a significant barrier to those unable to gain insurance through employers or the government. A 40-year-old Portland seeking a "silver" plan on the individual market would pay an annual premium between $5,100 and $5,880 under the requested rate.
The economic fallout of the coronavirus pandemic also could pose significant financial challenges for commercial insurers, depending on how many of the 300,000 laid off Oregonians have lost access to employer health coverage. More than 40,000 new members joined the Oregon Health Plan between March 1 and late April, according to state figures.
How the shift affects insurers may come down to the actual health of people kicked off of their employer plans, Jeff Luck, an associate professor of health management and policy at Oregon State University, told The Lund Report. Many job losses in Oregon have taken place in the restaurant and hospitality industries, where workers tend to be younger and less likely to seek medical care. Eliminating them from commercial insurance pools would be less costly for the industry than losing older workers who pay more for care, Luck said.
"If you're an insurance company, that's what your actuaries are trying to figure out right now," Luck said. The backlog of elective medical procedures that were postponed at the onset of the pandemic could also help insurers recoup some of their losses later this year, he said.
Shoppers by and large should have more options to choose from next year on the individual market, meanwhile. At least four insurers' plans will be offered in every county except Lincoln County, which will have three.
Kaiser had proposed an average 11.4 percent rate increase on its plans for this year. But in requesting a 3.5 percent rate reduction, Kaiser noted tens of millions of dollars in savings it expects in the coming years from contracts with pharmaceutical manufacturers and switches to several generic and biosimilar drugs, as well as through corporate restructuring.
"We have made significant commitments and investments in very tactical initiatives within our integrated delivery system to achieve a lower cost structure," Kaiser wrote in its rate request filings.
In requesting its 11.1 percent rate increase, BridgeSpan, the smallest marketplace insurer with 3,100 members, noted a $2.1 million decline in ACA premium revenue last year compared with 2018 and expected possible further reductions going forward.
In the small group market, nine insurers requested rate changes ranging from UnitedHealthcare's proposed 1.1 percent reduction to Samaritan's 7.9 percent increase. Those rates would cost a 40-year-old Portlander between $4,020 to $4,860 in annual premiums under a silver plan.
You can reach Elon Glucklich at [email protected].
×
This article is for premium subscribers. If you are one, please sign in below.
You can see
two
more premium stories for free. To subscribe,
click here
. We depend on premium subscriptions to survive, and they are tax deductible.