Enrollment for 2019, which runs through Dec. 15, is lagging by nearly 20 percent even though subsidies are available for a family of four earning up to $100,000 and individuals who make $48,000.
Image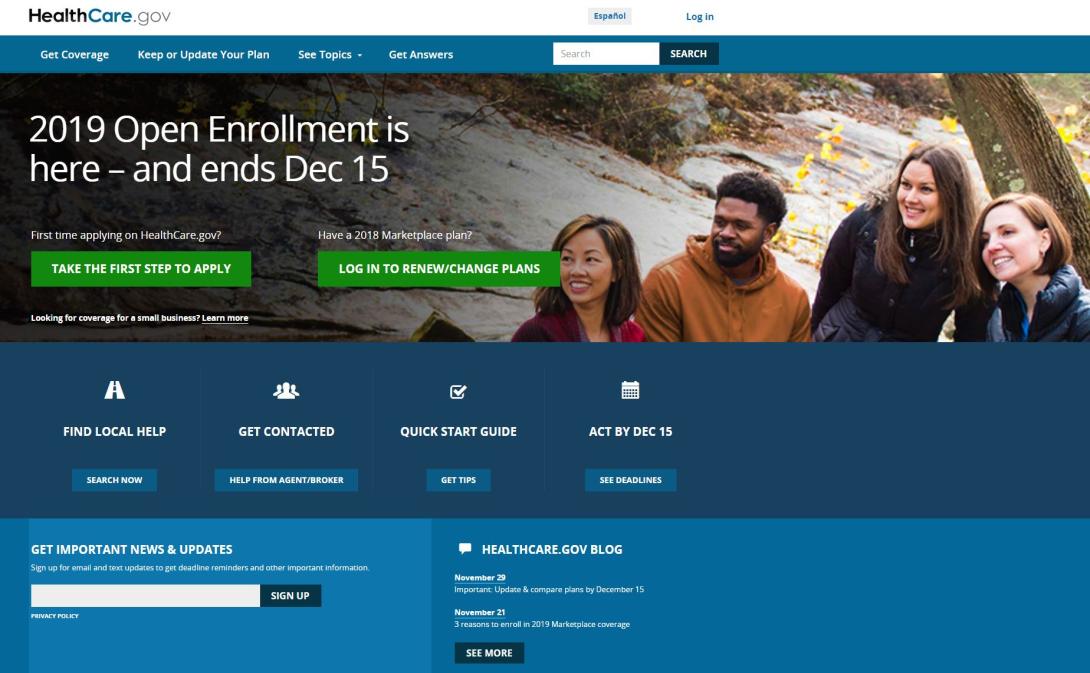 November 30, 2018
Oregonians who are not on Medicaid, Medicare or covered by their employer only have two more weeks to sign up for health insurance for next year.
Since enrollment on the Oregon Health Insurance Marketplace opened Nov. 1, signups for 2019 plans have lagged. So far, with nearly 42,000 Oregonians have enrolled, about 10,000 fewer compared with the same time last year.
Oregon is not alone. Enrollment is down across the country, according to data released Wednesday by the Centers for Medicare & Medicaid. Enrollment in Pennsylvania and Missouri is lagging by 25 percent and signups are down 20 percent in Ohio, National Public Radio reported. In Oregon, nearly 20 percent fewer people have enrolled, said Elizabeth Cronen, spokesperson for the Oregon Health Insurance Marketplace, a partner to HealthCare.gov.
The Trump administration, which has been trying to chip away at the Affordable Care Act, has slashed funding for enrollment advertising and for agents and aides, often called navigators, who help people sign up for insurance. But those cuts have not affected Oregon, Cronen said. The state is spending about $2 million trying to get people to sign up for next year. Nearly $800,000 was awarded to nonprofits and insurance agents to boost enrollment, with $1.2 million earmarked for media ads, spanning everything from TV, print and radio to social media and streaming services like Pandora and Hulu. Besides English, ads are running in Spanish and Russian.
Despite that, state officials don't know why enrollment is slow.
"We think there are a lot of people out there who don't realize how much income they can earn and still get a subsidy," Cronen said.
Families of four who earn up to $100,000 can qualify for subsidies; so can individuals making up about $48,000. The only way to get a subsidy is to use the marketplace. The average subsidy last year in Oregon was $420 a month.
Some people choose to pay the full amount for the premium and then take a tax deduction. Everybody who enrolls on HealthCare.gov and does not take a subsidy, still has an option to take a tax credit on their taxes if they qualify.
"If don't go through healthcare.gov you don't have that second chance," Cronen said.
People who have not enrolled this year but did sign up through HealthCare.gov last year will be automatically reenrolled, provided they didn't go online and say they want to opt out. Cronen still urged people to shop online to get the best deal for their situation.
"People should not wait for auto-renewal because plans and premiums change every year as do people's financial situations," Cronen said. "So their plan last year might not be the best one for this year."
Premiums are going up again in Oregon for 2019, with people paying between 5 percent and 10 percent more than this year, which is still much less than the years of double-digit increases after the passage of the Affordable Care Act. 
Last year more than 156,000 Oregonians signed up for insurance through the marketplace, and nearly 75 percent qualified for subsidies. About 100,000 people who didn't enroll could have qualified for premium help, including 32,000 in Multnomah County.
The Oregon Department of Consumer and Business Services, which oversees the Oregon Health Insurance Marketplace, will ramp up its digital ads as the deadline nears to target a broader range of people, Cronen said.
"We'll continue our advertising and outreach to make sure Oregonians know that if they need coverage or help paying for coverage, they should get started at OregonHealthCare.gov and enroll by Dec. 15," Cronen said.
All legal residents in Oregon can sign up, provided they're not qualified for Medicaid, Medicare, Tricare Tricare, or benefits through the Department of Veterans Affairs.
For help or to sign up, go here. Dec. 15 is the last day to enroll.
You can reach Lynne Terry at [email protected].
Comments
Submitted by

Jeremy Engdahl…

on Fri, 12/07/2018 - 20:42
Permalink
Here are questions that should be considered as proposed healthcare reform legislation is formulated.   Check more at:  https://www.healthcaretownhall.com/?p=8394#sthash.uUSHV0kP.dpbs