Oregon Health Authority Salaries Show Sharp Rise Under Saxton
The state agency has hired 862 more employees since 2013 and increased salaries on upper management by 18 percent, helping to drive a 29 percent overall increase in payroll.
The Oregon Health Authority has increased spending on employee salaries by 29 percent since 2013, including an 18 percent increase on the salaries of upper management, even as it forecasts a hole of $1.1 billion for the 2017-2019 biennium.
The agency's  budget hole was made public in August, and was used as a key factor in Oregon Democrats' push for a $5 billion corporate tax increase, Measure 97, which went down in flames on Nov. 8.
OHA's salary pot has increased from $202 million to $262 million in three years as payroll has increased from 3,700 to 4,562 full- and part-time employees, even as the state has moved to decentralize its Medicaid program through coordinated care organizations.
The median household or family income for all Oregonians is just under $65,000, according to the Oregon Office of Economic Analysis. The mean annualized salary at OHA has risen only slightly from $55,000 to $57,000, according to salary data provided by the Department of Administrative Services.
The number of highly paid managers has increased more remarkably -- the Oregon Health Authority now has 53 managers making more than $120,000, up from 24 in 2013. That growth cannot be attributable wholly to inflation -- the state had 45 managers making $110,000 or more in 2013.
The number of Oregon Health Authority employees pulling down at least $99,000 has increased 76 percent to 261 people. This contingent includes a large number of physicians at the state hospital, but almost half of the growth in this group is from management -- up from 76 in 2013 to 125 in 2016.
The highest paid OHA employee is Dr. Rupert Goetz, the chief medical director at the Oregon State Hospital, at $263,000. The second-highest paid manager is Dr. Greg Roberts, the hospital superintendent, at $236,000.
Below that is a tier of six upper managers making more than $180,000. Before OHA Director Lynne Saxton restructured the agency, which created more upper management, there were four managers making more than $170,000, plus Goetz, Roberts and Dr. Peter J. Davidson, the former medical director of Eastern Oregon's Blue Mountain Recovery Center, which has been closed.
The upper management group includes Saxton, who at $181,000, makes modestly more than her predecessor, Dr. Bruce Goldberg, who was paid $171,000.
The restructured agency has 15 managers making more than $150,000, roughly the same as the 14 managers making at least $140,000 in 2013. But these managers do not fulfill exactly the same roles as under the Goldberg structure. In her expanded role as external relations director, the agency's chief spokeswoman, BethAnne Darby, makes $154,000 compared to $114,000 for her predecessor, Patty Wentz.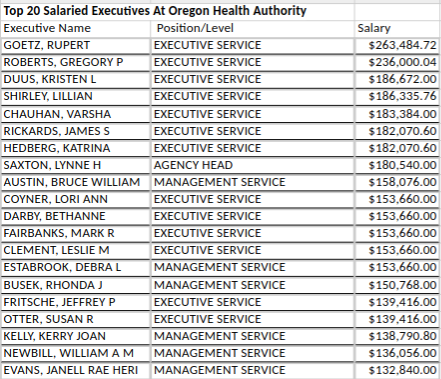 Controlling State Spending
As an alternative to Measure 97, Republican gubernatorial candidate Bud Pierce made curtailing the growth of middle managers in state government a plank of his failed campaign.
Gov. Kate Brown is unlikely to go that route when she releases her 2017-2019 budget on Thursday, but if she wants to raise any revenue, she'll need Republican support in the Legislature.
The Democratic grip on that branch of government slipped in the recent election, as Republican Alan DeBoer won the open Senate seat in Jackson County, ending the Democrats' short-lived supermajority in the state Senate.
Furthermore, Democrats in blue-collar districts won by President-elect Donald J. Trump have exerted their independence from their party, with Rep. Brad Witt, D-Clatskanie, and Sen. Betsy Johnson, D-Scappoose, both endorsing Republican Dennis Richardson in his successful run for secretary of state.