Image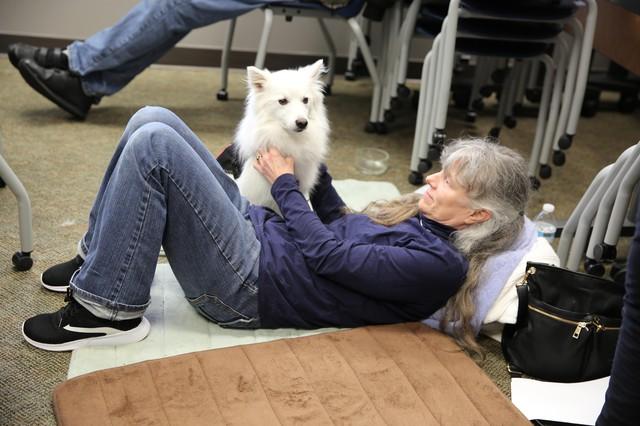 May 24, 2019
Give or take a few breaks, Kelly Howard has been on opioids for 17 years. She suffers from severe nerve pain and says opioids have enabled her to have a life.
"I was able to function. Take care of the house. Take care of the animals. Still get some exercise. Sleep," she said, in an interview from her home in the small Willamette Valley town of Veneta.
But a year and a half ago, her doctor retired. It was at the peak of the opioid crisis and her new doctor was anxious to follow Oregon's stringent new opioid prescribing guidelines.
The Oregon Health Plan was asking doctors to taper patients off opioids within a year. Howard's doctor tried to do it in three months and Howard said it was devastating.
"So many things just got dropped by the wayside. Because I just couldn't do things. I couldn't take care of the house. I could barely take care of myself," she said.
Howard said she briefly thought about suicide. She understands opioids have wreaked havoc. About 130 Americans die every day from opioid overdoses.  But she said people like her need them long-term – just like heart disease patients need statins or beta-blockers long-term.
"We're stigmatized," said Howard. "We're accused of being addicts, of just wanting to get high, which we don't. With causing all of the problems of illegal drugs, which is completely not true. We are vilified."
An estimated 24,000 Oregonians have pain reliever use disorder – that's equivalent to the population of the Oregon city of Newberg. And now they've attracted some powerful help in the form of Human Rights Watch. The international nonprofit, better known for tracking political corruption and child soldiers, recently wrote to Oregon Gov. Kate Brown expressing concern about the state's opioid tapering proposals.
Human Rights Watch researcher Laura Mills said it is possible to taper how much a patient uses opioids, but it has to be done carefully. Otherwise, it can cause some patients to spiral out of control.
"When a patient comes to a doctor and says: 'I want to reduce my dose,' or agrees with the doctor that is the best decision, those can be successful and studies show that. The problem … is with involuntary dose reductions. When the doctor just says: 'That's it. I'm cutting you off.' Because it really, really destabilizes those patients," said Howard.
Studies show they're more likely to consider suicide, lose a job or start looking for other drugs to treat pain — such as heroin.
The Centers for Disease Control recently published a report in the New England Journal of Medicine saying tapering puts patients at risk of withdrawal symptoms, increased pain and psychological problems. The U.S. Food and Drug Administration issued a similar safety announcement on tapering this spring.
In response, the Oregon Health Authority removed its opioid tapering requirement this month. Dr. Dana Hargunani, OHA's chief medical officer, said they're responding to new research.
"The evidence continues to move along and we need to make sure that our proposals and decisions are updated based on the best evidence we have," said Hargunani.
Back in Veneta, Kelly Howard is angry.
"I'm mad at the entire country. But I'm particularly mad at the state because Oregon has decided they want to be the opioid-free state. They want to be first in the forefront in the battle against opioids."
Back in 2016, Oregon started to enforce its tapering program. At the same time, state health officials also broke ground by offering Oregon Health Plan patients coverage for alternative treatments like acupuncture.
Howard said she's tried everything from exercise to healthy eating, to prescription drugs like Xanax and Paxil.
But nothing has worked as well as opioids.
So she shopped for a doctor willing to prescribe. She's on a lower dose now but can function again.
"On a reduced scale I can work on my garden a little bit. Work on the yard. Try to work on the house. Like I said, I have to really try to predict the future … 'If I do this today, I'll be in this much more pain tomorrow. And I don't have so many pain medications, can I stretch them out?'" said Howard.
Comments
Submitted by

Thomas S Duncan

on Thu, 05/30/2019 - 06:46
Permalink
When I started medical practice (1975) it was essentially professional suicide to prescribe regular doses of opiates for non-malignant pain, and doctors were very afraid of getting their terminal cancer patients "addicted".
This eased a bit in the late 90's when the Oregon Legislature instructed the Board of Medical Examiners to lay off censuring doctors who were prescribing opiates responsibly.  Many other states followed, and the pharmaceutical industry saw a golden opportunity and ran with it.
For years, I was subjected to mandatory "pain management education" -- which mostly told us not to be afraid of high dose opiates, and to learn to use long-acting opiates "to stay ahead of the pain".  Everyone, after all, was entitled to a pain-free life.
Well, of course it got out of hand, and of course there was an over-the-top counter-reaction.
But now, I don't know who I trust.  The OMB has been bearing down fairly heavily on "over-prescribers" in the last couple of years, so I personally have gone back to 1975 standards of practice for pain management.  I don't want my last few years in medical practice to end in disgrace with Board censure.
I have tapered all of my chronic pain patients who agree to the taper, I manage the few remaining chronic users in my practice very strictly, and I don't accept new chronic pain patients.  
I really don't know where people in chronic pain are going to find help -- but I see a lot of suffering out there in the public.
Submitted by

Darryl George

on Tue, 06/04/2019 - 09:21
Permalink
Despite OHA-OHP changing course, the damage has already been done across the state.  Providers have quit prescribing and refuse to help chronic pain patients.  It used to be that when you called a clinic to get your first appointment, they would ask what your insurance was.  Now they ask if you have "chronic pain," because they don't want any patients with chronic pain, even if you get medications from someone else.  While the opioid crisis has impacted chronic pain patients, the addicts still get their illegal drugs, get safety zones to inject, get food stamps and other state and federal benefits, while doing their drugs and failing drug tests.  Chronic pain patients who used to be able to work and function at home and socially have lost jobs, relationships, hobbies, and social outlets.  No one cares about that because behind the guise of decreasing those dangerous opiates was the great cost savings to be had.  Umpqua Health Alliance in Douglas County (owned by DCIPA and Mercy Medical Center) forced all their OHP chronic pain patients off opiates in the summer of 2013, a full three years before the rest of the state's OHP plans made the push.  Since UHA has often denied medications to their OHP patients that are supposed to be covered benefits according to the state's plan, it clearly shows that UHA is all about the money.  Spending money on patients means less bonuses and such for their members.  It's a clear conflict of interest, but no one at the state level seems to care.