Oregon Doctors Rise Up Against Individual Mandate
Physicians hope to remove roadblock to universal coverage and lower overall healthcare costs
February 28, 2012 -- Three Oregon physicians are among a group of 50 doctors who filed an amicus brief with the Supreme Court arguing that the individual mandate in the Affordable Care Act should be struck down.
The doctors' friend-of-court brief creates strange bedfellows by essentially arguing that the individual mandate to purchase insurance coverage violates interstate commerce law.
In doing so, the physicians who signed the document, calling themselves progressive single-payer advocates, aligned with conservative groups who are trying to abolish the legislation by using the same argument.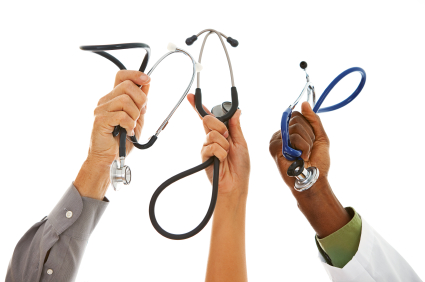 These physicians made it very clear that they support the moral and fiscal arguments for single-payer and universal healthcare in America, however, and believe that the only solution to the U.S. healthcare crisis to control costs and achieve comprehensive coverage for everyone "is to adopt a national publicly-financed single payer health insurance system, in which one public entity handles billing and other administrative transactions on behalf of all participants," according to the brief filed February 13.
Dr. Paul Hochfeld, who's worked at Good Samaritan Regional Medical Center in Corvallis as an emergency room physician for 32 years, says he's not really against Obamacare, but "against pretending" that the mandate is a good fix for healthcare.
"We don't really want the whole thing thrown out," he said. "We just want to make sure that everyone is in the same risk pool, so that the insurance companies can't profit off of the low-risk pools while we still have to pay for the high-risk people, so in essence we're subsidizing the insurance companies' profits."
Dr. Samuel Metz, of Portland, who travels all over the Willamette Valley as a private-practice anesthesiologist, also signed onto the brief because he believes the individual mandate will increase healthcare costs.
It costs society more to deal with an amputee who lacked insurance than to provide ongoing diabetes care or prevent illness, said Metz who also cited examples of his own relatives who've been bankrupted by medical emergencies "for getting the wrong disease at the wrong time" even while having health insurance.
"The mandate is a way for Congress to avoid its responsibility to create a progressive tax that would divert the currently wasteful funding going to private insurance companies," Metz said.
The idea that the government would force individuals to buy a commercial product is also appalling to doctors.
"Even if they're willing to subsidize this, what are they going to make us buy next?" asked Hochfeld. "If they think that healthcare is a human right and is so important that they need to make sure that everyone gets it, then they need to create a system with the same set of rules for everyone. And if it's not cost-effective, then the government's not going to pay for it, and that's the only way to ensure that we get value our the money."
The third Oregon signee, Dr. Mike Huntington, a radiation oncologist in Corvallis who retired about five years ago, admitted that he was part of "extravagant use of specialized technologies" at the Samaritan Regional Cancer Center, where the cost of an eight-week course of radiation treatment for people with prostate center rose from $24,000 to $66,000 between 1996 and 2006.
"I saw the tremendous waste of administrative service in the private insurance companies," Huntington said. "I also saw people coming in with advanced cancers because they weren't able to afford health insurance."
Huntington chairs the education committee for the Oregon Single Payer Campaign, which may change its name to "Health Care for All," and is among the many doctors who are getting tired of the single-minded single-payer movement.
"One of my frustrations with the single-payer movement is the fixation with single payer, because it's a means to an end," Hochfeld said.
Nationwide movement
The doctors joined national nonprofit groups Single Payer Action and It's Our Economy in challenging the government's claim that the individual mandate is necessary to reach Congress' goal of universal coverage.
"We want single payer, so we're trying to get rid of the individual mandate so that the legislation will pass," said Russell Mokhiber, editor of Common Dreams and founder of Single Payer Action.
"Every year 40,000 to 50,000 people die for lack of health insurance ("Health Insurance and Mortality in US Adults," American Journal of Public Health, December 2009), and if there were 120 people crashing into buildings every day, Congress would get this thing done," Mokhiber added. "We believe the individual mandate should get struck down because it's unconstitutional, and we don't want to be forced to pay jacked-up insurance. My insurance company is not going to pay a penny until there's $15,000 out of my pocket."
A series of presentations and panels arranged by Mad As Hell Doctors and the Oregon chapter of Physicians for a National Health Program kicks off April 26 at Oregon Health & Science University. Dr. Marcia Angell, senior lecturer in the Department of Social Medicine at Harvard Medical School, will discuss physician conflicts of interest and the pharmaceutical industry, and Dr. Arnold Relman, a Harvard professor and former editor of the New England Journal of Medicine, will focus on healthcare reform for physicians.