A forecast says the state could see 910 new daily infections by mid-July, with only a fraction identified, and 82 hospital admissions a day.
Image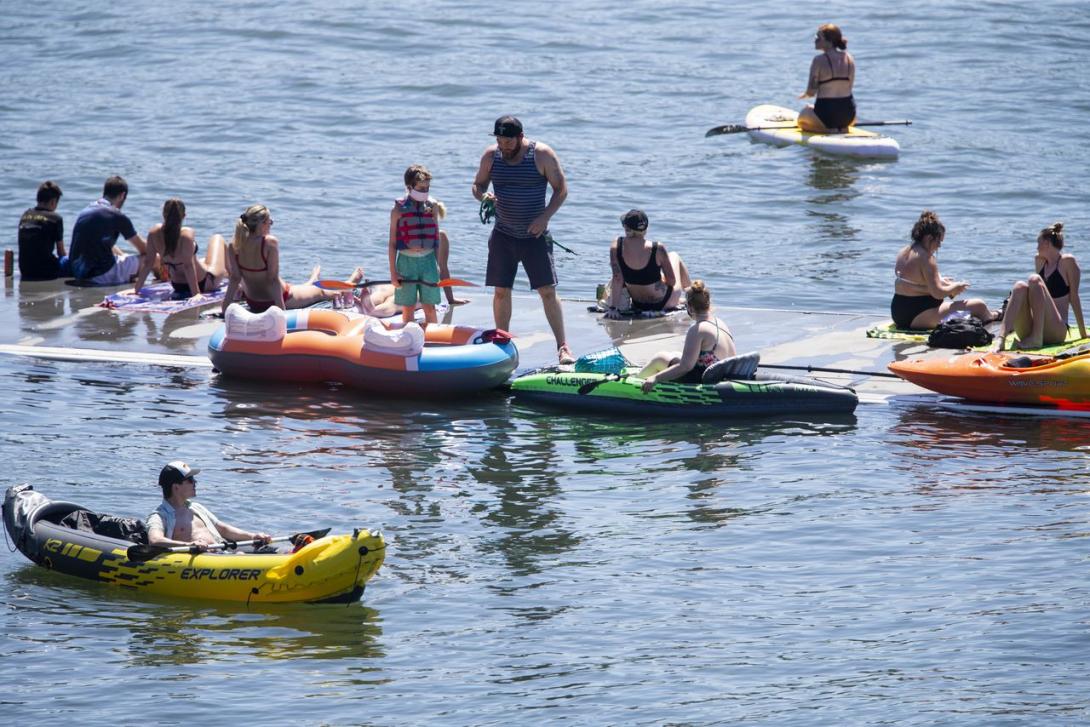 June 29, 2020
Oregon should brace for "exponential growth" in new coronavirus infections by the middle of July, according to modeling by the Oregon Health Authority that offers the latest warning sign that the pandemic still rages.
The grim forecast released Friday suggests Oregon could see anywhere from 910 new daily infections to an astounding 5,030 a day by July 16, depending on the level of spread. Only a fraction of those are likely to be identified.
Hospital admissions could hit 27 a day under the moderate scenario – a threshold that Oregon surpassed only once during the pandemic, a week after Gov. Kate Brown ordered residents to stay at home.
The pessimistic scenario suggests that admissions could reach 82 a day, a staggeringly high number that would challenge hospital systems across the state and likely halt non-urgent medical procedures.
State health officials also modeled a third, optimistic scenario that would represent a slowdown in the pandemic's spread. But they largely dismissed that as being implausible, given the state's record level of identified infections this month.
Dr. Dean Sidelinger, the state health officer and epidemiologist, urged residents on Friday to take responsibility for their actions. He asked Oregonians to consider forgoing or limiting gathering sizes for Fourth of July parties, keeping distance from others and wearing face masks in public spaces.
But Sidelinger did not call for residents to cancel holiday plans, nor would he explain why the state is not requiring masks statewide, rather than in only seven counties. The mask requirement will go into effect July 1 in an eighth county, Clatsop, which opted in.
"These are all troubling scenarios," Sidelinger said of the moderate and pessimistic models, noting that he thinks the middle forecast is most likely.
"They show us the path we're on in this pandemic," he added, "if we don't all come together to take action to prevent these possibilities from becoming a reality in Oregon."
Oregon's governor echoed those statements even more forcefully. A spokeswoman, Liz Merah, called the modeling and rising case counts "alarming."
"Oregon businesses will not be able to stay open unless we reduce the spread of the disease," Merah said in a statement. "If Oregonians want their local shops, restaurants and cafes to stay open, they need to do more to reduce the spread of the disease."
The modeling is not a predictor of what will happen and instead is used for planning purposes. But the forecasts are calculated based on Oregon's current trend lines, and the state's pessimistic model from two weeks ago has appeared to be largely prescient.
That previous worst-case forecast, released June 12, indicated that Oregon could reach more than 1,000 new infections a day before the Fourth of July. Modeling indicates Oregon has identified less than one third of actual infections, so the number of identified infections released by the health authority each day represents only the tip of the iceberg.
Oregon has reported an average of about 180 infections a day in the past week, with 250 cases Friday, the state's second highest total on record. That suggests Oregon's actual number of infections already could be approaching 1,000 a day, something Sidelinger previously said he hoped wouldn't happen.
Sidelinger acknowledged Friday that cases are "surging" and Oregonians are now at their "greatest risk of becoming infected" than at any point since before the governor issued a stay-at-home order in March. Sidelinger nonetheless attempted to strike an optimistic tone.
"While I remain anxious that we will continue to see increased cases, I know that Oregonians will rise to the occasion and limit the spread of disease," he said, even though cases from the past two weeks have shown the opposite about spread.
The new modeling suggests coronavirus transmission has increased since Oregon's governor allowed most counties to begin reopening May 15. But the degree of change was "informed by hospitalization and diagnoses data, not by the assumed effect of any policy," state officials wrote in their report.
The Oregon Health Authority ran the forecasts 11 times using software from the Institute for Disease Modeling. Officials assume about 4,000 Oregonians will be tested each day going forward, a threshold that the state nearly hit for the first time last week.
The modeling shows that Oregon had an estimated 22,655 cumulative infections through June 18, with 7,005 actually identified.
Using the past as a baseline, officials projected what could happen in the weeks ahead. But they wrote that they faced some challenges, noting that infections levels are rising but so are the number of people tested.
"Our ability to accurately estimate how much transmission has changed recently is hindered by the limitations of data for both hospitalizations and diagnosed cases, as well as changes in testing practices," they wrote.
This modeling shows how coronavirus infections could spread through July 16.
Oregon's most optimistic scenario could lead to new infections of about 180 a day, pushing the cumulative total since the start of the pandemic to 27,500 by July 16, according to the report. It assumes the recent rise of infections this month has been the result of increased testing, not increased transmission, which officials deemed unlikely and implausible.
The moderate forecast suggests 910 new infections a day, reaching 38,300 cumulative infections by the middle of next month. It assumes Oregon's recent spike in identified infections are due to both increased testing and increased transmission, something Sidelinger considers most likely.
The pessimistic forecast outlines 5,030 new infections a day, sending cumulative infections skyrocketing to 78,100 by mid-July – roughly tripling from the numbers as of June 18. It assumes Oregon's rising infection count was fully driven by increased transmission rather than more testing and increased contact tracing.
The last two forecasts "demonstrate that increases in transmission, if maintained, would lead to exponential growth in new infections," officials wrote in the report.
But the modeling does not take into account the recent order from the governor requiring residents to wear face masks in Multnomah, Washington, Clackamas, Marion, Polk, Lincoln and Hood River counties, with Clatsop County to follow July 1. Nor does it account for any other efforts that could be implemented in the coming weeks to slow the spread.
Sidelinger said Oregonians in most of the state's densest counties are required to wear masks and encouraged others to do so voluntarily. But he would not directly address why it hasn't been mandated throughout Oregon.
"Requirement or not, it's a good idea," he said.
Sidelinger also noted that cases "accelerated after Memorial Day" and said "we don't want the same thing to happen over the coming Independence Day holiday." But he didn't explicitly call for Oregonians to cancel plans and instead hoped it would be something people are "potentially rethinking."
"This is not the year, this is not the weekend to have a large barbecue or party," Sidelinger said in one of his strongest comments.
Sidelinger said Oregon continues to have adequate hospital space to handle more sick people with COVID-19, including at the 27 daily admissions projected in the moderate forecast. But hospitals would be "overwhelmed," he said, at the higher forecast of 82 daily admissions and would likely require once again canceling non-urgent procedures to free up bed space.
In response to the forecasts, Sidelinger said the Oregon Health Authority is "calling in" more case investigators to interview infected people and more contact tracers to speak with and warn their close contacts to stay home. The state this week said there are currently "about 600″ workers statewide who can perform that work, and officials now plan to tap "academic institutions and other partners."
The health authority offered limited details, saying it is "continuing work" with Oregon Health & Science University, Portland State University and Oregon State University to hire students to assist with public health investigations. A spokesman said officials would also reach out to academic programs such as nursing schools to identify people who can help.
Officials did not provide a timeline or specific staffing target, saying it will depend on needs.
Should Oregon's situation become more dire, Sidelinger said, "all tools are on the table" if necessary. He referenced "some of the mitigation measures that helped to control the spread of the disease earlier," an apparent reference to broader business closures and stay-at-home orders.
The Oregon Health Authority would not directly address whether officials made any recommendations to Brown in response to the latest modeling. Robb Cowie, an agency spokesman, said in a statement that discussions with Brown's office include a full range of mitigation strategies.
"However, we know mask-wearing, avoiding big gatherings and staying six feet apart can slow infections and help avert the need for more disruptive steps to contain the virus," he said.
Oregon so far has recorded few overall identified infections and deaths compared to other states across the country. As of Friday, the state had 7,818 confirmed or presumed infections and 202 deaths.
Identified infections have been rising across the country in recent weeks, surpassing the daily highs from earlier in the pandemic. Deaths across the country remain lower than peak levels, however.
States such as Arizona, Texas and Florida are seeing the greatest number of new cases -- with Florida alone reporting nearly 9,000 cases Friday, surpassing in one day Oregon's cumulative total over four months. Texas, which reported nearly 6,000 cases Friday, has rolled back reopenings so that restaurants and bars can now only provide delivery or takeout.
Oregon's reproduction number – the number of new infections transmitted by one existing infection – is currently projected at about 1.23, according to independent figures that are not part of the state's modeling but are referenced in the report. That's the 12th highest nationally.
The state's official modeling through for the forecasts through mid-July assumed a reproductive number of 1.4 up to 2.
"Our cases will slow and Oregon will remain open if we all take the safe, simple steps to prevent the virus from spreading," Sidelinger said. "Cases will continue to surge if we ignore effective precautions."
-- Brad Schmidt; [email protected]; 503-294-7628
This story was first published by The Oregonian/OregonLive. It is posted here through a coronavirus story sharing agreement among more than a dozen Oregon medial outlets.