Ukrainians in the Pacific Northwest are supporting their native country with donations as a Portland-based humanitarian group plans its response.
Image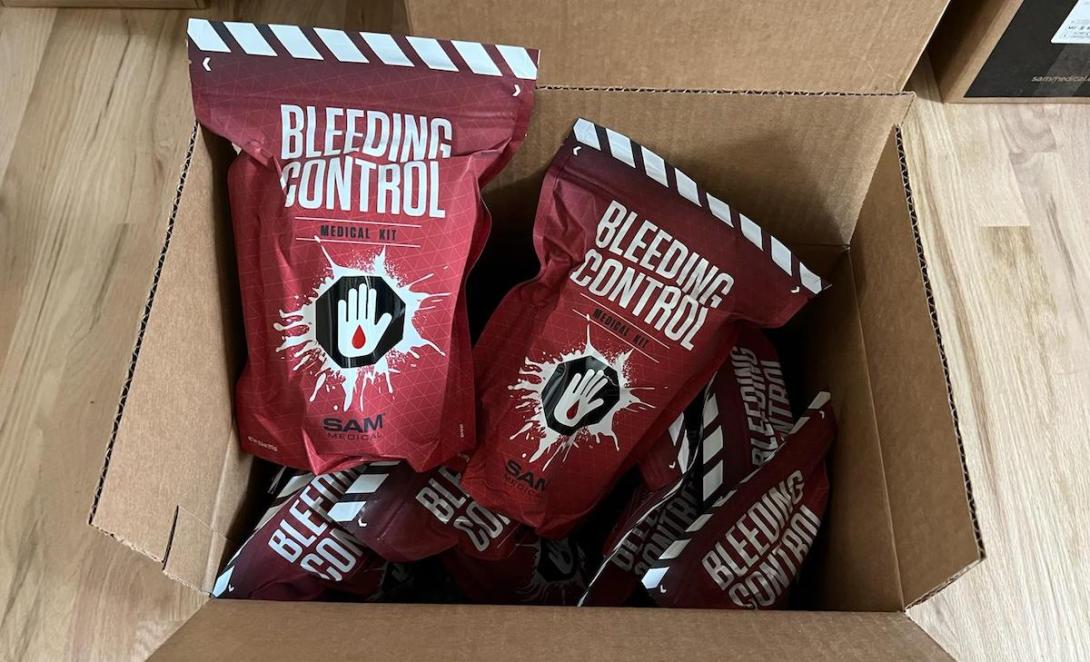 March 15, 2022
A group of Ukrainians in Oregon packed suitcases full of medical supplies and sent them to their war torn nation after a fundraiser drew in nearly $100,000 in donations. 
Meanwhile, Dr. Trina Helderman, a global health advisor for Medical Teams International, traveled to the Ukrainian border to assess ways the Portland-based humanitarian organization can help refugees fleeing the war. 
These examples of life-saving work are a small slice of the international community's response to the attack on Ukraine and the largest refugee crisis in Europe since World War II.
In a telephone interview with The Lund Report late Monday, Helderman described the situation.
Helderman, an emergency medicine physician, is currently staying in Chișinău, the capital city of the neighboring country of Moldova. She arrived there on Tuesday. She is part of a three-person team that is in the field to help plan the next push. From Moldova, they have made the trek to two different border points. 
As the field work continues, 26 pallets of medical supplies from Medical Teams International are on their way to Ukraine. 
As the war has progressed, the needs have intensified. The early refugees coming out of Ukraine several weeks ago were more likely to have means — cars, passports and plans. Now, the people coming in are increasingly desperate.
"Now we are seeing more people walking, more people who don't necessarily know where they're going, don't have family or whatnot in other places and so they're staying a bit longer," Helderman said. 
More than 2.8 million people have fled Ukraine since the Russian invasion started, according to The Associated Press.
As early as next week, Medical Teams International may have more health professionals in place to help with medical screenings. It's part of a broader humanitarian push to get mobile medical teams at border crossings to help refugees who pour into neighboring nations.
Needs run the gamut. Pneumonia and congestion-related problems are common, a likely result of Ukrianians spending extended time in damp, underground bunkers to avoid the shelling. Insulin to treat diabetes is also in demand. Other conditions don't have an immediate treatment — like chemotherapy for cancer. Helderman said it's crucial that the work helps people connect to the health care system wherever they are headed next.
"We're seeing people who've had to leave quickly that perhaps forgot their medication, that are traumatized, anxious, stressed," Helderman said. "So one of the things that seems to be a gap is having any type of health screening before they start moving on to make sure they have their medication to ensure that it's safe for them to go ahead and travel."
There have been several cases of deaths at the border, usually due to cardiac arrest, Helderman said.
The needs can spike depending on where the conflict spreads. For example, the city of Odessa, Ukraine is a region with about 2.2 million people. It's also less than a two-hour drive to the Moldovan border.
"If people are attacked there, they will come to Moldova," Helderman said. "That's their option. And so, as these major influxes come in, I do think they'll quickly be overwhelmed. And so now it feels a little bit like the international community is a little bit on standby. You don't want to overwhelm or take over what the government and local communities are doing so well, but at the same time, we need to be ready because I think there is a good likelihood as some of the conflict continues to spread — especially as it continues to spread to the western side of Ukraine — it will be more overwhelming for them."
The group's tasks ahead include getting approval from international officials for medical teams to provide care and talking with Ukrainian hospitals about the possibility of sending in workers to hard-hit areas.
Helderman, based in Indianapolis, has worked in humanitarian health for 14 years, which includes responding to the 2010 Haiti earthquake, the 2015 Nepal earthquake and led outbreak responses for kala-azar, cholera, measles, meningitis and Hepatitis E in South Sudan; and was a medical coordinator with oversight for the Ebola Treatment Center during the 2014 outbreak in Sierra Leone.
Local Ukrainian Efforts 
Tatiana Terdal, who grew up in Soviet-occupied Ukraine, lives in Portland and launched a fundraising campaign on Facebook. So far, it's raised more than $95,000 for medical supplies.
The project is an effort of the Ukrainian-American Cultural Association of Oregon & SW Washington and the Ukrainian American Coordinating Council.
The Ukrainian community in Oregon and southwest Washington started shipping medical supplies to Ukraine in 2014, when Russia invaded Crimea, through partnerships with Medical Teams International and volunteers in Ukraine who distribute the supplies to hospitals and clinics.
So far, the group has spent more than $80,000 of the donations so far. Supplies include sutures, heavy-duty medical products to stop bleeding quickly, gauze bandages and more. 
The initial shipments have gone in suitcases with friends who are traveling to Europe as the group makes large-scale plans for the near future.
"It's just so hard to comprehend that this is happening," Terdal said. "For me, it will be as if the Russians started bombing Portland. It would be the same feeling because Portland is my home now."
Terdal was in the United States on a student exchange program in 1991 when she stayed behind due to uncertainty after the 1991 Soviet coup d'état attempt, commonly called the August Coup, which was an unsuccessful effort to wrest control of the Soviet Union from Mikhail Gorbachev.
The American family she was staying with encouraged her to apply for a student visa and sponsored her, allowing Terdal to start her American higher education in a California college. She would later meet her future husband, Paul Terdal, an Oregon health care advocate and policy consultant, while attending Yale University. 
You can reach Ben Botkin at [email protected] or via Twitter @BenBotkin1.