Oregon Appoints New Head Of Insurance And Consumer Affairs Agency
Gov. Kate Brown has appointed Andrew Stolfi director of the Department of Consumer and Business Services, a regulatory agency with broad oversight of the individual and small-business health insurance business in Oregon.
The department also runs the Oregon Health Insurance Marketplace, the online system under which people can select health insurance plans.
Last month, as head of the agency's Division of Financial Regulation and as Oregon's insurance commissioner, Stolfi led the state's negotiations with Oregon insurers, culminating in insurers' agreement to waive cost-sharing for patients in Oregon who need COVID-19 testing.
The DCBS directly regulates the health insurance of only a relatively small number of Oregonians: about 360,000 who either buy individual plans or who are covered by small-business plans. The remainder of Oregon's 3.4 million residents have health insurance that is not directly regulated by the agency: Medicare, Medicaid or large-employer plans.
Still, the agency has strong links to the health care sector. The current head of the Oregon Health Authority, Patrick Allen, previously was head of DCBS.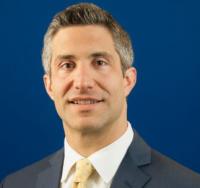 For the past two years, Stolfi led the financial regulation division and served as insurance commissioner. Previously, he spent six years in Switzerland working for the International Association of Insurance Supervisors, including as chief operating officer and chief counsel. Before that, he held senior management jobs at the Illinois Department of Insurance. He holds a bachelor's degree from the University of Vermont and a law degree from Chicago-Kent College of Law.
Stolfi's department includes the Building Codes Division, Division of Financial Regulation, Oregon OSHA, the Ombudsman for Injured Workers, Small Business Ombudsman, Workers' Compensation Division, Workers' Compensation Board, as well as the Central Services Division. He will continue as the insurance commissioner.
"I believe strongly in our mission of consumer protection," said Stolfi. "I am excited to be part of a team where we have the opportunity, each day, to directly benefit the people we serve."
Stolfi's first day as DCBS director is April 6. He is subject to Oregon Senate confirmation. He replaces Lou Savage, who served as acting director since November when Cameron Smith left DCBS. Savage will become acting administrator for the Division of Financial Regulation. Smith quit the top DCBS job to run for Oregon Secretary of State, but then withdrew from that race in March after he was unable to build substantial support.
The state said it conducted a full external search to replace Smith and picked four finalists, from whom Stolfi was selected. His starting annual salary will be $176,796.
You can reach Christian Wihtol at [email protected].