Oregon's COVID Testing Program For Schools Lags Way Behind Demand
The number of Oregon schools reporting "active outbreaks" of COVID-19 jumped from 18 to 37 last week, according to a state report, but a screening program designed to help educators get ahead of the problem with testing might take six weeks or more to roll out.
Some school administrators worry it's taking too long. More young Oregonians are catching COVID now than at any prior point in the pandemic, and a higher number are getting severely ill. There were 24 children 17 and younger in the hospital with the virus on Aug. 29 statewide, the highest number since the pandemic began, according to federal data. 
The number of Oregon schools reporting at least one recent case of COVID-19 jumped from 201 last week to 317 schools this week, according to the state's health agency. Milo Adventist Academy, a private school in Douglas County, reported a new outbreak last week that sickened 13 students and one adult, according to a state report. Reynolds High School, the state's second largest, announced today it was closing for the week and returning to online learning next week.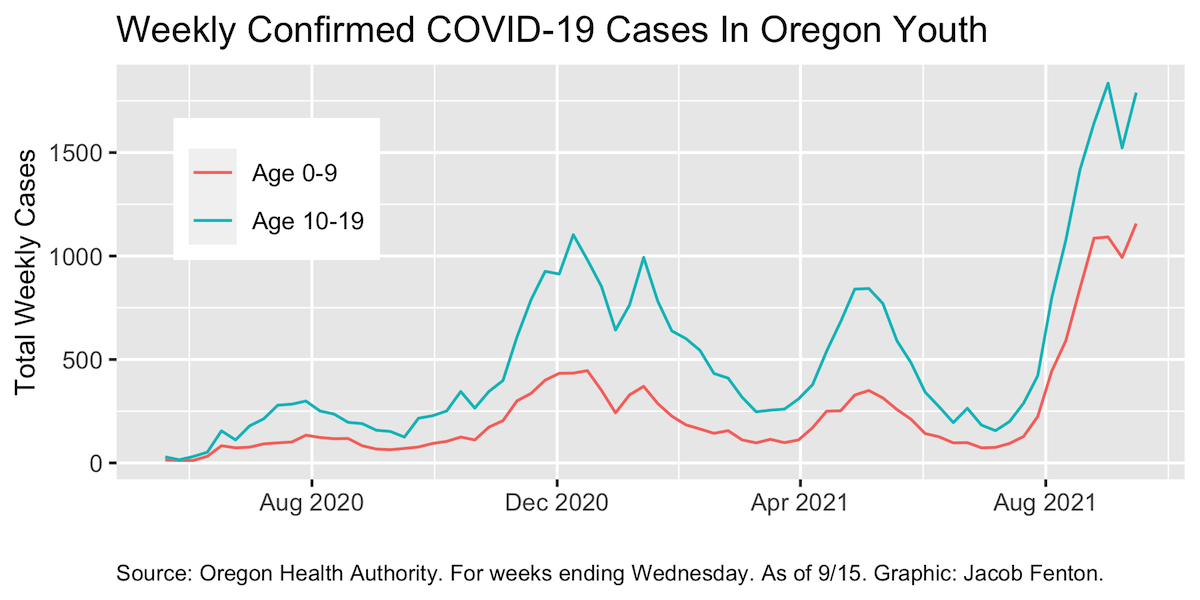 While COVID-19 cases are trending the wrong way in young Oregonians, statewide totals do not convey important regional differences. Undervaccinated regions of the state are currently seeing pediatric case rates that are two or three times higher than in the Portland area. 
Rising case rates have driven a smaller increase in child hospitalizations, although the overall rate of youngsters who get severely ill remains low. Just 0.8 % of COVID-19 cases in those aged 10 to 19 require hospitalization, according to Oregon Health Authority data, as opposed to 21.2% of those aged 70 to 79. That figure is for the entire length of the pandemic; those who have been vaccinated are hospitalized at a dramatically lower rate. 
Legacy Emanuel Medical Center, which includes Randall Children's hospital as a reporting unit, is currently treating more pediatric COVID-19 patients than any hospital in the state, according to federal data through the end of last week. A spokeswoman for the hospital declined to say whether this increase was being driven by patients outside of the Portland area.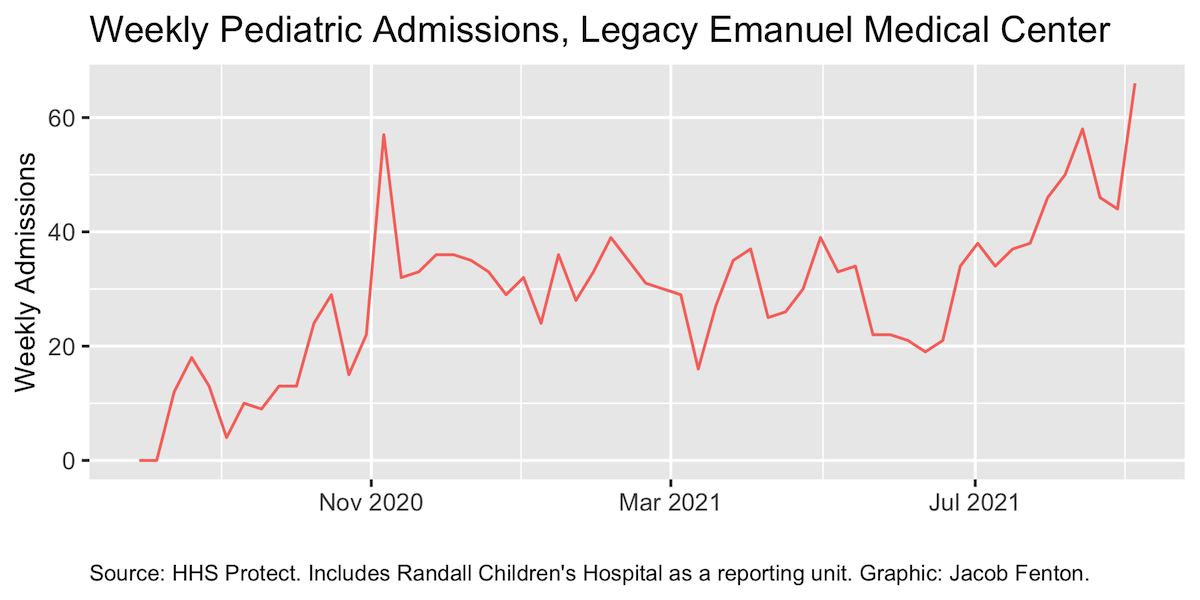 In a July memo, Oregon outlined a strategy for keeping schools from spreading the virus throughout their community: test symptomatic students immediately, and provide regular weekly testing for any student who opts in, with an emphasis on those too young to be vaccinated. Because so many childhood COVID cases are asymptomatic, there's simply no way to know how widespread the virus is in children by only testing those who appear ill.
In the state's biggest school district, better metrics on where the virus is spreading can't come soon enough. We as a district are eager and ready to implement this as soon as it is available," said Andrew Scott, vice chair of the Portland Public School Board at a public meeting Tuesday night. "We hear a lot from our community about wanting to see this." 
That sentiment is not universal. The school board in the Adrian District, in Malheur County, fired it's superintendent last month, reportedly because he intended to enforce the state's mask mandate. 
But parts of the state that are eager to sign up will have to wait. That includes schools in the Portland metro area. Shawn Bird, a deputy superintendent at Portland Public Schools, told board members the district was waiting for Oregon Health & Science University to receive additional testing machines, and he estimated the screening program wouldn't be operational outside of a few pilot schools for six weeks or more. 
In a Sept. 2 press release announcing the project, OHSU said it could process "as many as 8,000 tests a day" but did not say when the program would begin in earnest. A spokesman for OHSU declined to say when testing might expand beyond pilot sites.
OHSU is responsible for running the screening tests from much of northern and eastern Oregon, but the University of Oregon is running tests for southern Oregon. The University's portion of project, known as the Monitoring and Assessment Program, began the week of Sept. 6, according to Executive Director Brian Fox. More than 3,200 students have signed up, and there were 71 "samples received for processing" to date, Fox said in a statement. He did not say how many tests were positive. 
So far, 40 school districts, one educational service district and 78 private or charter schools have opted into the program throughout the state, according to Rudy Owens, a spokesman for Oregon Health Authority. The agency wouldn't disclose how many tests have been given, but said many schools are still in the onboarding process.
In the Phoenix-Talent school district, near Medford, spokesman Joe Zavala said school officials promoted the program heavily and were looking forward to it being up and running. "The more kids, the more likely we are to head off any type of outbreak so that's why it's something that we're trying to encourage," he said. 
×
This article is for premium subscribers. If you are one, please sign in below.
You can see
two
more premium stories for free. To subscribe,
click here
. We depend on premium subscriptions to survive, and they are tax deductible.