Oregon's Ambulatory Surgery Centers Reveal Large Cost Variations
Geographic regions may be responsible for some of these variations, according to Chris Skagen, JD MELP, executive director of the Oregon Ambulatory Surgery Center Association.
The cost of common outpatient surgeries performed at ambulatory surgery centers in Oregon vary dramatically – in some cases a range of three to six times higher than the lowest cost for the procedure. In Oregon, the most common ASC procedures are surgeries for cataracts, upper GI (gastrointestinal), and colonoscopies (as reported by the Ambulatory Surgery Center Association).
The highest cost of cataract surgeries (performed at Surgery Center at Tanasbourne, Hillsboro) was more than six times the lowest, at a price of $6,830.00. Dr. Gordon A. Miller of Salem charged the lowest price, $1,107.13.
Redmond Surgery Center charged the highest price for a diagnostic scope of the colon ($2,896). This charge was nearly three times that of the lowest cost for the same procedure ($1,031) performed by ASC GI Diagnostic Center in Bend.
In yet another cost variation, Northwest Spine and Laser Surgery Center in Wilsonville, charged $30,780 for implantation of spinal neuro-stimulator electrodes, accessed through the skin. Which was more than 3.6 times that of the lowest cost for same procedure ($8,405), performed by Northwest Neurospine Institute in Eugene.
Oregon had 90 Medicare-certified Ambulatory Surgery Centers as of June 2016 (see map of ASCs by state).
Hospital Pricing Specialists (HPS) researched 4,757 ASCs in the United States, compiling a database of costs for more than 150 common surgical procedures. According to Rick Louie, principal for HPS, the price variation found at Oregon ASCs is similar across the U.S.
In response to why such a wide variation in costs exists between ASCs across Oregon, Chris Skagen, JD MELP, executive director of the Oregon Ambulatory Surgery Center Association (OASCA), told The Lund Report: "ASCs are small businesses, and as such have to individually negotiate the rates of payment with insurance companies. As a part of these negotiations, sometimes the end result is that patient bills are incurred on an in-network or an out-of-network basis. This can create a range of payments for a procedure. Geographic region may also affect the reimbursement rate for a procedure."
ASCs can provide a cost-effective alternative for common same day surgery procedures. ASCs save the Medicare program more than $2.3 billion in savings each year (because the program pays significantly less for the same procedures and patient copays are less).
In an article published earlier this summer by The Lund Report, an analysis of private health insurance claims from across the country found that ASCs reduced the cost of outpatient surgery by more than $38 billion annually across the country, compared to hospital outpatient departments. However, only 48 percent of common outpatient surgery procedures are currently performed at ASCs.
Many knee, shoulder, eye, spine, and other procedures are performed at ASCs. The top outpatient surgeries (reported in Becker's ASC Review) occurred in ophthalmology, gastroenterology, urology, and orthopedics. The chart below shows the most common ASC specialties reported by Centers for Medicare & Medicaid Services.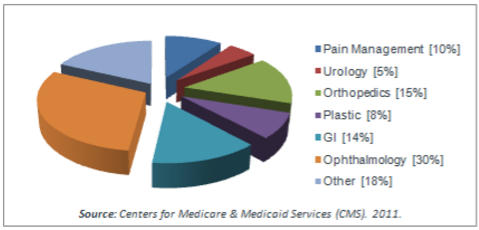 Oregon's five highest and five lowest costs for cataract surgery (cataract removal with insertion of lens) are listed in the table below.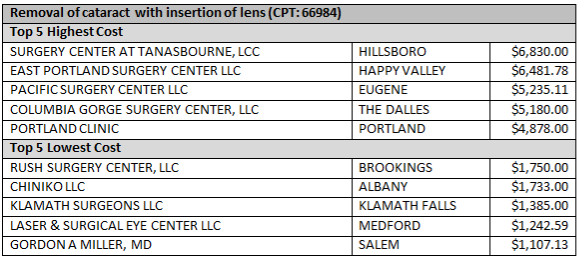 The five highest and five lowest costs for a diagnostic scope of the colon are shown in the table below.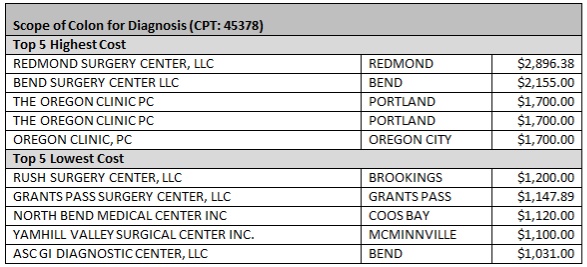 Comparing the cost of knee surgeries at Oregon's ASCs (removal of one knee cartilage using an endoscope), The Lund Report found that the highest cost was three times the lowest for the same procedure.
Columbia River Surgery Cenger in Portland charged $9,288 while Surgey Center of Southern Oregon in Medford charged $2,809. The five highest and lowest costs for removal of one knee cartilage using an endoscope are shown below.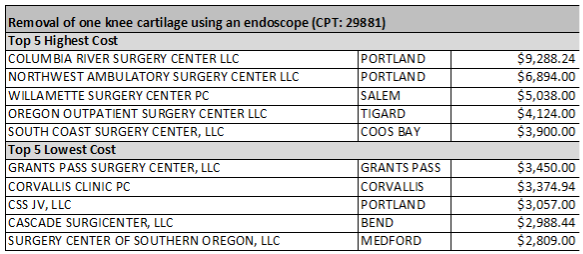 Although no data is available on the number of ASCs owned by a hospital system, competition has accelerated.
"We have seen a growing trend nationally towards partnerships with hospital systems, and this has seemed to soften the edges of discussions between ASCs and hospitals," said Skagen with the OASCA. "Many independent ASC facilities still promote having cutting edge technology and top notch surgeons, many of whom also practice in the hospital environment actively. Just like consolidation in any industry, facilities that are not able to stay on the cutting edge may fold or be acquired by larger companies (ASC or hospital). Nevertheless, many of my members are robust facilities that are proud to practice as a freestanding ASC and do not intend to have any hospital partnership in the near future."
Kathryn can be reached at [email protected].
×
This article is for premium subscribers. If you are one, please sign in below.
You can see
two
more premium stories for free. To subscribe,
click here
. We depend on premium subscriptions to survive, and they are tax deductible.