Image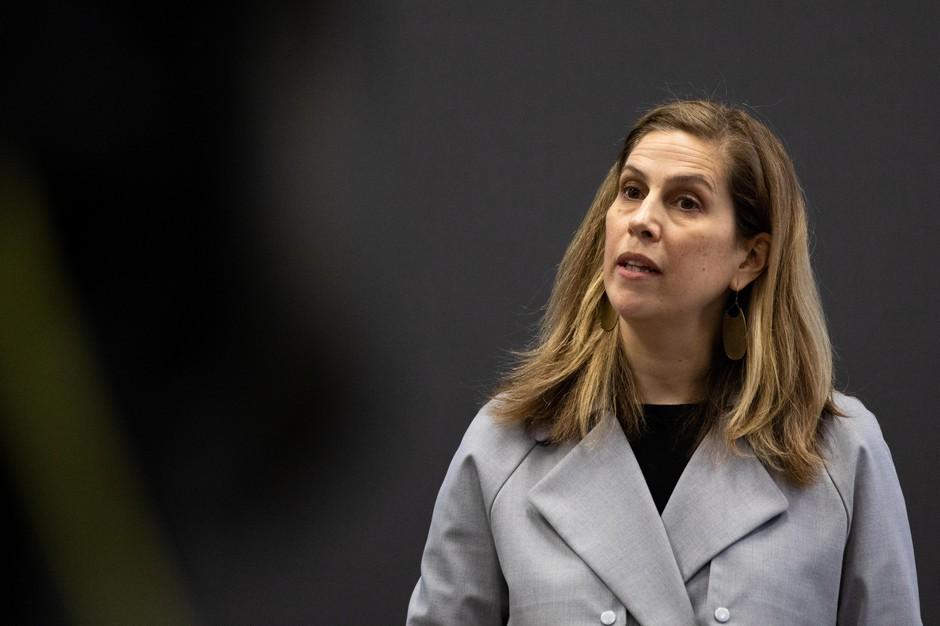 March 17, 2020
The coronavirus message this week from the World Health Organization was about as straightforward as it gets.
"We have a simple message for all countries: Test, test, test," said director general Tedros Adhanom Ghebreyesus in a press briefing. "Test every suspected case."
But the on-the-ground reality of fulfilling that directive in Oregon, and the United States more broadly, is not close.
Oregon's capacity to test for COVID-19, the infection caused by coronavirus, has remained tight and the prospects of significant expansion in the near-term is low.
"Public health officials and our hospital partners will continue to focus our limited testing resources judiciously over the coming weeks, where they are most desperately needed," said the Oregon Health Authority's chief medical officer Dr. Dana Hargunani.
The Importance Of Testing
Fighting the spread of an infection like the new coronavirus takes action on many fronts.  In the Pacific Northwest recently, social distancing — staying 6 feet apart and avoiding gatherings of 25 people or more, for example — has been the most widespread tactic. Public events have been canceled, people are being told to work from home, schools are on hiatus and the governors of both Oregon and Washington have now closed restaurants and bars to customers except for delivery and take out.
While these tactics are the very public expression of fighting disease spread, experts are pointing to critically important steps that also need to happen in medical facilities and public health agencies in order to slow the spread of coronavirus.
"You must test and isolate. You cannot fight a fire blindfolded, and we cannot stop this pandemic if we don't know who is infected," said WHO director Tedros.
Testing not only tells health officials who to keep separated from the general population, it also gives public health investigators the first clue they need to find others who have come in contact with the infected person.
COVID-19 is a very tricky disease because the symptoms vary widely from person to person. 
"The difficulty is that for the people who are less symptomatic, without the ability to test and know whether or not they actually have COVID-19, you don't know who to isolate and who not to isolate," said Dr. Renee Edwards, chief medical officer at Oregon Health & Science University in Portland. "You don't know who's potentially infectious and who's not."
A strategy that includes widespread testing has been shown to work already with COVID-19. In South Korea, new cases of COVID-19 have fallen off significantly in the past two weeks — from around 600 new cases per day to fewer than 100. About one out of every 200 people has been tested for COVID-19.
In the United States that number is closer to one in every 13,000 people tested — but likely far fewer since the U.S. tracks the number of samples and not the number of people tested. Each person tested may provide several samples.
As of Monday Oregon has tested one out of every 4,555 people.
Capacity, Now And Moving Forward
Early in the U.S. outbreak of the new coronavirus, testing capacity was limited to what the Centers For Disease Control and Prevention could process. Then by late February state public health systems got into the game. Within the past couple weeks a few private labs have come online. And now hospitals are moving to establish in-house testing.
The Oregon State Public Health Lab has had the capacity to test 80 specimens per day. State officials have repeatedly attributed the limited capacity to decision-making on the federal level, as well as the availability of testing supplies. 
"The reality is that Oregon State Public Health Laboratory has received limited testing supplies from the federal government," said OHA's Hargunani. 
Because of the limited number of tests available, the state lab's testing capacity has been limited to targeted public health investigations and acute viral pneumonia cases that tested negative for flu. 
Hargunani said medical facilities in the state are now ordering tests from commercial laboratories, but still, "we simply don't have all the testing capability we would want." 
An email update sent Monday to Clackamas, Multnomah and Washington county health practitioners from Dr. Jennifer Vines, the lead health officer for the tri-county area, addressed the current testing capacity.
"The lack of widely available, prompt, testing remains a major frustration and challenge," the email said.
The guidance from the public health authorities identified three commercial labs that clinicians can now send samples: LabCorp, Quest Diagnostics and  University of Washington Virology.
Even with these additional labs available, facilities are being advised to be judicious about testing people who haven't been admitted to the hospital. The advice is to limit testing to certain people with symptoms: health care providers, people with high risk of complications and residents of facilities where spread risk is high like nursing homes and shelters.
Notably, if a person is known to have been exposed to coronavirus but is not showing symptoms, the public health office discourages testing altogether. Instead, the email says the patient should be asked to self-quarantine for 14 days.
Oregon Gov. Kate Brown updated reporters Monday on a recent governors' call with the White House, saying the capacity to test increasing nationwide.
"Private labs will have the capacity to do one million tests this week, 2 million next week and 5 million the week after. And that's good news," Brown said.
It's unknown at this point how much additional testing will be available in Oregon. Still the prospect of adding commercial capacity is being welcomed by the state's medical systems.
"Our capacity to test is getting better because we have commercial labs open to us now," Tom Hottman, public information officer with Sky Lakes Medical Center in Klamath Falls, said. "Before that, we were just hoping."
What Are Hospitals Doing?
Only some Oregon hospitals can process COVID-19 tests in-house, so many are currently sending their testing samples to outside laboratories for processing. Oregon Health & Sciences University, Legacy Health and Kaiser Permanente say they are gearing up to process their own tests, which could help alleviate one bottleneck by providing additional lab capacity. OHSU is aiming to be able to process 40-150 specimens a day by the end of the month. It's offering drive-thru and walk-up testing for sick employees who meet testing criteria.
Salem Health recently started processing its own COVID-19 tests for people who exhibit symptoms and have already been tested to rule out the flu. Some hospitals are screening first for influenza, sending people to flu testing stations away from their main treatment centers.
Hospitals are anticipating an increase in testing capability over time. However, even hospitals that are planning to process their own tests are wary of supply shortages limiting the number of tests they can perform. 
"A lack of supply, including swabs to collect samples for testing, will significantly limit the number of tests that can be performed," Debbie Karman, a spokeswoman for Kaiser Permanente, said in a statement.
Right now, testing turnaround times are between two and five days. A new testing method could speed up that timeline, but hospitals will need special supplies to perform those tests. 
Spokeswoman Kristin Whitney with Legacy Health said her hospitals expect to have limited ability to process COVID-19 tests at Legacy Central Laboratory in Portland within the next few weeks using similar methods to those being used at other labs.
"We are also working to obtain materials for testing for our automated, high throughput systems that, once online, will increase our ability to test patients for this virus," Whitney said in a statement. "We will begin to develop this test as soon as supply materials are received from the manufacturer."
What Can You Do?
If you're sick, the best thing to do right now to avoid spreading any illness is to stay home. If you are experiencing symptoms of COVID-19 such as a fever, cough, or shortness of breath, or if you need medical advice on other health concerns, call your doctor or schedule an online appointment for consultation.
Be aware that hospitals have limited capacity to test you and be ready to hear that you don't meet the criteria for testing. Keep calm and remember that many COVID-19 cases are mild. For those with a mild case the recommended treatment is to self-isolate to avoid spreading the virus.
But while you're at home in self-quarantine, it's important to make sure you're monitoring your symptoms, especially if you're in a vulnerable group.  In certain cases, after about a week, infected people can get very sick very quickly.
If you have a possible or confirmed case of COVID-19 and your symptoms start going from mild to severe, call your doctor. take your temperature every day (keeping in mind that the elderly are less likely to have fevers). If your cough starts to hurt or you feel short-of-breath, call immediately. Other symptoms to look out for: a worsening headache, rapid heart beat, fast breathing and blue lips. In these situations, early treatment is important and lifesaving.
Oregon's health care system is straining to keep up with demand and anticipating an influx of COVID-19 cases while facing an imminent danger of running out of critical medical supplies. Hospitals are trying to reduce overcrowding and keep beds, supplies and staff available for the patients who need them most. You can help by avoiding the hospital and medical facilities if you don't need in-person medical care.
Hospitals and clinics are canceling elective surgeries and non-essential treatments so they have capacity to handle the most severe cases. Hospitals are advising everyone to call ahead before any visit if possible so doctors can instruct people with severe symptoms or urgent medical needs to go to the hospital.
Even if you aren't experiencing any symptoms, you can still help reduce the spread of COVID-19 by following social distancing guidelines and keeping yourself healthy. That means keeping 3 to 6 feet between yourself and other people, avoiding contact with people who are sick, washing your hands with soap and water regularly for at least 20 seconds, avoiding crowds and groups of 10 people or more, cleaning and disinfecting areas and surfaces that are used often and getting plenty of rest, fluids and healthy foods. 
This article was originally published by Oregon Public Broadcasting, one of more than a dozen news organizations throughout the state sharing their coverage of the novel coronavirus outbreak to help inform Oregonians about this evolving heath issue.