A projected surge from the omicron variant of COVID-19 represents "dire" news for Oregon hospitals, patients and health care workers.
Image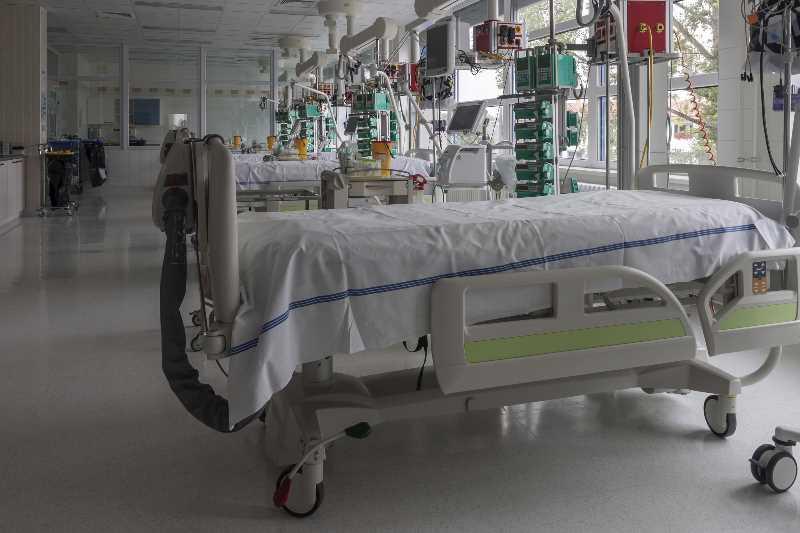 December 17, 2021
Oregon health officials say a projected omicron variant surge of COVID-19 could overwhelm the state's battered hospitals even more than the delta surge did. 
The new projection from Oregon Health & Science University involves a lot more uncertainty than usual, said its author, Peter Graven. But if it holds true, the omicron surge could fill twice as many hospital beds in February as the delta surge did in September. That would put a COVID-19 patient in three out of every four hospital beds statewide. 
It's a grim scenario that demonstrates the pandemic's reach — and its potential to impact the health care system even for those who don't become infected with COVID-19.
State officials, including Gov. Kate Brown and Oregon Health Authority Director Patrick Allen laid out a plan on Friday that pivots towards vaccine booster shots. The goal: to reduce the odds of hospitalizations and, ultimately, keep more beds open for sick COVID-19 patients and others who delayed surgeries and elective procedures when the pandemic started nearly two years ago.
"If you aren't yet vaccinated, now is the time," Brown told reporters. "This can be a matter of life or death."
State officials emphasized the rapidly-changing nature of the picture, as more data is factored into the projections. As of the day before, the projection had looked less extreme, and more like the delta variant, Graven said.
"We've had this information for about an hour and a half," Oregon Health Authority Director Patrick Allen said of the more alarming projections, in a briefing with The Lund Report just before the governor's press conference. He said the implications for Oregonians' health care are "dire."
Omicron, more contagious than the delta variant, has a stronger ability to evade vaccinations. Booster shots can provide people with more protection and reduce their odds of contracting a case of COVID-19 that requires hospitalization. 
At the same time, there are variables that may make the surge less deadly. It appears that people sickened by omicron will be less likely to need an intensive-care unit bed or ventilator, officials said. 
Even so, the prospect of the far more rapidly transmissible variant poses threats to the overall health care system's capacity.
The Oregon Health & Science University forecast projects the surge will peak at above 3,000 patients hospitalized with COVID-19 in February, with a rapid rise starting in January. That gives officials a window of about three weeks to put plans into action and blunt the omicron variant with booster shots. 
"It's going to be dire if we actually have 3,000 people hospitalized," Allen said.
If the state's plans for more boosters succeed, that figure could be cut by a third — which would be an improvement, but still significantly worse than hospitalizations under the delta variant.
The highly transmissible nature of omicron also has put state health leaders on guard about the potential impact on the workforce, including sectors who work in health care and the long-term care industry. 
"This is going to impact us all, whether we get sick with COVID at all," said Dr. Dean Sidelinger, state epidemiologist.
State Plans For Boosters
Oregon officials are urging one million residents to get boosters by the end of January. It's an ambitious plan that would more than double the number of Oregonians who have received a booster shot so far.
As of Thursday, more than three million Oregonians have received at least one dose of the COVID-19 vaccine and more than 2.5 million have received both doses. About 28% of vaccinated Oregonians have received a booster dose, which is 945,759 people.
To accomplish that goal, Oregon health officials plan to:
Boost capacity  for vaccinations and add three new high-capacity sites on top of six currently in place. Mobile vaccination clinics will resume.
Hundreds of contracted health care workers, sent in to help understaffed hospitals combat the delta surge, will be deployed to vaccination clinics so they can be open longer hours and vaccinate more people. Low staffing, rather than doses, is the primary obstacle for people who need appointments now, state officials said.
As the plan goes into motion, state officials have asked the federal government for an extra 250,000 doses every two weeks to meet the current needs and keep up with the increased demand.
Health Care System Plans 
Oregon health officials face a balancing act. They must prepare the health care system for even higher demands, even as hospitals struggle to fill openings and rely on contracted workers. 
"Once again, many Oregonians will need a staffed hospital bed, which, frankly, remain in drastically short supply," said Dr. Renee Edwards, chief medical officer for Oregon Health & Science University. "To be candid, this feels like another gut punch, particularly for health care workers." 
Edwards said the state is still in the midst of the delta surge, even though the peak has passed. She urged the public not to delay care, as providers know how to keep people safe with precautions.
Here are key items in Oregon's plan for the health care system:
Oregon plans to open a high-volume site for monoclonal antibody therapy in the Portland metro area that can treat 350 people a week. It will be open seven days a week, 11 hours a day. It's intended to keep hospitalizations down.
The state will register health care providers with federal agencies so they can quickly receive new antiviral drugs to treat COVID-19. 
The state will run an emergency management command center and coordinate available beds, ventilators and other resources stateside. 
The plans also include coordinating with long-term care facilities so they can provide "step-down beds" to patients who can be discharged from hospitals as a way to free up hospital beds.
By mid-January, state health officials plan to provide hospitals an interim crisis care tool they can use to "equitably prioritize care if doctors and nurses are forced to make heart-breaking decisions," amid limited beds, ventilators and other resources, the state's plan says.
Allen said these measures were based on the more optimistic projections shared on Thursday. Based on the bleaker Friday numbers, additional state measures could follow.
The state's leading hospital industry group urged Oregonians to get vaccinated, wear a mask and physically distance to stay safe. 
"Today's alarming forecast about the arrival and eventual spread of the omicron variant in Oregon is a stark reminder of the need to protect ourselves and our communities," said Becky Hultberg, president and CEO of the Oregon Association of Hospitals and Health Systems. "Hospital staffing and capacity is overwhelmed from the delta surge, seasonal influenza, and patients needing urgent, delayed care. Now, more than ever, is the time to do all we can to protect ourselves, our loved ones, and our neighbors from COVID."
Most Vulnerable Are Priority 
The state plans to prioritize boosters for the most vulnerable who would be the most likely to need a hospital if they caught the omicron variant. Those are older adults, especially those who are in nursing homes and other long-term care facilities and people in communities of color. 
As of Thursday, 51% of people 65 and older have received a booster dose. 
To reach vulnerable populations, the state will:
Deploy mobile vaccination strike teams to nursing homes and long-term care facilities in the next two weeks.
Support staffing and federally-qualified health centers and other clinics that serve hard-to-reach groups that are under-vaccinated. The goal is to help them vaccinated 800 to 1,000 people a day.
The state also plans to work with community-based organizations and community leaders to set up 35 initial vaccination events for communities with Black, Indigenous and people of color. Another 93 events are planned in coming weeks. 
You can reach Ben Botkin at [email protected] or via Twitter @BenBotkin1.