OHSU Scholarship Bill Passes Budget Committee Over Bates' Objections
Sen. Alan Bates, an osteopathic physician and Democratic senator from Jackson County, said the bill was discriminatory because it gives money to students at Oregon Health & Science University and not the osteopathic medical school in Lebanon.
June 13, 2013 — The Committee on Ways & Means on Wednesday passed Senate Bill 2 — giving $4.9 million in scholarships to Oregon Health & Science University for doctors and other healthcare professionals who agree to serve in rural and underserved areas.
But the bill raised the ire of one of the Senate's physicians — Sen. Alan Bates, D-Medford — who said it gives money to Oregon's allopathic medical school while shutting out students at the osteopathic medical college in Lebanon and other medical students who want to work in rural Oregon.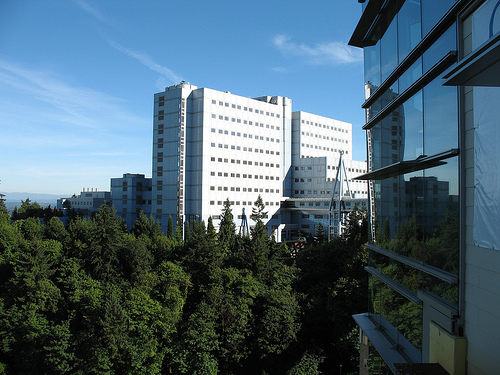 "This is a really bad bill for a very specific reason," Bates said. "I'm very disappointed this bill has survived this session. This is about politics, this is not about policy. Bring it back in February, and open it up to others than OHSU."
SB 2, which is backed by Senate President Peter Courtney, D-Salem, passed easily on a 26-4 vote, but Bates was able to convince two other legislators who preside over the health and human services' budget to go along with him — Sen. Jackie Winters, R-Salem, and Rep. Nancy Nathanson, D-Eugene.
The bill was also opposed by leading Republican Dennis Richardson of Central Point, who complained that his daughter — a physician assistant student at the University of Utah — would like to work in rural Oregon, but would also be shut out from receiving the scholarship after she was forced to go out of state for her education.
"To pick winners and losers is wrong," Richardson said. "In Oregon, we have two medical schools. We also have students who can't get into OHSU because the admission process is so restrictive."
Sen. Elizabeth Steiner Hayward, D-Portland, a family physician at OHSU, agreed that Oregon's various programs that encourage practitioners to work in rural areas should be examined more holistically, but she supported the bill.
Oregon has considered several bills, giving scholarships, paying off student loans and offering state income tax breaks to rural health professionals, and all have different qualifications.
A bill sponsored by Steiner Hayward, Senate Bill 440, which has been signed into law by Gov. Kitzhaber, spends $4 million to repay student loans to healthcare professionals who agree to take care of people on the Oregon Health Plan.
"The loan forgiveness program is available for anyone who graduates from any institution inside or outside of Oregon," she said, so long as they agree to work in needed areas of Oregon. And if they renege on their promise to accept a more lucrative opportunity, she said, SB 440 required students to repay what they had been given, plus steep penalties.
Steiner Hayward also said other states had established programs that were self-funded by people having to pay back the loans after they dropped out.
Courtney voted on the Ways & Means Committee, but did not comment on Bates' concerns with SB 2. In the past, he stressed the need to provide monetary incentives for rural health professionals, who are increasingly loaded down with debt. Dentists, physician assistants, nurse practitioners and certified nurse anesthetists can also qualify for scholarships under Senate Bill 2.
Courtney's position was echoed by the bill's supporters.
"It is so difficult in rural Oregon to attract high-quality medical providers," said Republican Rep. Greg Smith, whose district includes lightly populated swaths of Eastern Oregon including Heppner, Enterprise and Milton-Freewater.
Sen. Chris Edwards, D-Eugene, said the education subcommittee could not amend the bill to include students from the College of Osteopathic Medicine of the Pacific Northwest, because the legislation directly appropriates money only to Oregon Health & Science University.
"Half a loaf is better than no loaf," he said.
Image for this story by Steve Longus (CC BY-NC-ND 2.0) via Flickr.
Christopher David Gray can be reached at [email protected].